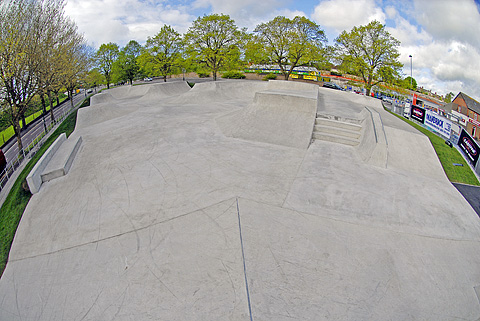 Pretty, oh so pretty! Dorchester's new park…
With the opening of Dorchester's new concrete park this weekend, it got me wondering about the whole process of a concrete park build. We've all ridden concrete parks, they're faster, longer lasting and far more creative than their wooden counterparts. So why don't we have thousands of them? Dorchester took 12 years to get built, the riders that started petitioning back then don't even ride anymore! Why does it take so long?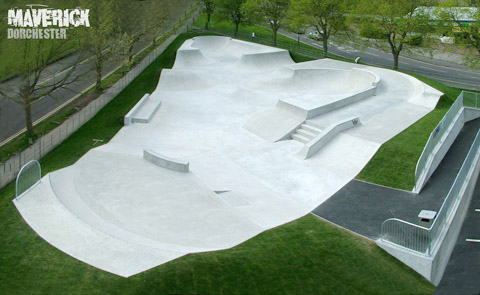 A really tall person shot this photo…
Most skatepark openings I've been to usually look like a building site, but with Dorchester being a national heritage town, they pulled out all the stops. It looks perfect. To find out more about the concrete park saga I spoke with Anthony Ramsey, a site manager for the company who built the Dorchester park, Maverick. Anthony built and ran Burnley's indoor park (yes the one with the UK's best bowl) and has been riding BMX for well over a decade. So here is a behind the scenes look at what goes into a concrete park…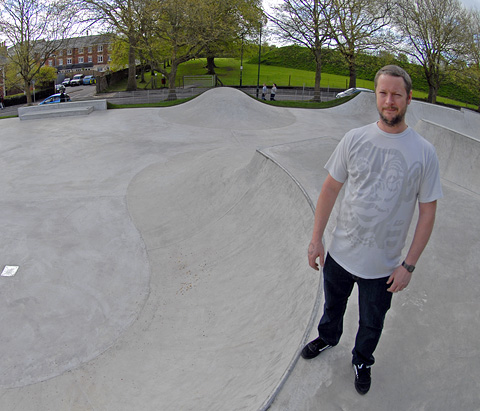 Anthony Ramsey from Maverick
The latest concrete park to be built in the UK is Dorchester's new park. Why is it that so many parks like this are popping up now?
There's been concrete parks around from the very beginning and we still have some of those classic parks around, Romford, Southsea, Harrow, Livi etc. Skaters used pools very early on in the progression of skateboarding, concrete parks have just taken a pools basic principles and been developed into what we see today.
Over the past four or five years it seems like we have had more concrete parks built than wood or steel parks and this has a number of reasons.  The councils or bodies that fund and commission the building of parks are taking more time now to consult with the actual user of the park, so basically the kids are advising on what they want and it seems they want more flowing open parks with more varied obstacles in. Obviously councils have a lot of other things to take into consideration for example…
Maintenance: This is very low on a concrete skatepark if built correctly so there costs over the following years of the build are minimal. On wooden or metal parks it is advised that the maintenance will be 5% to 10% of the original cost of the build per year.
Noise pollution: Local residents surrounding the parks are always worried about this and they have a massive influence over the council.  Metal and wooden ramps resonate when the are ridden and although there are products you can use to lessen this there is still a lot more airborne noise than concrete. The only noises you get with concrete are the high pitched screams of riders as they pull out to far and land to flat!
Aesthetics: This is pretty obvious with Dorchester. Normally wooden or metal parks just sit on a piece of tarmac or concrete and sticks out like a sore thumb but with concrete this can be blended in with the surroundings making it teletubby-esque but also something quite spectacular to look at.

Tellytubby-esque?
These advantages, coupled with the fact that we now have more concrete park builders in UK than ever before (and even parks being built by builders from the US) means we are seeing more, bigger and better parks being built.
Why does it take years to get these parks actually built?
It takes the same amount of time to get any park through the planning stages. People petition for years to get parks built. It can take years just to get your council to note that there is a need and even when it gets to that stage it starts a long process.  Councils are governed by systems and regulations that are supposed to make things transparent and fair. To us, this just means it's going to take time! Before a skatepark company gets involved a general drawing of what is required with specifications is sent out to a number of skatepark builders. These tender invitations are sent out to companies who have a proven track record of delivering parks to design within budget previously. The builders then price what it would cost to do that general drawing and they go back to the council who chose the builder, this is not necessarily based on cost but also their interpretation of the drawing. This is known as the tender process and every council has to abide by it. Once this is done, you have to consult with the users, come up with drawings, go back to the users to discuss and refine, at the same time as taking them to the council so they can say if they fit in with their planning permission and budget, then go back to the user and say that they cant have what they wanted because a quarter is to high or that it costs too much… This stage goes round until all parties are happy or as happy as they can be with all the restraints. Then when the layout design has been agreed it gets all tech.
We as park builders have to work with the council to make sure it fits in with British standards for construction and also European regulations for skatepark construction which means lots of drawings, section drawings, steelwork drawings and drainage drawings, Drainage drawings are not just about putting a drain in the middle of a park and hoping all the water goes into it. This has to be carefully planned we want as little gulley's or grates in the park because they aren't the best things to ride over also we have to make every surface of the park fall to the grate point so that water falls into it if you change a deck or flat to fall one way towards a grate it can change the whole of the levels for an entire park. Getting all this done and within budget takes time.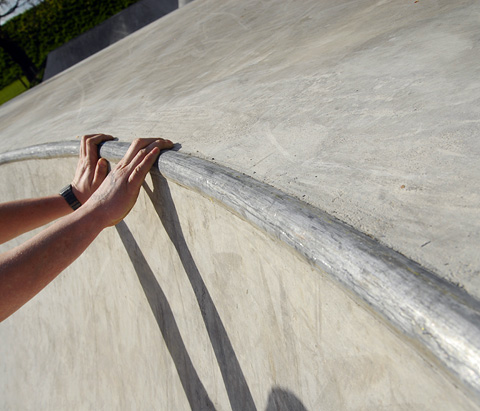 Coping – Should protrude 9mm front and 5mm top…
How long does it take from the start of the physical build?
This all depends on the size and complexity of the park. Dorchester took around 12 weeks; again we have to follow a process for it all.
We get to site and set it up, fencing off the whole area thus making it safe to work for us and safe for the public that maybe in close proximity to us.  We then do a general layout of the park and mark levels to start and give us a datum for either excavating into the ground or bringing fill in and building upwards. We then excavate to the general levels and curves and set drainage, fill in and cover the area with type 1 stone and compact it all, The metal and coping is set into its exact position. The coping is normally bent away from site so this also has to be checked before setting it in, you don't want to be setting out a bowl and it not meet at the ends. When the coping is set then we put in mesh which is a big steel net that keeps the concrete together and reinforces it; this has to be done precisely to all the curves and surfaces so that when the concrete is sprayed to 200mm depth it is in the centre. Shutters are put in so concrete can be sprayed in sections.  There is only so much concrete you can finish in a day, it normally starts with a delivery at around 7am which is sprayed straight onto the curves. The weather, humidity, sun and even if the concrete company has got the mix right, will determine how long we have got before the concrete 'goes off'. This can often be very slow and can still be being finished at two the following morning or, worst case scenario is that it 'goes off' way too quick before you get chance to finish it properly and you then have to wait a day for it to cure partially then break it out and start again
The concrete then needs to cure. Although it looks good enough to ride the next day it is only up to part of its strength; this needs to be at around 35newtons per square inch before being used. This can take up to two or three weeks to cure properly. Then there's landscaping and getting the whole site safe to use again. There can be a lot more than this though, for example lighting, fencing and signage.
Why do they cost so much money?
There is a greater initial layout on a concrete park. For a metal or wooden park there is normally no digging down to levels its just a flat piece of tarmac with ramps on so it's far quicker as the flat area can be put in as the ramps are part built away from site and just dropped onto the base. With a concrete pour site you have a team of skilled people there from start to finish using machinery to excavate and form the ground, qualified civil engineers to produce and read drawings, Site managers (me!) to make sure the site is run properly to all health and safety guidelines, within budget and to a finish that I can ride. Plus a team of laborers/finishers that are the grafters who work their balls off! Then you have to take into consideration that we are normally hundreds of miles from home. So we all need accommodation, etc and this is for the duration of the build. Also there are the materials, lots of galvanised steel and steel mesh used concrete has its cost. It all mounts up.
What common problems are faced during a park build?
[Laughter] Loads! Soil not being the right type when you dig down, electrical companies not co-operating when your trying to install power to the floodlights, councils changing their minds on designs! [More laughter] The list can be endless…
Do the parks design have to pass some sort of inspection?
The parks design just has to be agreed by all parties by the users for layout and by the council for budget and planning permission.  We normally recommend that the park has a ROSPA inspection on completion. This says to the user and the council that the park has been built to British and European standards and that they are happy that the park is safe to users and the public. It also helps to have this for the insurance of the park.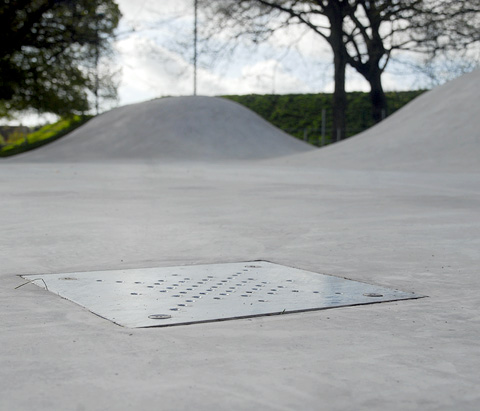 Custom machined grate cut from 6mm thick aluminium
Dorchester seems to have set a new standard with regards to the construction of UK parks…
I wouldn't say that the standards are new just that Maverick has just taken it to a new level. The overall finish is amazing and as I said earlier something spectacular to look at. They have concentrated on all the little details, for example the drainage covers have been custom built to that they are perfectly flat to the riding surface, all edges have steel on them, even where a ramp is extended vertically it has steel edges to protect them and make it look clean as well as precise. The blends in the concrete itself are smooth and have no ripples, the joins in the concrete are perfectly smooth, some parks get this wrong and grind the surfaces too smooth; this can bring the stone/aggregate to the surface and the stone over time can come out and cause a hazard. Then there's the landscaping and visual finish of it all. The grass flows to the edges of the park, meeting it at all points thus making the whole park feel organic like it has been born from the earth. Beautiful. The best looking outdoor park in the UK and the new standard. As for its purpose, riding the park speaks for itself, it's soooo smooth and flowing. Maverick have done an amazing job on this park and it is all done by skaters and riders from start to finish, they've worked on this all the way and it shows.
If you're looking for a park builder or you'd like more information on how to get a park from your local council, Anthony will be more than happy to give advice. Contact us through the contact panel and we'll put you in touch...