BECAUSE EVERY SKINHEAD HAS A STORY, THE MATT WAKEFIELD INTERVIEW
Photos and words George Marshall additional questions Beanpole and Wozzy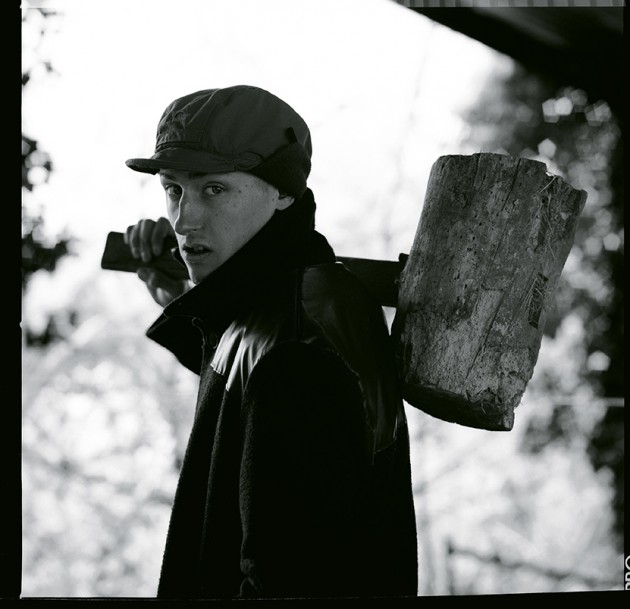 —
Every skinhead has a story. Matt Wakefield is no exception. Here Matt Wakefield shares his stories of prostitutes on electric wheel chairs, run-ins with Samurai sword wielding single mothers and a Vietnam war veteran with a secret to hide.
It's just after dark, and Matt's busy setting up camp. "It'll be f—king roastin' tonight, boilin' it'll be… dead hot, you see, you'll not need that hoody to sleep in." He reassures me I'll be warm this time and I won't freeze to death again, as he snaps up what used to be an Ikea futon as kindling for a fire in a rusty galvanised steel bin. On my previous overnight visit I experienced sleeping through sub-zero temperatures and Matt suspiciously lent me various bits from his fancy dress wardrobe just to fight the cold. The next morning I awoke to a foot of snow outside, dressed as a pig.
Matt continues to set up for evening, cranking the wind-up radio, turns over a wooden cable reel for a table and passes me a bike light so I can see my pen and paper to jot down his stories, some so strange, they leave me spitting out my tea through disbelief, all over the egg, beans and chips he's cooked for dinner. Now, Matt's not camping with the Scouts or even at Centre Parks. He's at home. Home for Matt is not your average two up two down. His rent is a humble £10 a week, he cooks his daily porridge on a Calor gas stove, council tax is just a bad memory, he has no vote, no TV licence, no TV, no electricity, no running hot water, and yes, bears shit in the woods, so does Matt Wakefield. But for a good reason. Matt has left the luxuries of a semi-detached in the Ripley, Derbyshire, has gone back to his roots and now lives in a caravan on a crumbling farm overlooking the Oxfordshire countryside, and brags he has the UK's largest en-suite bathroom. But there's more to Matt than your average tax-dodging travelling skinhead. "People think I'm a gypo, but I don't go around tarmacing drives or go fly tipping in my low loader. And I'm not one these new age twats either. There's no tie-dye or joss sticks this end mate, just tyre levers and bangers 'n' mash. Thank you very much."
"LESS POUNDS IN WEIGHT MEANS LESS POUNDS IN THE BANK… I DON'T KNOW, IF IT'S NOT BROKEN – DON'T FIX IT"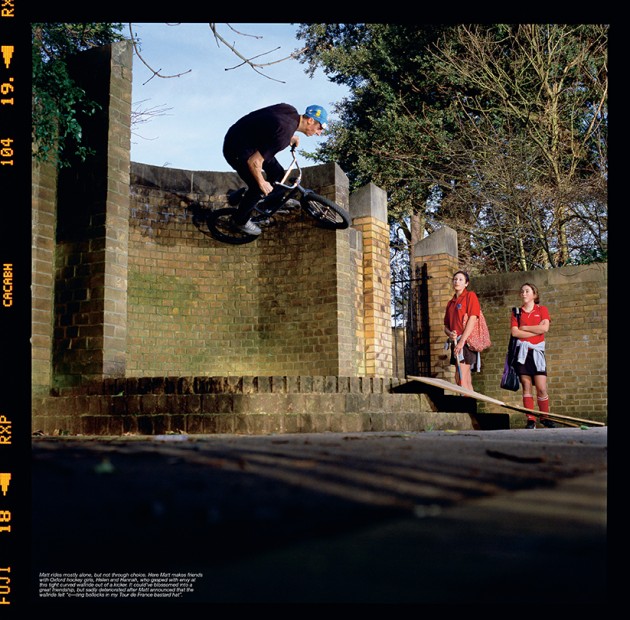 Matt has travelled the world, with and without his bike, rides for 2Hip, has written two books, done countless jobs and has made a quiet name for himself as being one of the UK's most original street riders. His reputation is surprising as he rides mostly alone and has been quiet in the usual media channels since declaring his toptube was 'six inches on the slack', for a bike check in Dig magazine a few years ago. If Matt had a bike check today the shopping list of components would be identical. His bike has not changed in four years; G-sport homer hubs, Primo Power Bite cranks and of course his trusty 44 tooth Profile chainring. When asked about his bike he responds "less pounds in weight means less pounds in the bank… I don't know, if it's not broken – don't fix it."
The concept of simple caravan living is nothing new to the Matt. It's his birthright. Until the age of four, Matt was brought up in a caravan up just off the M25, north of Dartford. Now at 27, Matt's current caravan, built in the 1970s, has period beige stripes over its mossy white exterior, complete with plastic tinted windows. It was a present from a mechanic who towed it for him from a nearby pig farm. It holds all his worldly possessions and caters for Matt's every need. The kitchen is limited to a two-ring hob and a grill oven,thatsitsnexttoatankofwaterfilledfromthehosepipeatthestartof the week. For now, personal hygiene is taken care of by a blue bucket and a bar of surprisingly branded soap. I ask for a wash. "Treat yer son, Imperial Leather that soap is, three for a pound on St. Neots market, lasted me a year so far… f—king bargain mate." And Matt Wakefield really does love a good bargain. His entire daily routine is a tribute to getting the most out of an honest day whilst spending the absolute minimum. Matt awakes every day to the sound of angelic white doves procreating and has a mug of Yorkshire Tea: "There are some things you cut corners on, and tea's not one of them," he explains as he sips his brew from an Asda mushroom pasta sauce glass jar, having given me his only mug. Next, he boils up a bowl of porridge, which if you don't know is one of the healthiest and cheapest sources of energy, an entire sack is under a quid and only needs water, as a treat Matt adds milk but only on Saturdays; "It's the weekend, f—k it, go nuts… livin' la vida loca," he shows off, as I imagine Ricky Martin eating milky porridge wearing a shiny violet shirt and quickly shake my head. After porridge Matt does press-ups on the rough ground by his caravan with a rucksack of bricks on his back and wearing yellow Marigolds to protect his hands. After the Marigolds and press ups, he cycles twelve miles to do a honest day's work at Summer Town Cycles fixing punctures for Oxford University students – the excellence of this country's academics, who are unable to 'decipher' how to change an inner tube and pay £30 for the privilege. "Daft sods… they got more money than sense, that's their problem."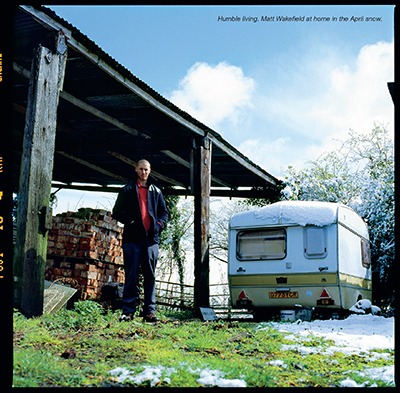 When asked if he were a bird, which bird would he be? Matt answers, "A crow," without hesitation. "They're natural scavengers, and have a massive beak," he admiringly explains as he scratches the kink in his enlarged but crooked snout. This makes sense; scavenger is definitely a word to describe Matt. He can't pass a skip or charity shop without a quick sift through. With the exception of his £10 Airwalks from TK Maxx and his treasured Harrington jacket, most of his belongings are second-hand, donated, found or stolen. His AMF bowling alley shoes are my personal favourite acquisition. Not to paint a dishonest picture, Matt is a firm believer that the best things in life are free. In all his days travelling with Social Disorder I doubt he paid for a single hotel room. "Name me one hotel that offers the excitement of hearing a JCB demolishing the room next to you as you wake up… beats room service any day, you can shove them four stars and mini bar up your arse mate, know what I'm saying?" – describing the time Matt and Ripley riders slept in a derelict art college, in south London, only be woken by demolition teams dismantling the building at 7am.
Before the caravan Matt lived on the Barton estate, just outside Oxford. In contrast to Oxford's cultural city centre, Barton is one of the scummiest areas of England. £300 a month bought a damp box room in a corrugated iron clad house sharing with a Spanish girl and Polish lad who, without fail, got a shoeing every weekend, and with neighbours less friendly than Nottingham A&E on a Saturday night. Matt recalls he wasn't keen on the neighbours: "Absolute scum, couple with two kids, without work and both on the dole, but had more money than me, and covered in sport logos and sovereign rings, they'd get in pissed and sopped up on disco biscuits, then play hard house at 4am." Matt then goes on to tell me a story that partly motivated his caravan move. "It's Friday night and the scum neighbours return home to play hard house at 4am, as per usual. The Polish lad goes round to ask them to turn it down and get his weekly shoeing. I heard the shouting and looked out my bedroom window to see the women throwing car tyres over the fence at the shoed-in Polish lad as he's being punched by her loving husband, covering herself in grease and muck in the process – she looked more like chimney sweep. I stuck some clothes on, ran down and split it up. Then the women would kick off again, grabbing the Polish lad by the neck, whilst the husband would continue to punch him in the head, I'd split it up and it'd all kick off again. This routine continued until, the next door but one neighbour, an unemployed young single mother came round to help out shoeing in the Polish lad and shouted, 'Shall I to set the dog on him?' She returned to her house to fetch her pitbull, Gazza, but instead comes back with a Samurai sword fresh from its proud place on the mantelpiece. I throw the Polish lad, now completely shoed in, through our front door and settled down the three scum neighbours. After getting everyone calm I spent fifteen minutes helping the woman, still looking like a chimney sweep, find her sovereign rings that had come off in the fight with the grease from the tyres, the young single mum thanks me for helping them find the rings, I replied, 'You're welcome… and by the way, nice sword'."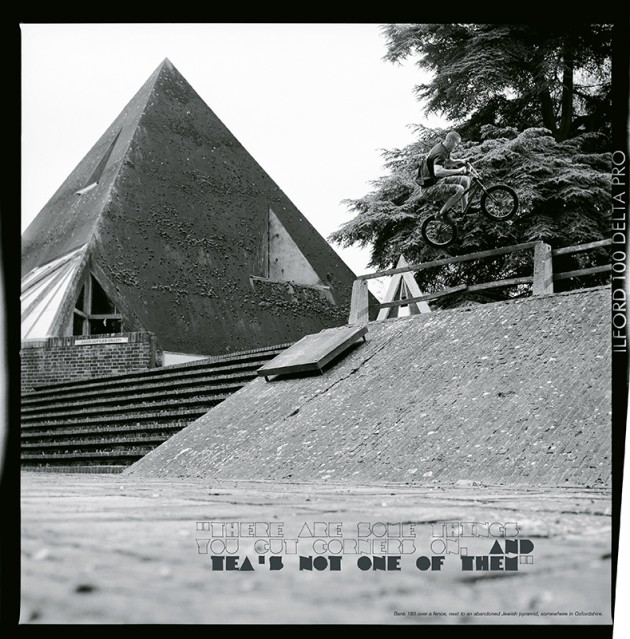 "THERE ARE SOME THINGS YOU CUT CORNERS ON, AND TEA'S NOT ONE OF THEM"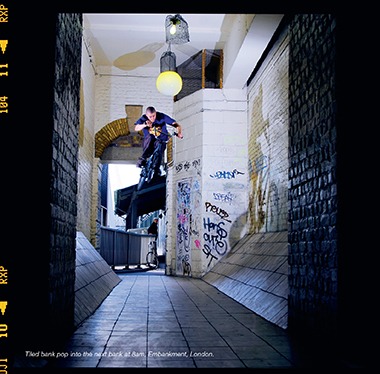 The constant threat of Gazza the pit bull terrier, a mouldy ceiling and knowledge that one day next door's kids would grow up were adequate motives alone for Matt to abandon conventional renting, leave the box room and embark out into the countryside and find a cheap plot for a caravan he was yet to own. Aside from the 'Booze Britain' neighbours, another major factor was financial. Last year Matt travelled the world, funded largely by generous credit cards and the whole time without his bike. "I was a bit bored of riding to be honest, so going travelling for six months was one of the best things I've ever done, it was refreshing to do stuff not related to riding." Throughout his travels, and in everyday life, Matt's a sponge for obscure and unsavoury characters and events. He seeks it out, he's got a nose for it, albeit wonky. He has the ability to befriend the strangest of people just out of plain curiosity. From the look of his smile the only people Matt isn't friendly to is dentists.
In a previous three-month trip to California, Matt shared the floor at the headquarters of 2Hip bikes in the dark woods above Santa Cruz, and befriended the owner and icon, Ron Wilkinson. "He's a fruit cake, an absolute nut bar… he'd rag it on his motorbike on sketchy mountain roads, wearing nothing but a wax jacket, bright green joggy bots and steel toe-cap Dr. Martins, with me on the back. He crashed twice while I was there. One time Ron went into the back of car, trapped his knee behind the bumper, and got dragged along down the road, breaking his knee, and spent three months healing. Once healed, Ron went on Props Megatour, but the driver of the bus fell asleep at the wheel, crashed, and a TV fell on and re-broke Ron's knee… should've no-win no-feed that bastard."
Matt sits back and recollects endless stories of the time he spent with Ron, some bizarre, some hilarious, some upsetting, and most unsuitable for print. Matt's personal favourite and not slanderous story of Ron Wilkinson involves an electric chair, a Polaroid camera and a Vietnam war veteran with a dark secret. "Me and Ron were out in Santa Cruz, at a punk rock bar called Jail House, boozing it up. This one guy, a legless Vietnam war vet, who was there every single night, gets hammered to the point he can't even control his electric wheelchair, he's that pissed. Me and Ron volunteer to push him home. Turns out he doesn't have a house, but just lives in a motel round the corner. He invites us for a drink. I jumped at the chance. He starts out showing us his war medals, showing us his photo albums of the war, and telling us slurred tales. I spot another photo album he hasn't showed us. I grab it down from the shelf, open it, and Jesus H Christ… page after page is covered in Polaroids of naked women posing in that very room! All prossies, ladies of the night, big mama hookers. Posing on the bed, on the floor, against the wall, even some on his electric chair, some legs open, some legs closed, some probing his knackers, some probing their own knackers, all different races and sizes. The photo album was an account of every prostitute he'd ever had in that motel. Absolutely amazing, unforgettable… his favourite was this Hispanic girl he called Mariah Burrito lips."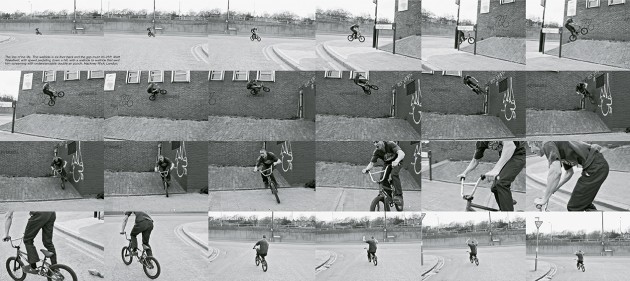 Prior to his world trip, Matt tried his hand at a few trades to simply pay the bills. These were mostly dull and mundane manual labour jobs that failed to inspire or captivate Matt's wondering attention, often resulting in him finding imaginative ways of making the hours pass. "I used to work the night shift in Thornton's warehouse, get bored, and end up writing obscenities on the silver wrapping of the boxes of chocolates… 'twat', 'arse end', 'saggy tits', all sorts really." I stop to think about all grans and mothers who on their birthday may have opened a box of Thornton's chocolates to find 'saggy tits' embossed in the silver foil. Matt just shrugs his shoulders, no harm done. As a Bat Sander at the Gun & Moore cricket bat factory in Cowlick, Nottingham, Matt befriended 'Deaf Ian', a Bat Polisher with whom a game of charades was as a means of communication. Despite never hearing a whistle all his life Deaf Ian's other favourite past-time was impressions, Matt would name an animal for Deaf Ian to lip read, then Deaf Ian would attempt to guess the noise animal would make by simply letting his vocal chords exert whatever felt right based on the animal's appearance. "The noise still haunts me today, his chicken impression was a dead ringer for throttled version Michael Jackson Earth Song."
"THERE'S NO TIE-DYE OR JOSS STICKS THIS END MATE, JUST TYRE LEVERS AND BANGERS 'N' MASH. THANK YOU VERY MUCH"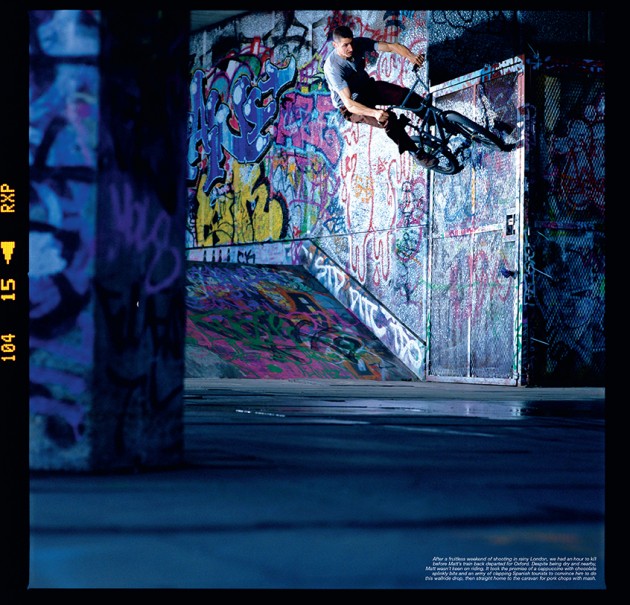 "NAME ME ONE HOTEL THAT OFFERS THE EXCITEMENT OF HEARING A JCB DEMOLISHING THE ROOM NEXT TO YOU AS YOU WAKE UP… BEATS ROOM SERVICE ANY DAY"
Aside from spending time as a chocolate factory night-worker, bike mechanic, tele-research phone operator, bat polisher and 2Hip rider, Matt's also an author with two titles to his name. Matt's trait of scavenging is the central concept behind each book. Both his first book, entitled Where's My Dinner Mam? and his second book, Found, are of the most original and bizarre reads I've ever come across. Both books are compiled of found passport photos he's stumbled upon on the streets around Nottingham or on his travels. Each passport photo becomes a chapter, with an accompanying short story, and both books are 35 chapters in length. "I find the photos anywhere and everywhere, especially when I'm not looking for them."
The royalties from Matt's books accumulates to very little, actually not even enough for a bag of porridge oats, simply because they're not published. But the fact that only a single hand-written copy of each book exits, and that they sit tucked away in his caravan simply adds to their value. Both books really encapsulate who Matt Wakefield is: they're highly original one-offs, made from nothing, verge toward eccentric, and manage to blur the definition between lunacy and genius. I could now conclude with the notion that Matt applies the same unorthodox approach and creativity to all elements of his life, inside and outside riding, but I won't… he's probably happier being known as honest, humble, but most of all cheap.
From Matt: I'd like to say thanks to my tolerant girlfriend Gemma, my family, Wozzy, George, Beanpole, 2Hip, Hot Wheels, Andy for donating me his caravan, and the guys at Grafham Water and STP (sticky toffee pudding).