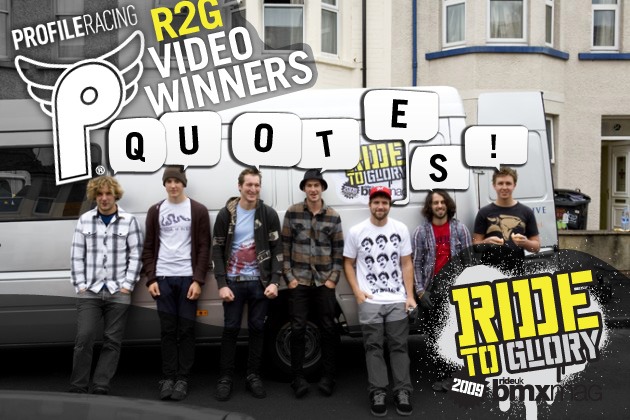 As you all now know, Profile Racing are the winners of the video contest of Ride 2 Glory. I emailed the guys with congratulations and asked each of them what was their favorite quote from the trip. Again, well done to Profile Racing and the team and here are the quotes!
Phil Aller
"Yes! We jeffinately will be coming back. Bigger, badder and probably more disorganised than ever!" [Jeff Klugiewicz 'in joke' – you had to be there I suppose!!]
Lima
Will herrman – "Are those 3d shorts? "
Martyn Tamblings wife – "Moley [Phil Aller] you have no say your just a monkey in the team. "
Banners to me – "Your not high 5ing me for me getting kissed by a man."
Craig Stevens
"Does your girfriend shave? Aussie Jon to Jeff K after Jeff asked Jon not to ask him any weird questions about his girlfriend."
Will Hermann
Martyn saying "Kaaaaa-Looooooo-Gaaaaaaaaaa-Whhhhiiiiiiitttttsssthhhhhhhh."
Jeff K
When Will said to me, "Well you ain't done any in fuckin' England have ya… get on with it!"
Martyn Tambling
One of the funneist things, was one of the tasks was to kiss a 15 stone girl and Lima got it done in style, we were in a bar in Bristol and we all started asking fat birds if Lima could have a kiss but we said the task was to kiss as many girl as possable so not to offend them for being fat. These two girl walked past and one was a fatty so we ask them for a kiss but the smaller girl took a liking to Lima and was well up for a kiss but we needed the fat one to kiss him, so as the smaller girl was just about to kiss Lima and he says "No not you love, your mate. " The fat bird was about 40 years old, about 20 stone and coverd in tattoos and piecing and the best bit was her husband was with her and Lima had to ask his permissoin first, lucky for him he said yes! So in the middle of the pub he went to kiss her. It was nuts she fully went for it, it was full tongue action and all with her husband stood next to them not looking to pleased. This was just one of 70 or so tasks, so you can imagine the stuff that went down through out the week, the trip was full of rad memories and funny times, Ride 2 Glory is a really good concept for a road trip and I was stoked to be part of it!
James Harrison
Fids for our group photo, and he said "I high 5 Bean, and say hello Bean. He says hello Fids", because he was working next door to Rowan Atkinson's house
Steven Bancroft
"Careful, don't flash him in the eyes, he'll have a Jeffeleptic fit in a minute" – Will Herrmann to me as I shot photos of Jeff's barspin road gap with a faulty flash gun.
Matt Coplon
"Really, really stoked for the team. I know the odds were stacked against them (weather, van rental, the pirate and the partier getting hurt and or arrested), so its bad ass they pulled through with a bang. We'll be stoked to see what happens next summer…maybe James will learn double whips this year so he can pull one with his balls hanging in the breeze? Maybe that should be a double point challenge (hint, hint). Congrats dudes!!!!!"
Profile Racing's video entry for Ride 2 Glory
http://mpora.com/videos/Mq0gAGUPm
More BMX >>