Relentless Energy Drink Boardmasters is back again for 2012! This time there's some new additions to it's VANS BMX Midi ramp set up with a multi-leveled style of ramp which looks a bit different plus they've replaced the vert ramp with a street course. Here's some more info of the event, be sure to check back here soon for more info….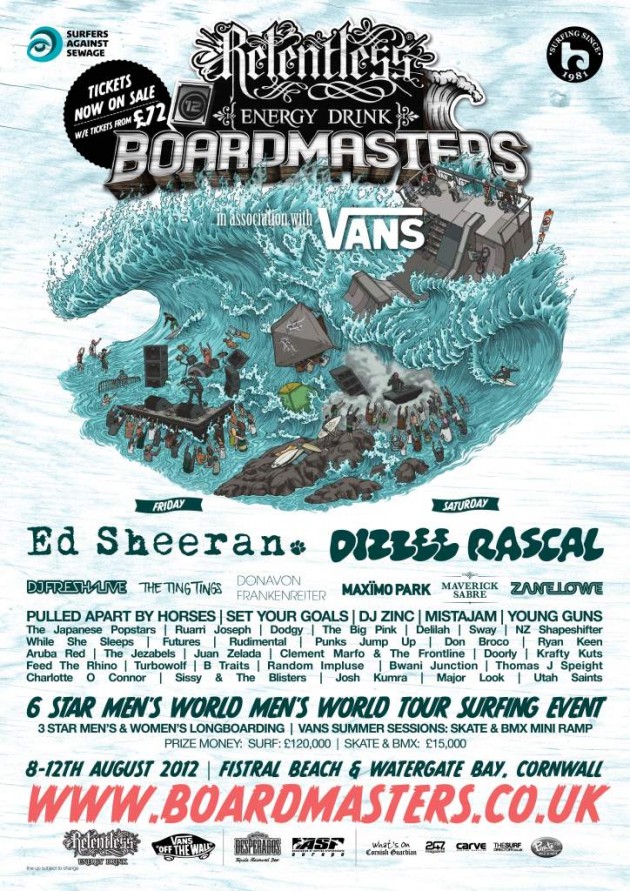 Relentless Energy Drink Boardmasters in association with Vans commences tomorrow, Monday 6 th August, with both
ASP Men's and Women's Longboarding Event's. First heats to commence 9am.
The ASP Men's 6 Star Event will start Tuesday 7th with a field of the top 144 surfers in the World. The 6 Star event will be live streamed on www.boardmasters.co.uk from Tuesday.
The events taking place at Fistral Beach are open to the public and we urge people to come down to witness the
World's best surfers for the only time in the UK.
Tickets to the Boardmasters Music Festival and The Beach Sessions are now available to buy at Fistral Beach.
Wednesday will see the official opening of the festival including the trade village and the Vans Summer Sessions Skate and BMX Comps. Vans Summer Sessions return with a brand new set up of street course and mini ramp.
The Beach Bar this year will also feature brand new Day Sessions, free acoustic sessions for anyone to attend. The Beach Sessions also return on Wednesday, Thursday and Sunday. Tickets for Beach Sessions are almost sold out but for the meantime are available to buy down at Fistral Beach.
The event is also running a new Park and ride System as well as a shuttle bus service from Watergate Bay to
Newquay.
For info check out:
http://www.facebook.com/boardmastersfestival