We have a special Product of the Day today. We managed to breach the defences at the Proper Bike Co secret design cave. After wrestling Jamie Cameron to the floor, tying him up with an SST Oryg cable and enticing Zoid with a Pot Noodle we managed to get some information on the new, yet to be released and yet to be named Proper front hub.
What do you think it should be called? Let us know in the comments or on Facebook.
Under duress Jamie gave the following statement;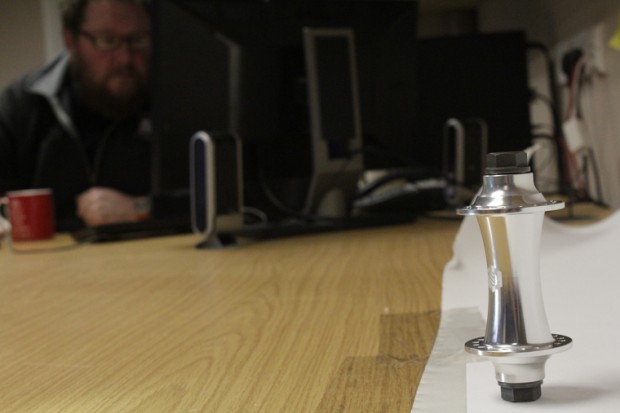 Moments later we slid a Pot Noodle in Zoids' direction and we were good to go.
Our new front hub is generally going to look much like any other. One advantage of making BMX hubs for over a decade is that we've probably seen just about every potential problem over the years. Here's the key areas where front hubs can go wrong and what we've done to address that;
· Alloy axles can strip (even with a helicoil)
· Alloy axles can be "crushed" slightly, causing the cone nuts to push straight onto the bearings when the wheel is done up tight.
· Flanges can be deformed when heavily abused
· Bearings can be incapable of taking the loads of modern street riding
· Hubguards aren't always available
We've used alloy axles in the past and for the most part they're fine. Riders that like to crank up their front wheel super tight would occasionally run into problems though. We wanted this hub to be a product you could literally bolt on and forget about, so we've used a chromoly axle. It's slightly heavier than alloy but it makes for 'bomb proof' hub. We've actually used chromoly axles on all our hubs for a year or so now and they're issue free.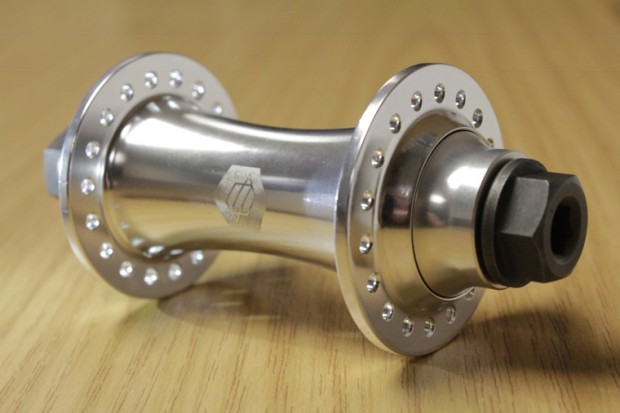 We've thickened up the flanges on this hub. We also set the spokes holes much further down the flange than most hubs. This makes the wheel stiffer and prevents any deformation from the spokes pulling over time.
We've used larger bearings than most other front hubs. These are tried and tested to be durable enough to cope with whatever loads BMX (in all it's variations) can demand.
We've got a matching guard slightly wider diameter than most popular pegs (including plastic pegs) available with the hub. Spicy Curry was able to give us some helpful grind advise with the guards. We're also working on a nylon version that Curry and Sam Cunningham wanted.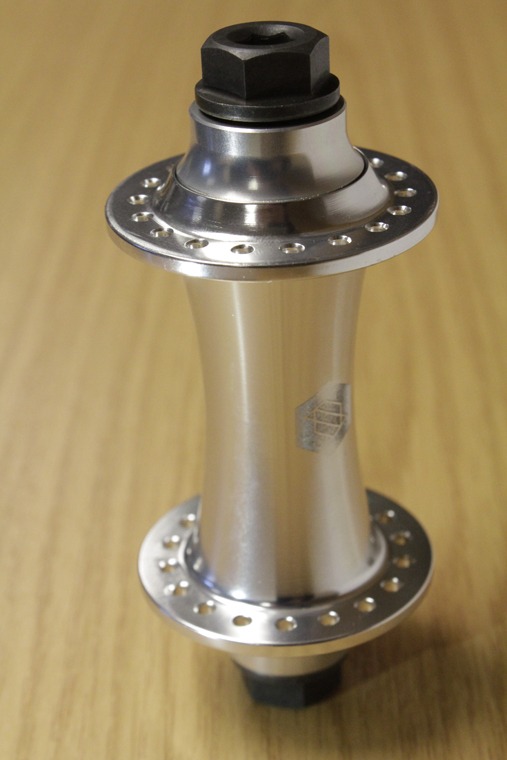 Anything other than a 17mm socket bolt (with 6mm broach) means carrying extra tools so we kept things simple and went with a standard bolt.
We also have a male option available (which is interchangeable) if for any reason that's your preference. 17mm nuts on that bad boy.