The votes are in! It was close between Bob Manchester and Fids at the beginning, but Fids took over by 158 points – giving him the guest spot on the trip. Although all is not lost for Bob, as he will also be on the tour due to the second US special guest not attending.
Congratulations to both Bob and Fids who will now be going on the Oakley National Trails Champs alongside Robbo, Martyn Tambling, Matt Priest, Kye Forte, Leo Forte, Lima, Toby Forte, Max Wood, Scott Edgworth, Jon Robinson, Ross Broughton and US Special Guest Heath Pinter!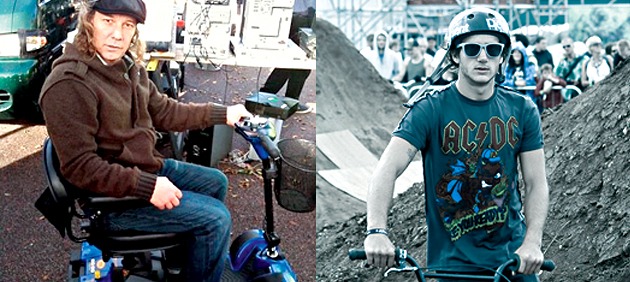 Words from the organizers.
I am not in the habit of responding to message board comments, but due to some of the nameless negative comments and slander that was left in response to the online poll, that I felt was very detrimental to the event and all its sponsors, I have decided to write a statement in an attempt to make it clear exactly why we decided to organise the Trail Champs and the criteria for rider selection.
Firstly I want to make it clear that The Trail Champs is an idea that Ross, Leo & I came up with. We have done all the organising & we make it happen from start to finish. Oakley, along with our other sponsors, are good enough to help fund the idea and make it become a reality. We stand to lose our own cash and a great deal of time organising the trip, but it's a great opportunity to give what we live for, Trail riding, a place in the media spotlight.
Our love of Trails and the many years involved in the UK scene, all being main contributors to our local spots for over 10 years, prompted us to make our idea become a reality. It is an attempt to showcase the best riders and amazing spots to a larger audience. Giving not only UK Trail riders, but also riders from all over the world, along with people interested in action sports in general, a chance to see the unique & unusually close-knit UK Trail scene. Did I mention all this would be produced into a free good quality web video and filmed by one of the best, if not the best, video-grapher in the UK, James Cox. Last year's video received a massive 544,523 views so we are fairly confident that it is something people want to see.
One of the main goals for organising a more formal event was to show that Trail riding is not just kids in the woods making a mess. Although it may be hard to believe more structured events in the future may go some way towards establishing Trail riding as a true sport in its own right and save spots from being ploughed by councils and landowners in the future.
One of the main stumbling blocks we had at Decoy when fighting with the Council & planners against ploughing the jumps, as like many other Trail spots, is that Trail riding has no National Governing body, no guidelines or structure to abide by. Although this is part of what makes being involved in Trails so cool, at the same time we need to think about the future. This attitude has to change as it makes insuring jumps built by illusive and unapproachable guys in woods a no-go for Councils etc….
If we want to save spots from being ploughed, a more structured association or series of planned events would be a way of giving Trails more credibility in the eyes of people who make decisions…. i.e.…Councils & local government. This is another reason why we thought the Trail Champs might go a way to help.
Rider selection.
Selecting riders is always going to be hard, with so many talented and versatile riders to choose from. We finally narrowed it down to what we thought represented a cross section of different riding styles, some new-comers and a couple of long-term UK Trail staples that have been building for longer than some of you have owned a BMX. Always making sure that the guys are actually Trail riders a not Dirt jump contest riders that can produce jump box tricks on crappy set-ups at contests. Sort of a chance for the true Trail rider to shine on a series of contests condensed into a fun weeklong road trip, held on real spots. Not a make shift soggy stunt ramp in the corner of an exhibition centre, where the general public goad on participants until someone goes to hospital.
We only have so much budget and, sure, we would love to take more guys on the trip, but financially and logistically taking more than 12 riders along with drivers & media is not possible. We are very cautious we don't want to overrun and invade someone's Trails & ruin all their hard work by having too large a crew.
And finally, I would also like to make it clear that we do not arrive unannounced at any of the spots, every day of the trip is cleared with the locals at each spot. Decoy is Leo and my local spot in case you didn't know, and Ross is one of the main builders at Epsom. We also asked permission of all the locals before putting any banners or branding on the jumps. I would also like to thank everyone involved for being cool enough to let us ride the spots last year and again this year. We are very aware we can't do this without your say so.
I am sure I have bored you enough, so will leave it at that.
Thanks for your time.