Issue 184 is now available. On the cover is Sunday Bikes new recruit Danny Stanzl taking the 'kids bike' to a whole new level. Photo by Robin Pearson. Here's what's inside…
Urban Playgrounds
Robin Pearson put together this awesome piece which features Boiski, Danny Stanzle, Joe Embrey, Isaac Lesser and Lew Anderson. These hidden gems are littered over London, and when they're not in use by little kids, big kids get to session the place.
2013 Rider Round Up
Check this out, Alex Donnachie, Josh Bedford, Ben Hittle, Benny L, Boiski, Chris Childs, Corey Bohan, Dale Armstrong, Chris Doyle, Fathead, Gary Young, Greg Illingworth, Harry Main, Mike Hucker Clark, Leo Forte, Lima, Mike Miller, Nigel Sylvester, Pete Sawyer, Mat Priest, Ryan Taylor, Sean Sexton, Stevie Churchill and Brian Yeagle give you there 2013 round up. Bang tidy line up, not sure about that shirt though Silky….
Mighty Oaks From Acorns Grow
The tale of Rush Skatepark from concept to creation. After reading this article you're left wondering how you're going to get a session in at this place, ASAP. Dunk takes us right back to where it all begin with incredible imagery and a desire to build one of the greatest indoor parks the UK have ever seen. To they they have done a good job is an understatement, this place is insane.
Regulars
High Five: Brian Kachinsky
Love and Hate: Tom blyth
Insight: Darryl Tocco
What they ride: James Curry
MORE…
Fresh out the box
Wardrobe
Tested: Social Storm
First Look: Matt Nordstrom and Chef
5 Thing: Rush Art
Step Up: Jamie Skinner
Thought Bubble: BMX House
What They Ride: Jordan Waters
Number cruncher
Inbox
Final Frame
For the win – Sunday Bikes Package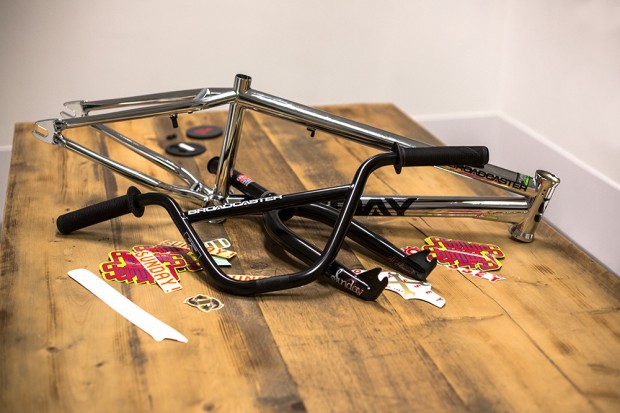 We're always listening!
Tell us what you think about this issue, send us your thoughts and comments on Twitter to – @rideukbmx or write on our Facebook wall. Don't be shy!
Subscribe
We can do the hard work for you and send 6 issues straight to your door! And you'll get it first before anyone else!
We also have a new monthly subs offer! If you subscribe this month you'll get a FREE pair of United Socks + Ride UK POV T-shirt + Ride UK Beanie + Flick Trix Bike!
Get all this for just £14.99. All you have to do is click here to subscribe.
  Ride UK Magazine is available from;
  the majority of WH Smiths High street stores
  local newsagents
  Martin McColls
  One Stop shops
  and also larger Tesco, Asda and Sainsbury stores.