Originally published in Ride UK BMX Magazine issue 124, January 2009, the interview issue.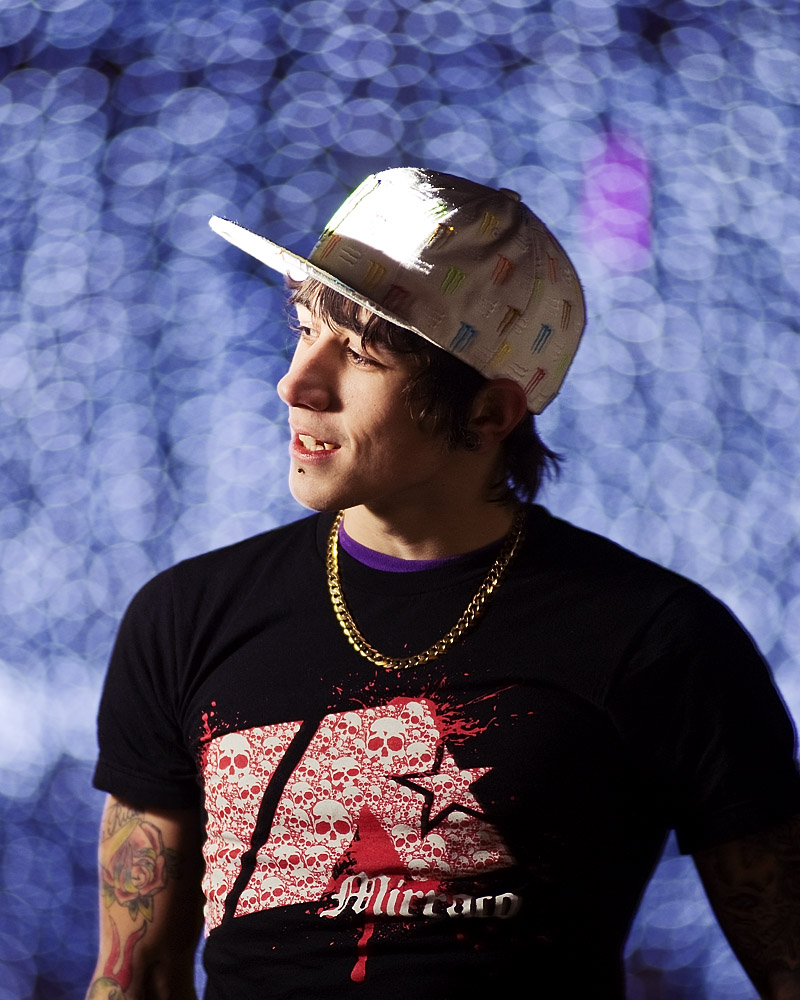 Harry Main · Bristol
December 2nd, 8.30am, Bristol. I wake up on the floor of room 109 of the Holiday Inn Express hotel. I'm not on holiday, nor am I in a particular hurry. I find my shoes amongst a pile of bikes and head downstairs to the breakfast room to see what they have to offer, knowing I won't get back to sleep. A TV on the wall projects financial misery and distant disaster onto a spread of glutenous pastries and cups of grey tea, interspersed with a freezing cold weather forecast for the rest of the day. I sit facing the windows instead. Across the road from the hotel is Bristol's main train station, with a steady stream of commuters emanating from it. There are a few people still here, mostly necking coffee and doing last-minute massaging of some Powerpoint slides. For most people BMX is an escape from the working week; from the path of least resistance. For one Harry Main, still asleep upstairs, BMX is the day job.
* * *
People who go massive have something on other people…Two nights previous, and I'm taking a phone call asking if I want to travel from London to shoot an interview. One night previous and I turn up at Motion skatepark to meet Harry, for only the second time. He wanted to ride the new set up and thought it might be a good opportunity to get some pictures. Tom was kind enough to keep the park open after-hours for us to get the photos we needed.
We go back to the hotel and talk over a laptop and some food from the 24-hour garage. I'm keen to get a sense of how Harry's life has been changed by BMX. Until the age of fifteen the furthest he'd been from his hometown of Liverpool was Wales:
I had to get a passport to go to the BMX masters … this year alone I've used my passport fifteen times or so. It's so sick to think that before I rode BMX I hadn't even stayed in a hotel, I'd always stayed in caravans, taking trips to Haven and Butlins.
It quickly becomes evident that travel is a big theme for Harry:
If I didn't ride BMX I'd never ever be traveling like I do. You've only got one life and you've got to see the world. I can advise anybody, whether you're sponsored or not, if you get any spare cash, you need to get to other countries. It's such a buzz when you arrive in a place that you've never been to … The best place I've been is Barcelona for the Spanish bike show, I love how ghetto La Rambla is at 2am with the pikeys and prostitutes, with no-one else I know apart from my friends. I can't really explain it, I just love the feeling of being away, all the new experiences … Whenever I get the opportunity I'll leave my bike in as much as I'll take it out and look at the qualities of the place because I'll probably never see it again.
It's easy to forget that he's still relatively young. Eighteen years to his name, and only six of those have been spent riding BMX. We talk about where he started:
At first it was really was just a mess about thing, it didn't really register that it was something I'd carry on doing … My first bike was a Universal Rabid Storm. It was chrome. I remember the first day I got it I pulled the front brake and the cable snapped, I started crying cos I didn't know what had happened and thought the bike was broken.
Despite this experience, Harry thinks that kids today care too much about how dialled their bikes are, that they think they can't progress without the best setup:
I rode a bike with a flat headtube, I'm talking right angles on either side. I used to flip a double coping spine, jump over the handlebars and run down the landing when I was trying to learn … A week after that I was on the flairs.
Likewise he doesn't think that a less-than-privilidged background has to preclude someone from their aspirations:
I came from nothing—my family haven't got a lot of money. I'm not saying we're poor, but I've always worked for it. I used to do the dishes in my house … deliver 48 papers a night … just for that money for a session on a Sunday … I did shelf stacking in Iceland. My boss knew I was getting somewhere with my riding so he'd always do anything he could to help out, getting people to cover if I had a contest or a photoshoot. He always used to joke, asking if I'd met Dave Mirra, because he'd seen the game. I met Mirra at FISE just before I finished at Iceland and my boss couldn't believe it. It's funny to think that BMX got that big really.
Contests are one of the main reasons that Harry is able to live the life he now does. NASS 2008 was where I first saw him ride in person and in the UK at least, he is probably best known as being a contest rider. I ask if this is a fair assessment.
I like to try to stay at a competitive level, it keeps the fun in riding for me. If I wasn't progressing then I wouldn't get the buzz I get out of it. I've got to keep learning to keep it exciting … It's so good when you get to the end of a run and you've just done exactly what you wanted to do and everything's worked out.
He's keen to stress that attending all the contests isn't something his sponsors put on him:
I personally want to go to all the contests so it happens to work out better for both of us. But you've got Dave Rytell and Nigel Sylvester on the [Mirraco] team and they don't really do contests.
Harry's aim for next year is to spend more time in America and ride every park stop on the Dew Tour, arguably the biggest contest around.
Personally I think without the Dew Tour BMX would die, even though people hate it—say they hate it—I don't think BMX would be what BMX is without it.
Throughout the evening I'm impressed by how well-versed Harry is when it comes to BMX. He seems to know who everyone is, who did what in which video part, whose magazine interviews and covers he liked and why. We talk about a hot topic of the day, the Nike web video and certain comparisons that have been made:
I'd prefer to watch Garrett Reynolds than Van Homan. The stuff that Garrett Reynolds is doing now—there's new school and then there's him.
And other riding inspirations:
I used to see my local heroes like Jon Taylor, Alistair Whitton and Owain Clegg, they're the people I looked up to when I first started, it's because of people like that I got so into it. One of my main riding inspirations is Ben Hennon … that's the best style of riding, pedalling at anything, same as Dave Mirra and Jamie Bestwick, they go massive on everything. People who go massive have something on other people: plenty of people can do any kind of backflip variation but not a lot of people can go higher than everyone else.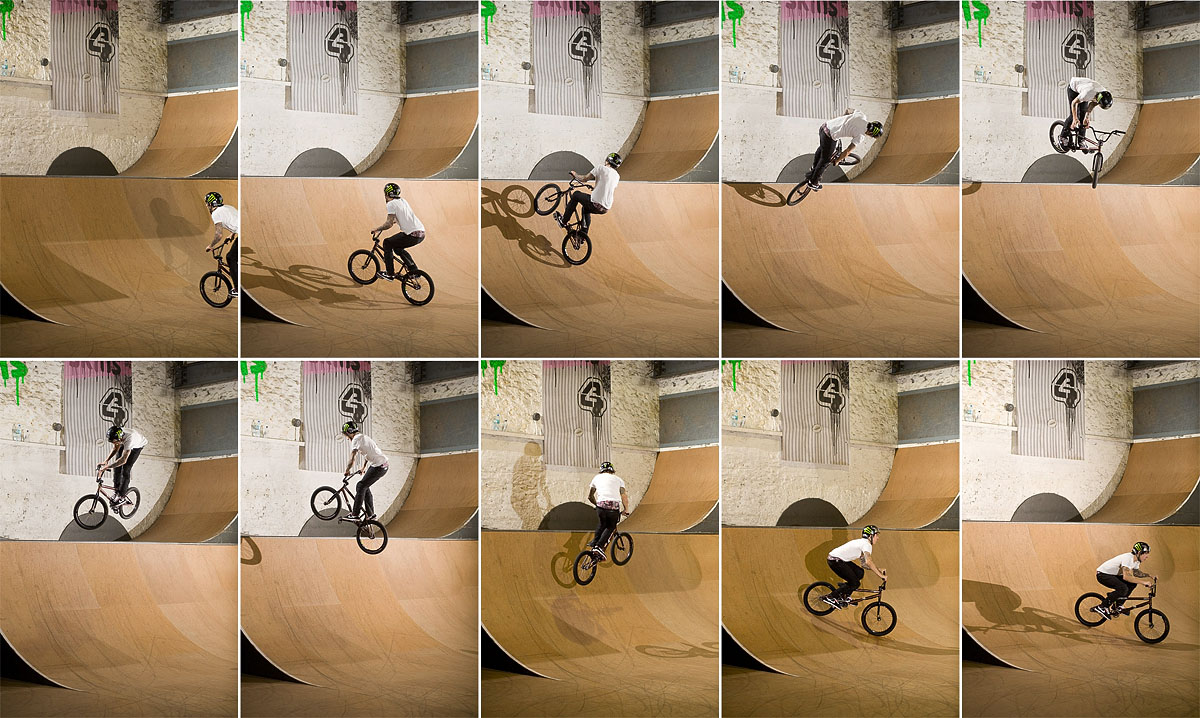 Harry Main · 540 · barspin · Motion Ramp Park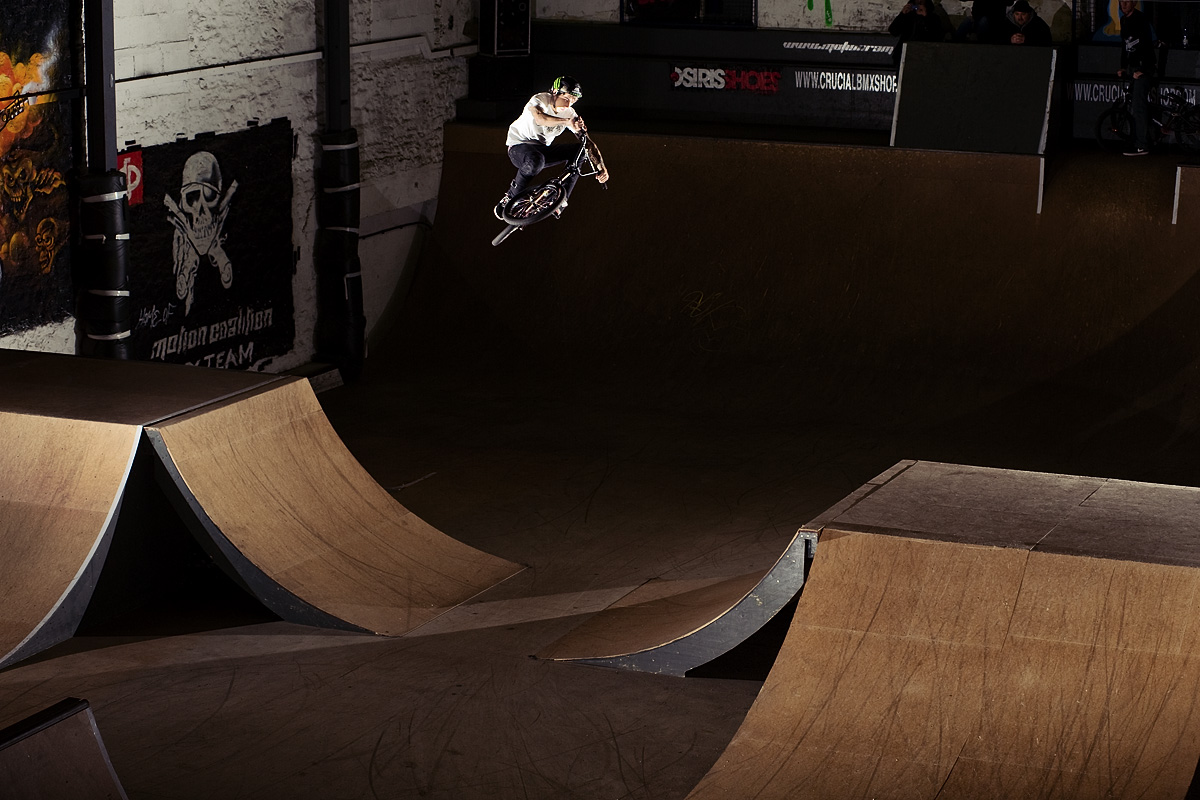 Harry Main · Motion Ramp Park 
The wildest thing about this gap is that it wasn't pulled first time.
* * *
Back in the breakfast room the 24 hour news channel has been turned off, replaced with a CD of Christmas music. A suggestion I've outstayed my welcome perhaps. It's 10amand time to wake Harry and his friend Craig. We're riding street today, our guide is a Bristol local called Lucian who Harry met for the first time the night before. Despite how hastily arranged the trip is, I'm impressed with the initiative Harry's taken. He mentioned that he was keen to show people that he could ride street. To my mind it's more about showing himself that he can ride street.
To a certain extent there's a contradiction between how much Harry cares about how he's perceived (he refers a number of times to "the negative side of BMX") and how little he professes to; "any publicity is good publicity" he quips. If anything it's a contradiction that arises from his overwhelmingly positive attitude: On one hand he wants to dispel negativity, but to react is to become a part of it:
It pisses me off when people tell me to get off the ramps and call me a ramp rat so I wouldn't inflict that on a street rider who doesn't feel in the mood to ride a quarter.
Even more so than contests, Harry's lifestyle is enabled by his sponsors. If there is bigger money in BMX these days you can hardly begrudge him getting some of it. I ask if he had any reservations when he was offered to ride for Nike, considering some of the negative sentiment that exists towards their being involved with BMX.
If people want to call me a sell out for riding the best shoes out there for BMX, with the best style, the best quality and the best technology then I guess I'm a sell out aren't I?
He likewise has no qualms about Mirraco being owned by Trek. Later on he admits that Nike paid for training on how to interview, which covered questions like that. The answer is a little canned, but the conviction behind it rings true. I can think of few people I've met with Harry's dedication (BMX is self-admittedly the only thing he finds interesting) and realistically Nike are one of the few companies with a budget to allow him to apply that dedication in the direction he wants. Not to say that he's unrealistic about it lasting forever:
You might be doing it one day and getting paid and you might not the next day. If my contests stopped and my sponsorship stopped I'd probably be on the dole riding a bike every single day.
We wheel the bikes outside and put foot to pedal. After meeting our guide and hitting the first few spots of the day we head to Crucial, the local BMX shop. Harry's back wheel needs attention from some flairs that didn't quite go all the way around. Lucian mentions that the shop's got one of his signature bikes from his previous and first sponsor, KHE. Harry is curious, not even having seen the bike before leaving the team. Ironically when we get there it's also departed—sold the day before.
Being with KHE was amazing and I want to thank them for where they helped me to go, but it felt like I got to a point where I couldn't grow any bigger than I was. With Mirraco I feel like I've got more opportunities, more places I can go. it's exactly where I want to be.
It was literally either sit in school with my head in a book or go out riding.Harry's other sponsors are Monster Energy Drink and King Kong pads. He's keen to give them their due, all part of how consummately he runs his riding career. Throughout the day he's taking calls from sponsors, arranging schedules and discussing prototypes. It's always been something he's managed himself (out of choice rather than any unwillingness on the part of his parents) to the point where he is earning a living off riding. That he left school aged fifteen without a GCSE to his name goes some way toward explaining how he got there so young:
When people hear about this, and I've seen it on forums, they think I left school to turn pro; it wasn't like that. It was literally either sit in school with my head in a book or go out riding. To me, being out riding was a lot more interesting, so I just thought fuck it. It wasn't a calculated risk, I didn't think I'd ever get to this level. You never know what's round the corner in life so I don't see the point in waiting round in a school … I didn't get expelled or suspended or anything, I just stopped going—don't get me wrong, my mum and dad were so pissed off. It got to the point where we were arguing so much that we could either fall out or I could do my own thing and they'd respect it. It was my final decision.
To think Harry was stupid would be stupid in itself, evinced both by how adeptly he manages his riding and the considered manner in which he answers my questions.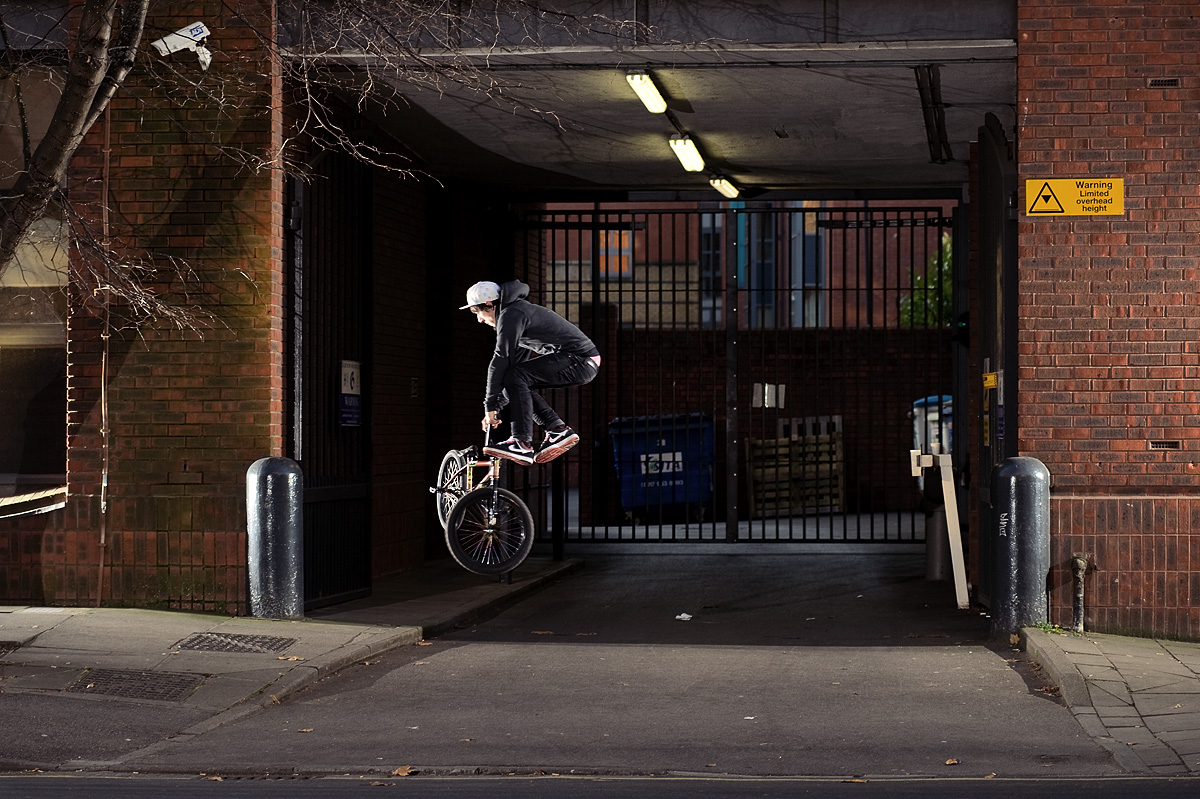 Harry Main
 · 
tailwhip
 · 
Bristol
The police turned up as soon as I'd finished setting up photo. We somehow convinced them to let him have one go at it.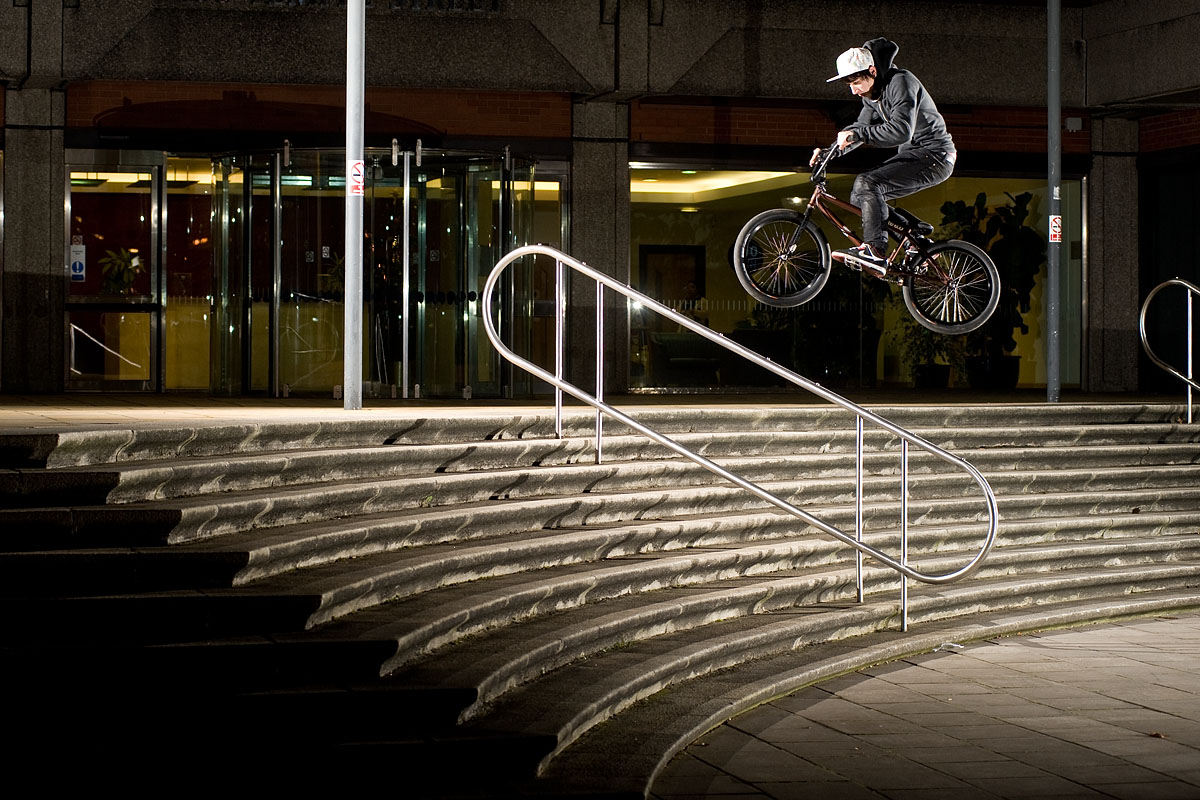 Harry Main · 180 over the rail · Bristol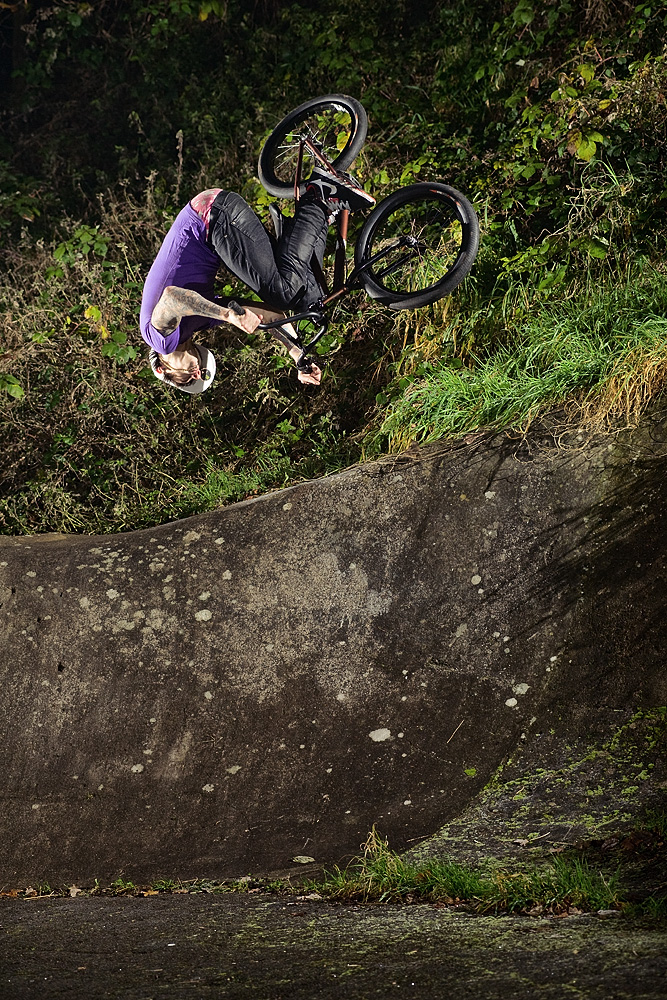 Harry Main · flair · Bristol 
If you look closely you can see how the bottom half of the transition is slippery with dew. Published on the cover of Ride UK BMX Magazine issue 124.
All in, we ride around the city for about nine hours, with the temperature not venturing far above zero. As with the previous day Harry falls from some unenviable positions but seems unaffected. About 7pm we stop back at the hotel to warm back up and order some food. Nike can't have many athletes with Harry's diet:
I eat pizza, that is it, flat out. When I'm in The States I eat hamburgers cos they make the best hamburgers … no, my mum makes the best hamburgers, make sure you put that in.
We head back into the street to shoot one more photo. That done, we return to Motion where Harry remains on his bike, unable to resist getting more riding in. After I while I leave to catch a train, back to London and the day job. Harry is staying one more night and then to who knows where, Greenville USA, maybe. I ask if he feels lucky to be living the life he does: "I used to knock on wood for luck", he explains, "my mum slapped my hand and said 'listen to me: you make your own luck in this life'".
—