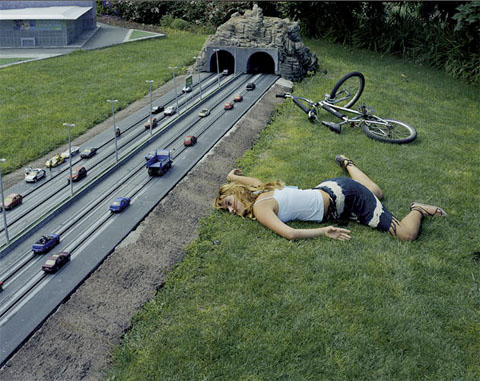 This morning wasn't really any different from any other. I awoke to the sound of the Harp on my iPhone and hit sleep three times as usual. After I woke up I made a cup of tea and fired up my computer. The Deadmau5 torrent I was downloading through Xtorrent had completed and so I check Facebook and Twitter to see what was going on. I check out the Superfly story on SuperBMX.com that FITBIKECO had posted on their Twitter and imagined how awful it must have been to be in his position, and that with the growth of BMX comes the increase in arseholes involved in it.
I then sent out an email to a bunch of people about the upcoming Dirt British Championships and felt quite satisfied with what I'd learn t in one morning.
I heard my flatmates in their room having some adult activities so I exited my apartment block at about ten past eight.
As I started riding I was aware of a problem with my chain. I've lost the clip that holds the split link together so it's a bit of a gamble on my ride to work. (If anyone has a spare please let me know)
As I got round the corner from my house theres a cycle path that runs perculiarly on the right side of the road, cars turning right have to cross it but usually they're very much aware of the path and stop and check for bikes.
As I manualled the short hill, down the cycle lane, I watched a people carrier come by me and without signaling or hesitating, turn right in front of my front wheel. My tyre dug into the spot behind his front wheel and my bars stright through the front wing, in hindsight I knew those things were cheap but not that cheap.
Before I knew it I was upside down, flying over the steep bonnet. It was like watching one of those 30mph adverts.
I landed on my back, flat on the other side of the car and scraped down the road, I'd been getting some pace up so it must have looked pretty spectacular to the observers. As I landed and rolled I held my head in and put my hands out. I tore my backpack and ripped the read pocket off my jeans (with my house keys still inside).
As I got up, all I could think about was my two grand Macbook Pro in my bag, 'please don't be smashed, please'. The Ugandan man climbing out of the Zafira obviously didn't have the funds to pay for a new one. Though to be honest he seemed more concerned with the handlebar hole in the side of his vehicle.
I get pretty angry in confrontations, especially when I'm not getting my own way, so after finding my computer was not broken, I got on my way, still hopeing that the split link hadnt fallen off my chain.
A mile down the road I realized my keys weren't in the pocket I didn't have, so turned around and went back to the spot. still some United backpack flakes on the floor and my keys in the middle of the road.
I'm at work now. But I might not have been. If it wasn't for knowing how to fall off my bike I think i would have hit my head pretty hard and we all know the risks of that.
Take care out there people. Everything isn't in your control…
-Robin