This came in via inbox and I thought it was a worthy cause to support. Luke Hirst has been helpng out with some of the 3D flythrough work for Four One Four Skateparks who have an indoor skatepark project underway in the city of Manchester, called Graystone Action Sports Academy.
There's a strong BMX scene still within this city and it'd be well sick to have a new indoor park of this size there for all of the locals and riders from across the country/world to come and visit. Design-wise, it looks as if there's been a lot of thought put into the layout of this park and it caters to all different aspects of 'urban culture' such as; Skateboarding, BMX, Free Ski, Snowboard, Parkour, Scooter, Dance, Cheer, Video Production, Digital Photography and even Music Recording.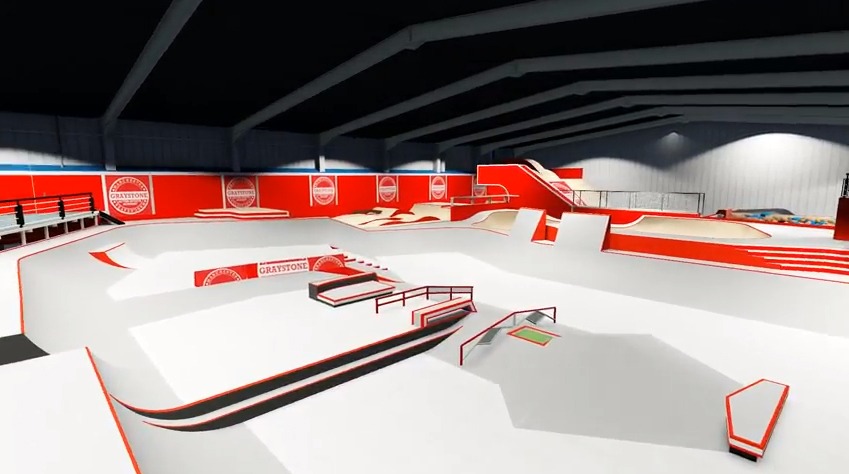 Check out the video above for more of an insight into what the place will actually look like, hopefully we see more from this project over the next coming months and the place becomes a reality in the near-future.
Hit up the link below to follow Graystone Action Sports Academy's progress on Facebook. This is a sick project and it'll bring many years of fun for young people around the area so please take some time to support the cause!
facebook.com/graystoneactionsports
---
More info:
"Graystone Action Sports Academy Manchester will be the first and only progression-based action sports facility of its kind in the UK.
Open to anyone and everyone, from beginner to pro, the 35,000 sqft indoor arena will enable riders to realise their supercharge their freestyle skills in a range of sports by combining world-class facilities and the latest training techniques within a reduced-risk environment.
Graystone Action Sports Academy Manchester welcomes riders and players from a range of sports and activities, including skateboard, BMX, Free Ski, Snowboard, Parkour, Scooter, Dance, Cheer, Video Production, Digital Photography and Music Recording."