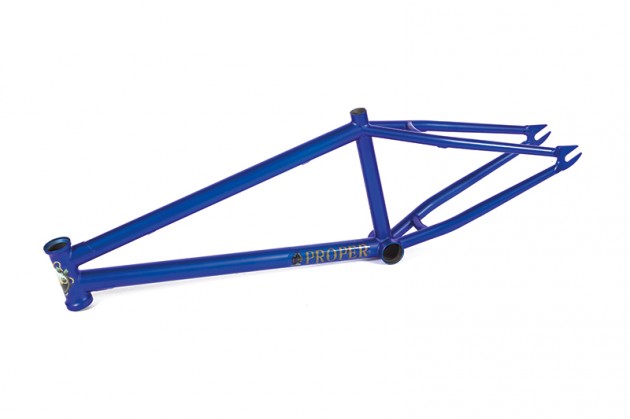 Proper
Trawlerman
Another rad dude who I've had the honour to spend some time with is Max Wood. We featured a sneaky look at his Trawlerman frame a few issue's back, and we were all drooling over it then in the office. We now have it in real life and we're not disappointed. Absolutely solid construction from Proper. And to be fair it needs to be, there's no two ways about it, Max is mental. He will not entertain anything if he's not in mid air for at least 6 seconds. This thing needs to be tight. Full 4130 construction, laser cut gussets, with one featuring an awesome ships wheel motif. Tapered chain and seat stays, curved chain and seat stay braces, 4mm thick dropouts with a tapered Spanish BB. There's even clearance for a 33t sprocket! Max goes that fast!. Built to all the usual Proper standards, which essentially means you have a frame for life with this thing.
Specs
Top Tube: 21", 21.2"
Chain Stay Length: 14"
Angles: 71 degree seatube,
74.5 degree head angle
Bottom Bracket: 11.6"
Weight: 4.13 lbs
Colours: Black,
Bare Metal, Blue
RRP: £289.99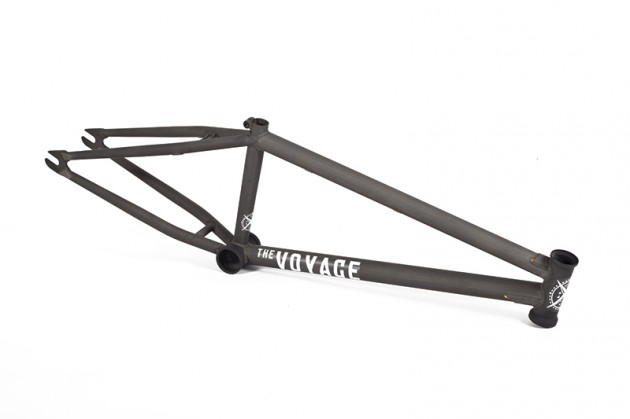 United
The Voyage
Now this is what I'm talking about. Geoff Slattery is one of my favourite riders of all time. He's one of those guys with the skill set to take
on anything and be good at it. With that, he's been asked by United to design his own frame and this is what he has come up with. Straight to the point, no frills, no gimmics, a solid piece of kit designed specifically for 13ft gaps into tennis courts. 100% seamless Japanese 4130 cromo construction, top and downtube gussets, with an embossed logo. The tubing is thicker at the key stress area's, which is essential if you're thinking about doing any kind of Slaterized based riding. Tapered tubing throughout, with a healthy 2.35 tyre clearance out back and removable mounts and guides. Phosphate raw for me, just look how dope it looks.
Specs
Top Tube: 20.5", 21", 21.25", 21.5"
Chain Stay Length: 13.75"
Angles: 71 degree seatube,
74.5 degree head angle
Bottom Bracket: 11.6"
Weight: 4.9 lbs
Colours: ED Black,
Phosphate Raw, Flat Blue
RRP: £259.99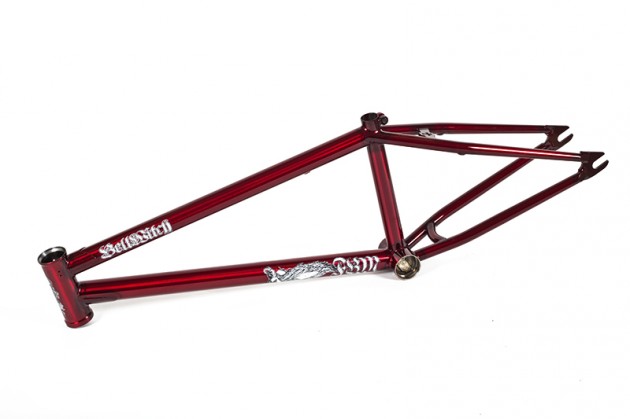 FBM
Bellwitch
During the battle for Middle Earth one frame reined supreme. The Bellwitch from FBM (From the Bowels of Mordor bike company). FBM needed a warrior of epic proportions to lead them into battle. After his Voices section in the mid noughties Anno Domini, Tom Blyth entered the chasm of battle. His demands were simple. He needed a Bellwitch frame forged in the fires of New York. He required 25,000 gallons of Lambs Blood and a leather J in the colour of Left Hand Path Black. No other would do. Hand crafted from USA made Super Therm 4130 chromoly, and married with Tom's meticulous geometry we have a frame here ready for any battle. Built in seat post clamp, mid BB and internal headset, with laser cut gussets and seat stay bridge. FBM's attention to detail is one of the best in the business, so you're investing in one of the best frames on the market, it's that simple. Go forth Bellwitch, show me the meaning of haste.
Specs
Top Tube: 20.1/2", 20.3/4", 21", 21.1/4"
Chain Stay Length: 13.1/2"
Angles: 71 degree seatube,
74 degree head angle
Bottom Bracket: 11.6"
Weight: 4.9 lbs
Colours: Lambs Blood Red,
Left hand Path Black
RRP: £399.99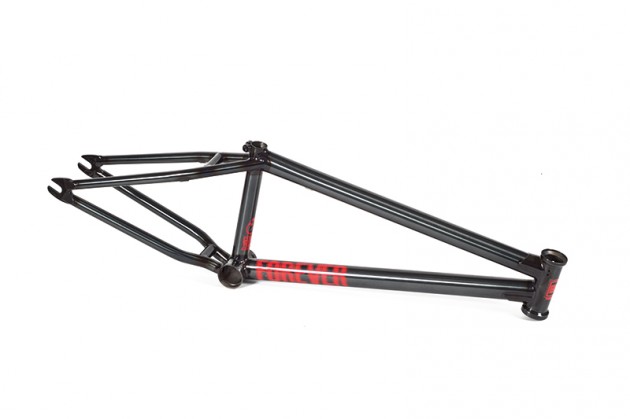 BSD
Forever
BSD's original and popular Forever frame has been
bumped up to V2 classification, but of course BSD have kept the OG geometry. The noticeable changes are a wider rear end, toptube gusset, ovalized downtube and a slotted seat clamp. As standard it has the tapered seat and chainstays, internally relieved headtube, tiny dropouts and removable lugs, cable guides and gyro tabs. This thing is built as solid as you'd expect. Heat treated 4130 and it looks an absolute treat. Good all round frame from a company who are making a difference in BMX.
Specs
Top Tube: 20.5", 20.8", 21", 21.2", 21.5"
Chain Stay Length: 13.75"
Angles: 71 degree seatube, 74 degree head angle
Bottom Bracket: 11.5"
Weight: 4.8 lbs
Colours: Black, White, Raw
RRP: £259.99