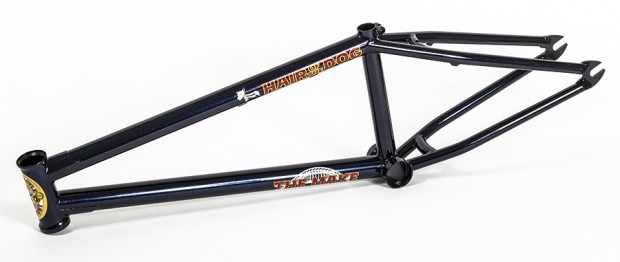 The Make
Hair of the Dog
This looks an absolute treat from The Make. The midnight
blue colour way and graphics are sick. Hair of the Dog is
Chris "The Count" Lee's signature frame. Built from the tried and trusted 4130 sanko tubing it has a double-butted top
tube, down tube and seatstays. Wide tyre clearance and all the usual integrated headset and BB, along with a solid looking integrated seat post clamp. The bottom bracket and headtube are both externally and internally machined and heat-treated. Weighing in at a very decent 4.5lbs this is well worth a look.
Specs
Top Tube: 20.625"
Chain Stay Length: 13.25"
Angles: 71 degree seatube,
75 degree head angle
Bottom Bracket: 11.5"
Weight: 4.5 lbs
Colours: Gloss Black,
Midnight Blue.
RRP: £319.99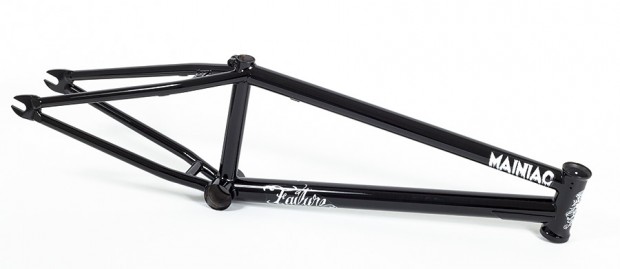 Failure
Mainiac
We all saw Harrymainia this month and it blew the BMX world away. And now here's the machine that Harry did it on, his signature Mainiac frame from Failure. Constructed from full 4130 chromoly with great attention to detail and a solid build quality, with integrated everything and good all round angles. Harry is best known for his ramp riding, however this frame would not be out of place when riding street or dirt. It's a solid all rounder. Awesome graphics on here too and it weighs in at 4.7lbs. Light, strong and looks banging. Keep an eye out for the matching bars and forks from Harry and Failure too, all in this is a great set up at a good price.
Specs
Top Tube: 20.4", 20.8"
Chain Stay Length: 13.2"
Angles: 71 degree seatube, 75 degree head angle
Bottom Bracket: 11.8"
Weight: 4.7 lbs
Colours: Gloss Black,
Metallic Purple.
RRP: £279.99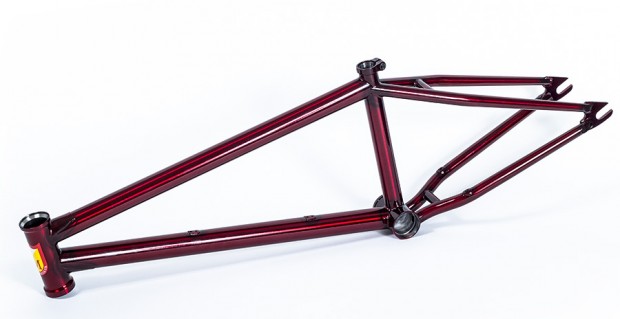 S&M 
Credence
Clint Reynolds signature Credence produce is starting to come through via S&M, and here we have the tidy looking M.O.D frame. Really good clean lines from the mind of Clint and with the build quality of S&M you can't go far wrong with this stuff. We got this trans red colour through, but the M.O.D is also available in trans orange, which looks insanely good. Credence also have the C.C.R frame along with a set of bars all via S&M, the future looks good. Hit the specs for more info.
Specs
Top Tube: 20.75", 21", 21.25", 21.5"
Chain Stay Length: 13.6"
Angles: 71 degree seatube, 74.5 degree head angle
Bottom Bracket: 11.61"
Weight: 4.78 lbs
Colours: Candy Red,
Trans Orange.
RRP: £399.99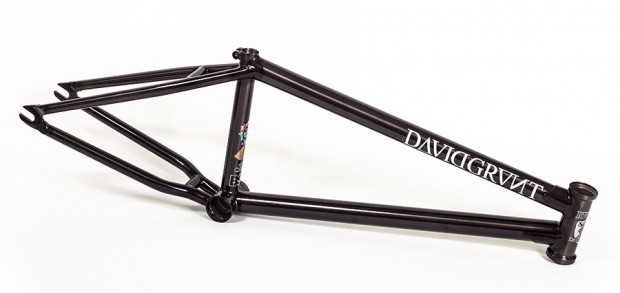 BSD
Raider
Here's the new David Grant signature frame from BSD. Ok, lets get right to it, David is a big dude. If you're above average height wise, take a serious look at this frame. The standover height on the Raider is a massive 9.3", marry that with a top tube option of 21.6" and this frame has all bases covered for the taller gent. All the usual BSD build quality and attention to detail in here. It comes with no brake mounts and a choice of either trans black or clear coat raw, which looks particularly sweet. It weighs in at a slick 5lbs too, which is great bearing in
mind how much extra material you get with this frame.
Specs
Top Tube: 20.7", 21", 21.6"
Chain Stay Length: 13.75"
Angles: 70 degree seatube, 75 degree head angle
Bottom Bracket: 11.75"
Weight: 5 lbs
Colours: Trans Black,
Clear Coat Raw.
RRP: £269.99