Ireland has produced a pool of talented riders over the years, as well as some of the most creative minds in BMX. Besides Peter Adam's 'Emerald' video and some of Donnacha Carrol's older projects (if you were lucky enough to see them), it's not often you get to see documentation of the Irish BMX scene.
Dublin local Eoin Shiel just released a teaser for his Dublin scene video 'Raincheck'. In between working at Ireland's only rider owned and run BMX shop The Boardroom, Eoin answered a few questions about the video for us.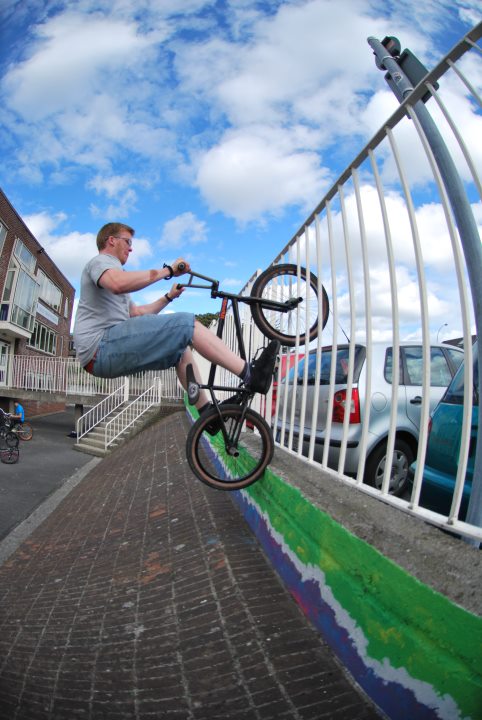 ,
Eoin on the other side of the camera – fakie wallride double peg in a Dublin schoolyard.
Tell us a little about the BMX scene in Dublin:
Well, there's two ways of looking at it, there's a very small older scene that exists outside of the free parks. Then there's a massive scene of younger lads who live for their local park. There's not as many older riders as thee used to be, a lot have settled down or moved away due to the fact that Ireland has less and less to offer them as time goes on.
Why the name Raincheck?
Anyone who has visited or lived in Ireland will know that there is one thing for certain. It will rain. (especially if you have plans). I couldn't tell you the amount of times I've been half way to a session or a spot to meet someone and the sky opens up! I had a few different ideas floating around, but I guess that one made perfect sense.
What inspired you to make Raincheck?
I guess there are a couple of factors. Having a TRV and doing next to nothing productive with it for a while got boring and I decided to do something about it. Videos have inspired me hugely, Voices was probably the one that had the biggest impact, then videos like Can I eat? and All day.
More importantly, as you said, documentation of Irish riders is minimal and some of the guys I get to ride with are ridiculously good, so the time was right I guess.
Any particular sections to look out for?
Yeah, Ryan Aylward and Hubert Jankowski. Ryan's on Wethepeople flow and Hubert is similarly on United. They're two fairly unknown but seriously talented riders. Hopefully people dig it.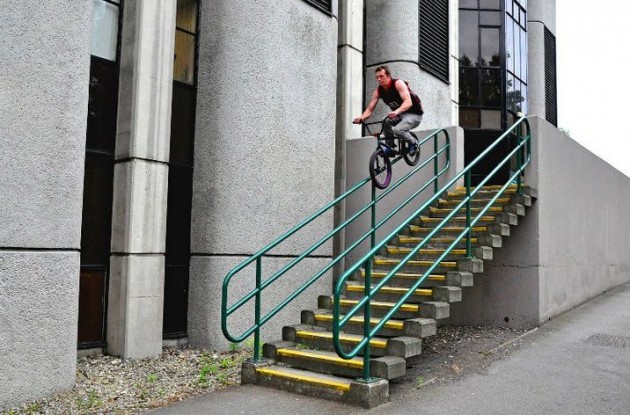 Hubert Jankowski – massive double peg on a trip to Leeds.
How can we get hold of a copy of Raincheck?
There's a few ways. Online orders will ONLY go through:
http://raincheckvideo.bigcartel.com/
Otherwise, if you're in Ireland, I work at The Boardroom the countries ONLY rider owned and run BMX and Skate Shop. So you can grab one from me there. I'll also have a stack in my camera bag so, if you see me ask me or message me on the old Facebook and we can sort something out. (I'll be bringing some to the Leeds PROW jam too)
Last question, favourite Irish BMXer?!
Jaysus, this is an odd one since anyone I name will be a mate. I'm going to say Peter Adam. He's the friendliest guy on the planet and he rides his own way. (plus he serves a kickass breakfast).
Thanks Eoin! – Ady