Bike Test: Radio Astron
Website: radiobikes.com
Distro: tritonimports.co.uk
Thanks: Crucial BMX Shop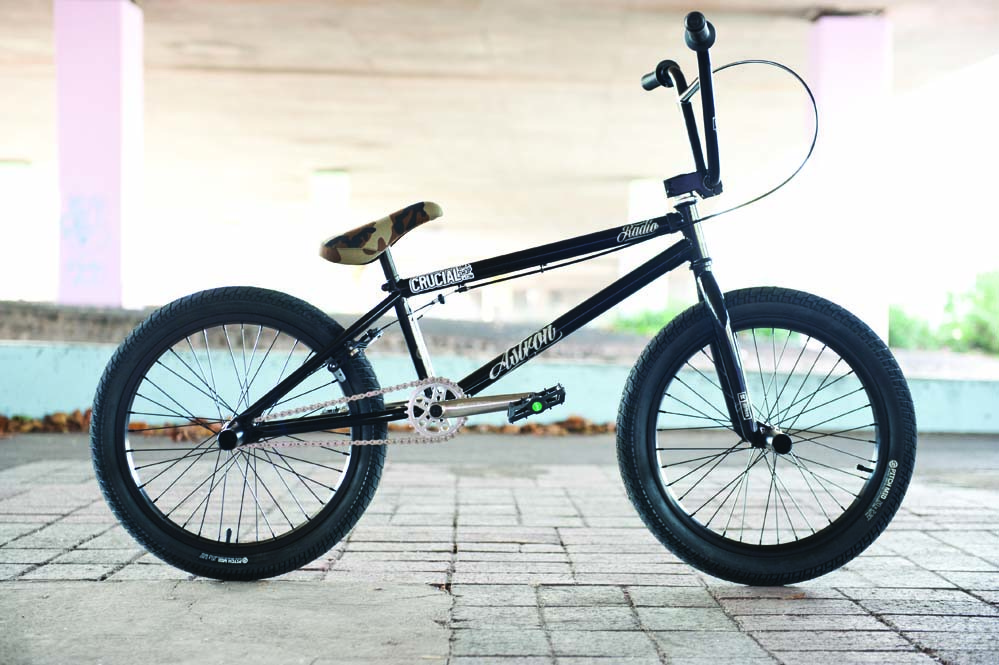 Who is the brand? Radio Bikes.
About the bike:
Straight out of Germany is the Radio Astron. A beautifully finished black and chrome machine its a classic combo, which will never go out of fashion. Dusted with Salt parts you can see the quality right away and that remains when you ride it. Everything feels good. The length is pretty much right on for everyone at 20.75 and the 9" bars give you plenty of control up front.
As a brand, Radio is fairly small (over here at least) but they seem to be producing some top notch completes if this Astron is anything to go by. Thanks in no small part to cohabiting with WTP, arguably one the best manufacturers of complete's out there. The bike comes with removable brake hardware, pegs, and nice CNC'd chain ring and three piece splined 'ICS' cranks with an extra pinch bolt to stop them going loose. I've seen this before on other cranks but it's super clean on the Radio. It's not the lightest bike I've ever picked up, but it's not heavy, just the right weight to give you the confidence that it will take some abuse. Thumbs up!
Who rides for them? Leo Hoppe, Willem Van Gansen, Christoph Werner, Lluis Lacondeguy Alier, Adolf Silva, Tanner Easterla, Jason Lopez, Reece Goddard
Brand Background:
Radio launched its first range of bikes in 2009 and has been growing rapidly ever since. Ran out of the same office as WTP and Éclat, the bikes feature the same attention to detail and special factor that has made WeThePeople as successful and as big as it is now. The main focus of Radio was to build quality bikes, but starting at a lower price level but building up to high-end spec model that could be ridden by any rider. The bikes are specced with Salt and SaltPlus components.
David Paterson – Triton Imports
What do the manufacturers say about it?
The Astron sits towards the top of the range and features crmo main frame and full crmo fork and bar. New features for this year is the mid tripod seat and a taller 9″ bar. I guess the real standout features on this bike is the SaltPlus fully CNC machined front load stem and the shorter 170mm Radio ICS cranks.
David Paterson – Triton Imports
What are the stand out features of the bike?
General build quality is up there and the styling is spot on.
What is the geometry like and what is the weight of the bike?
The 20.75 TT and big bars make this the perfect all-rounder. It's a bike I could get used to very quickly.
Is there anything that could be improved on the bike?
With the removable brake hardware it would be cool to see a hinged lever to make things that bit easier, but there are no major improvements to be made as far as I could see!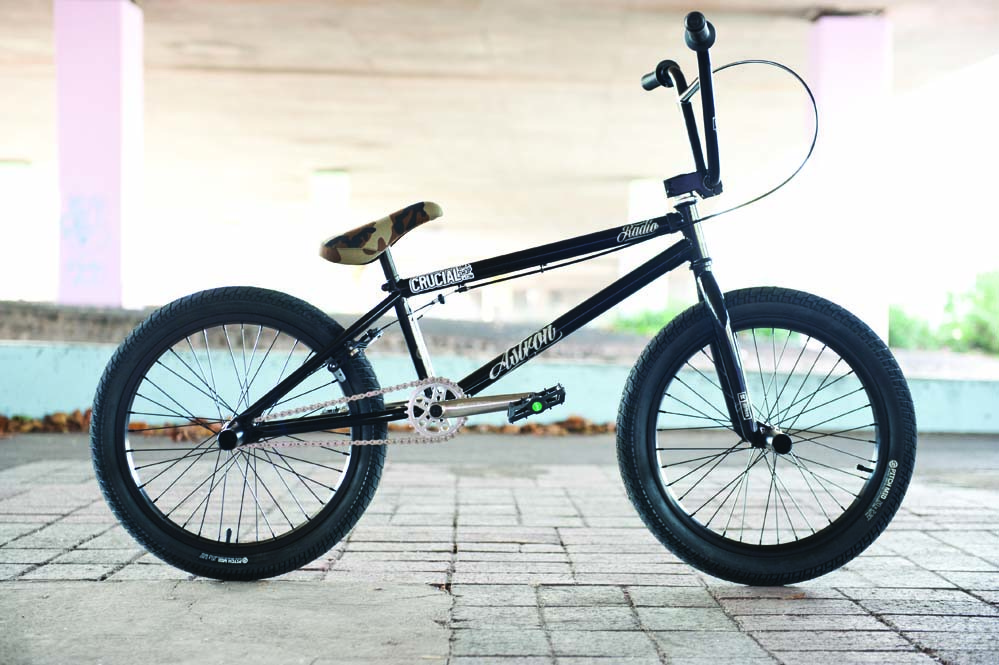 Open Gallery
8 Images
Specs:
Frame: Full 4130 crmo 20.75tt, 13.5r
Forks: RADIO "PRO-V2" full crmo
Bars: full 4130 crmo 9"h 29.1"w
Grips: SALT "Team" grips
Stem: SALTPLUS "Field" front loading stem
Cranks: RADIO "ICS" tubular 3pc crank crmo, 170mm, ICS System
Sprocket:  RADIO "PRO" 6061 T6 alloy 26t sprocket
BB: mid size, press fit, sealed bearing
Pedals: SALTPLUS "Stealth" nylon/fibreglass pedals
Fr Wheel:  RADIO "PRO" alloy hub, female axle on SALTPLUS "Summit" rim, aero double wall
R Wheel: RADIO "PRO" alloy cassette hub 14mm hollow axle on SALTPLUS "Summit" rim, straight double wall,
Driver: 9t 1-piece cassette driver, sealed bearing
Tyres: SALT "Pitch Mid" tires, 2.3" front & rear
Seat: RADIO "mid padded tripod seat
Post: alloy tripod post
Colours: Black/Teal
RRP: £360.00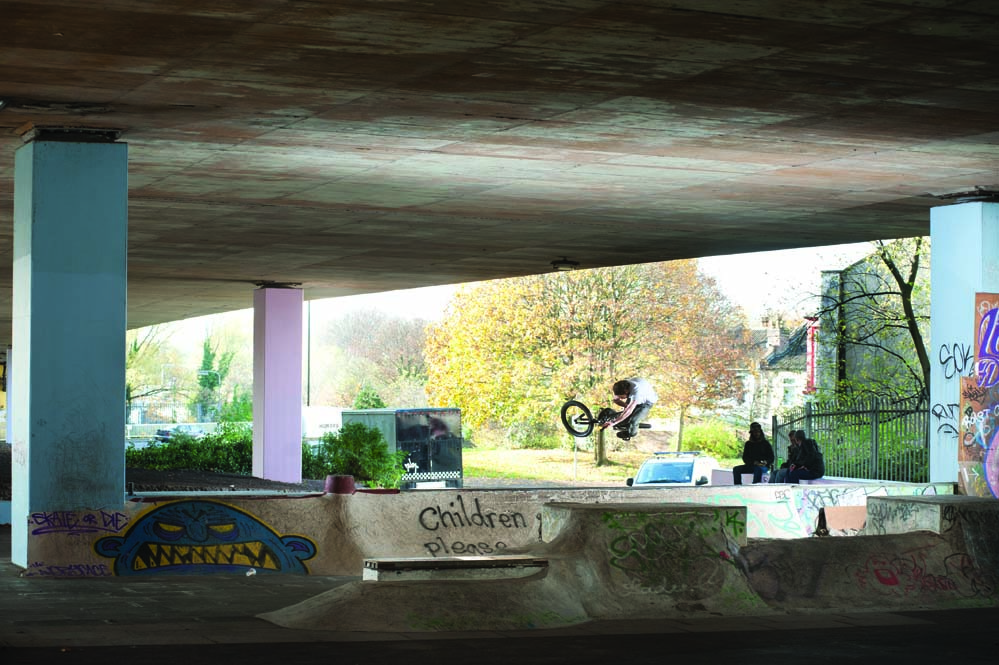 Pete Marselle lays one flat and fast on a small handmade quarter, much to the delight of the local cider crew in attendance.
About the rider:
Name: Pete Marselle
Age: 100
Home: Bristol
Favourite thing about this bike: The bars are bigger than what I'm used to but it felt really good to ride.