Issue 182 should be hitting your doormat soon, if not already, and shortly after it'll be available in your favourite BMX store, various supermarkets and newsagents too. In there we have 'A Complete Nightmare' feature, which is often the first port of call for kids out buying a BMX, usually for Christmas. In that piece we have some of the best brands in BMX, offering their wares at fantastic prices, with all the experience and craft from company owners who know what it is to ride. The likes of Diamondback, Fit, 88, Haro, Wethepeople, Premium, United and Verde.
However, today we shine the light on some brands we may see a lot of, but generally don't feature all too often. May I welcome you to..
A Complete Nightmare – The Reject Bin
MGP – Whiplash
In 1994 I was stood outside my local chip shop in Leeds, the warm waft of battered cod filling my nostrils, while the tang of the vinegar made my tongue dance like an eel in a boiling pan. When suddenly, a sharp shooting pain gripped the back of my thigh, it felt like a bullet wound, it pulled and pulled. Screaming like a badger in a cheap snare, I fell to the ground as the chip shop proprietor came rushing to my aid. Manjit had freed me from my torture as I felt the Kappa sports pants I wore back then, fill with blood and stick to my legs. Looking round, there it was, the master of my demise, a jack russel called Alfie. Chained to those hooks you get outside of lower class shops, he'd seen fit to make my short life a misery, for no other reason than, he just could. Four years later Alfie was to be maimed by a drunk driver, and required one of those trolly things dogs need when their back legs go. I found this quietly pleasing as a teenager.
This is a memory I've had buried for the best part of two decades, and had all but forgotten until I straddled the Mad Gear Pro 'Whiplash' for the first time. The razor sharp seat biting into me like a deranged council house pet had brought back such a severe relapse, I was found lying on a skatepark floor shouting "Manjit, get him off".
The Whiplash is quite aptly named, as I'd suspect thats pretty much the only thing you'll get from this when everything fails under you. It looks like something a pick pocket would ride in a city centre, weighs more than a six grand car and has the feel of a reversing dustbin wagon. Keep looking punters.. RRP: £235.00
RBK – TITAN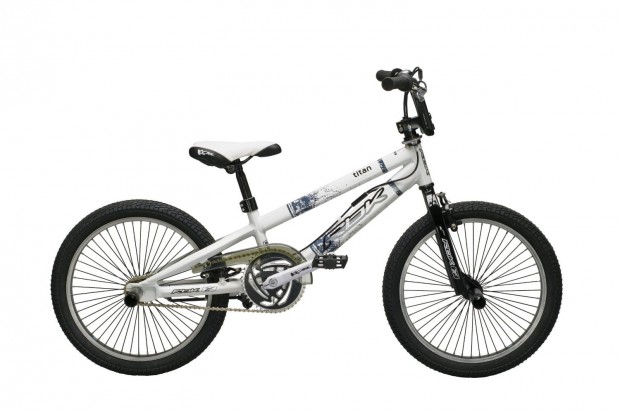 Reebok may have done a colab with the hottest skateboard brand on the planet, but their RBK range of freestyle BMX cycles are about as desirable as a clubbed foot. On first looks, we notice the low slung frame, radial laced wheels, full u brake compliment and leatherette action saddle. All in all, it looks like something your older brother would bring back after robbing a shed in Middlesbrough, cheap tat with a name you'd give an overweight pet.
Riding it, well it does have it's plus sides. When you get rolling it feels like you're in an out of control shopping trolly, which was amazing aged 13! Not too great though if you'd like to actually ride this thing like a BMX. A hop bars attempt turned into a fractured knee cap.
It's not so unique selling point is the 360 degree rotor headset. The most genius piece of marketing since a man sliced a loaf and sold it 'as seen'. The gyro has stood the test of time with unwashed children for almost three generations, and continues to hoodwink skint Dads into parting with cash for a bike that looks like the back end of a Subaru. Keep looking!! RRP: £unknown (there is one on ebay right now though for £8.00)
Muddyfox – x ray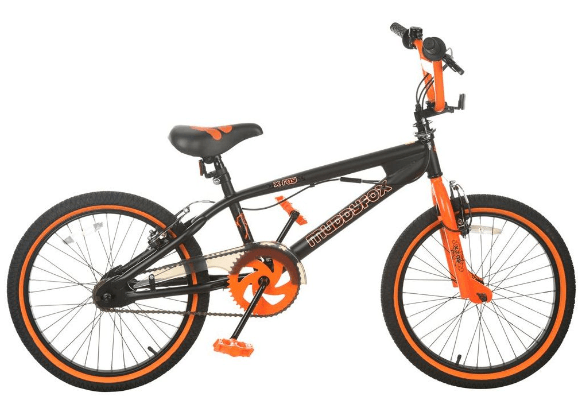 Like every child of the 80's and 90's my Sundays were spent in the local working mens club, stealing dregs of bitter and eating crab sticks. We had this guy who used to sell porno videos from the back of his Montego called Ray. Of course, his nickname was X-RAY..
Everything X RAY sold was a let down. Bad copies, faulty tapes, saucy housewife secrets accidentally taped over with an FA cup match. It was just a waste of time, but he was always coming back, every Sunday he was there. No refunds of course, but the clientele kept coming, and why?
Well, just like Muddyfox and the local bike shop, X RAY was a fixture of the place, and on a very low level he did a job, it was crap, but it was available. The X RAY BMX from Muddyfox looks like a ride at a traveling fair, and also feels like one. Dangerous, cumbersome and erratic. It's the only bike we've ever tested that you have to pedal DOWN HILL! Sorry, but your hunt must continue. RRP: £75.00
TRAX – BMX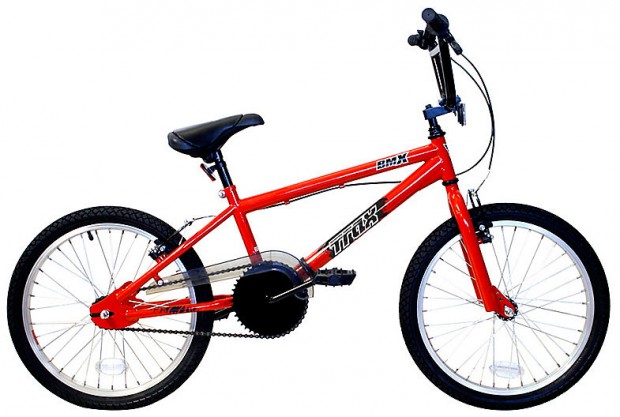 Luckily in the United Kingdom, children have access to free dental care thanks to the National Health Service. Which is why Trax BMX is a popular purchase for families who buy things like windscreen washer fluid and ice scrapers in large car maintenance supermarkets, usually situated on out of town retail parks.
With it's shafted stem, v brakes and one piece cranks you can bet your bottom dollar this puppy is a maintenance headache. Luckily it comes with a free six week service, and will not leave the forecourt without it's mandatory 22 point safety check, all of which suddenly become irrelevant as you pick up your teeth from the ground, because that shafted stem suddenly went two piece!
Handling, well out of the bunch this is by far the best. Streamlined for the track and does not come with the 360 degree rotational stop anchor. Could this be a sales disaster? Trying a trick on this bike feels like being hit by a transit van, as it drives away from the scene of a crime at considerable speed. The brakes, when locked not only crush the alloy rim, the force will also make you lose the contents of your stomach. At only £59.99 you'd be forgiven for thinking this bike is a bargain, but what you need to factor in is the sheer volume of food lost on each ride. Dinner isn't cheap. Close, but keep hunting.. RRP: £59.99
zinc – bruiser mag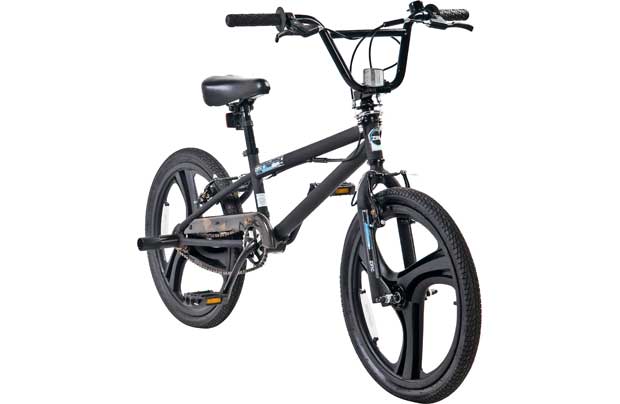 The first thing you'll notice about the Zinc is it's tri spoke sport mags, 25T tiny fashion sprocket, action rotational head stem, cable assist v brakes and the biggest chain failure since Armitage Shanks invented the wireless urinal. This thing is slack, it's a crank flip away from being a helicopter. Any kind of quick start will instantly turn into that tragic feeling of weightlessness you get when unwittingly pedalling with a snapped chain. It sickens to the core.
Zinc BMX's are often seen either in the window of Cash Convertors, or parked outside one, usually next to a Staffordshire Bull Terrier style dog on those hook things I talked about earlier. Generally they're not used for freestyle trickery, even though the advert for them says otherwise 'This classic BMX with aggressive styling has a pair of rear stunt pegs and a 360 degree gyro frame for showing off your most impressive moves.' The only impressive moves shown will be escaping from the police with a pensioners handbag.
Once again this is a resounding no from every angle, it's understandable that people are on a budget so a bike for £60 seems like a good idea. But here's the thing, almost every kid who buys one of these bikes at a knockdown price, will quit riding it. They'll quit riding it for all the above reasons, most notably they're all absolute shite. There's no fun in trying to learn a 360 out of a bowl, with what feels like a pissed camel under you, so they move on to the next thing and swerve BMX as a bad idea. RRP: £89.99
If you've had any of these, or worse and are still riding, then you my friend are a living legend and we salute you. Hit us up, let us know what your first bike was…..