The new issue of Ride UK BMX Magazine is now out on the shelves and on your doormats. Gracing the cover is Fit rider Ben Lewis 40-60 grinding the rail at Arsenal football ground in North London. Shot by Benson.
Here is a video from the day of the shoot. Filmed and edited by Matty Lambert:
This issue is packed with old and new. One of the most compelling articles we've ever run, The Rise and Fall of Stephen Murray, is a full interview with Stephen post crash. It's deep. We also have interviews with new school rider Ty Morrow and cult UK rider Ben Lewis as well as the character that is Tony Hamlin. Banners took a trip to the Czech Republic with the newly reformed DC team and captured their adventures. Kink hit up Arizona again with KC Badger, Sean Sexton, Tony Halmin and co.
If you live in the UK, you'll also get a free 4Down poster with every issue!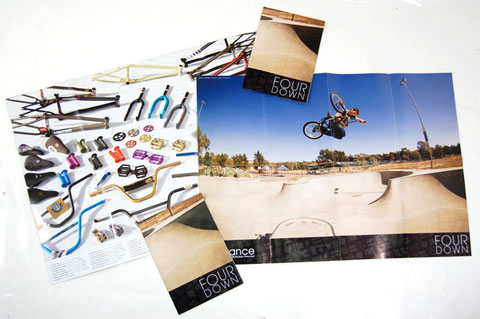 Check out these spreads…