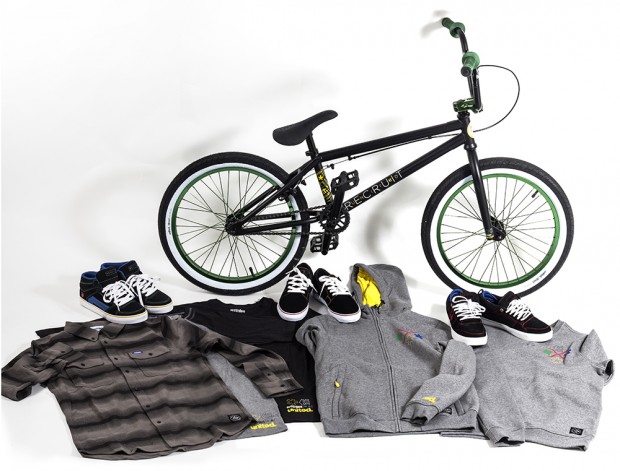 THE DREAM COMBINATION FOR MANY
There have been a few great collaborations in BMX recently. The best combos are when two companies really complement each other when they get together to release products under the same umbrella.
Two popular companies that have become extremely well-established with regard to the design work on their products are the two you see here – United and Etnies. You know when there's a new United or Etnies product you can bet money on the graphics being clean and classy with all details thoroughly thought-out and considered for an impressive overall aesthetic. Both companies' print adverts are always top-notch too.
Etnies have done some other great collaborations in the past, such as the signature shoe with Fly Bikes' Sergio Layos and a big favourite, Ruben Alcantara's Terrible One signature. Etnies products are the obvious choice for many riders with a large percentage of us swearing some kind of personal oath to Etnies shoes. So if you're one of those dudes who needs Etnies on the pedals, get involved.
We've tested this very bike on page 28, where you'll see Nathan Williams putting it to good use. If that's not enough we're also including a whole bunch of fresh Etnies X United threads and shoes to rep while slinging those bars just like Mr Williams.
What you can win –
United X Etnies Recruit RN1 Bike
Etnies X United RVM Shoes
Etnies X United Brake Shoes
Etnies X United Barge Shoes
Etnies X United Chaley Flannel Shirt
Etnies X United Crew Heather Grey
Etnies X United Zip Fleece Heather Grey
Etnies X United T-shirt Charcoal/Heather Grey
Etnies X United T-shirt Black
For your chance to win the above prize, all you have to do is answer the following question: