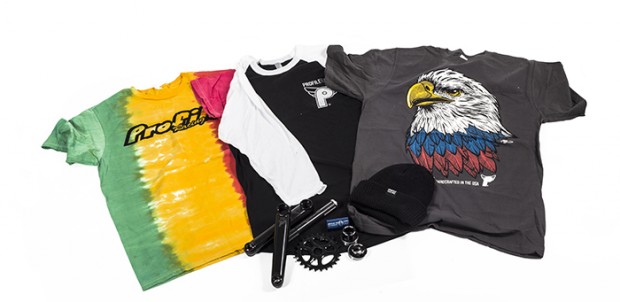 Profile Racing… a name synonymously linked with quality engineering, Floridian natives, loud hubs, reliable cranks and a flying 'P'.
For those who don't know, and who weren't lucky enough to be taught about the history of the Profile brand in school (did anyone?), Profile is a brand who like very few others left nowadays, started out in the late 70's. BMX was just being introduced and the guys at Profile wanted to be a part of it.
Roll on over 30 years later, and Profile are still rolling strong, with some of the best components on the market. Even today you would be hard pushed to go to the local park, trails or track and find zero Profile cranks or hubs. Over the years the Profile cassette hub has almost been a BMX staple, for the guy who could afford one that is.
They have also just launched the new 'Column' crank set, which have a spline drive, a 22mm hollow spindle and are stronger and stiffer than their regular cranks. Basically these are all you need for some serious street missions, and much more. Throw in the new 'Galaxy' spline drive sprocket and a host of other Profile goodies and one lucky reader is in for an absolute treat!
We know both Leo Forte and Martyn Tambling, who ride for Profile Racing UK have been testing all kinds of new Profile produce, and seriously putting them through there paces in sunny North Wales for this very issue (check pages 60 – 69 for more info).
Thanks to the guys at Profile Racing UK for supplying this months prize package, and fingers crossed it may be you who gets to test them yourself.
What you can win –
A set of Profile Column cranks 175
A Profile Galaxy Spline drive sprocket 25t
A Profile Mid 22mm bottom bracket
A Profile Liberty tee
A Profile Raglan 3/4 sleeve tee
A Profile Rasta tie-dye tee
A Profile Label beanie
For your chance to win the above prize, all you have to do is answer the following question in the comments below:
Profile Racing UK team rider Martyn Tambling was seen back on the cover of Issue 175 riding what exactly?

a. A train
b. A boat
c. A car
d. A plane
e. A camel