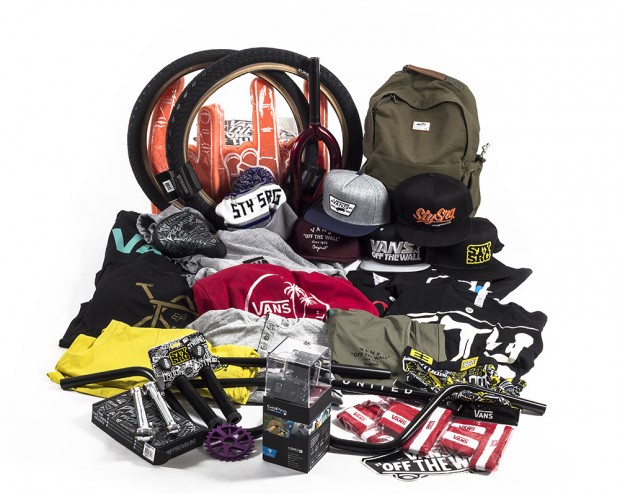 For the Win – Ride To Glory package
Every issue we get together and work out the best prize possible for you guys to win. Yes it can get a bit heated, with some of us wanting to give 10 bikes away (if we could get them), while others want to offer something different like a massive box worth of shoes and clothing. Deciding what works best is just not that easy. But when Ride To Glory rolls around, it is easy. No ringing around various brands collecting the newest and shiniest product, no arranging VIP trips to some random destination and no last minute panics trying to make sure that winner arrives at said destination, with his shiny product! Basically if you are part of Ride To Glory then we ask for a donation from your brand, team rider or trip… see told you it was easy!
This months prize is simply a compilation of product and goodies from all the brands that took part in Ride To Glory. In one very easy question and answer you could be taking home a shed load of produce from some of the best brands out there… and someone has to win it!
Thanks to the guys over at GoPro, Premium, Stay Strong, United, Fox and Vans the following items are available for one lucky reader to take home.
What you can win –
GoPro – Hero 3 Black Edition camera
Premium – CK Tyres 2.4/2.0
Premium – Connor Lodes bars
Premium – PP pivotal seat
Premium – PP crank set
Premium – Gnarstar sprocket 25t
Premium – PP headset
Stay Strong – 3 x Logo tees
Stay Strong – 2 x Logo caps
Stay Strong – Logo bobble hat
Stay Strong – ODI grips
Stay Strong – Freegun underwear
United – Dinero forks
United – Supreme bars
Fox – Logo tee
Fox – Logo stripe hood
Vans – Van Doren Backpack
Vans – 3 x Logo caps
Vans – 3 x Logo tees
Vans – 2 x Logo hooded sweats
Vans – 2 x head/sweat band pack
Vans – Various treats and goodies
For your chance to win the above prize, all you have to do is answer the following question in the comments below:
Which 'winning' team rider appears on the cover of the Ride To Glory issue?
a. Ben Wallace
b. Mole
c. Gary Young
d. Nathan Williams
e. Matt Priest