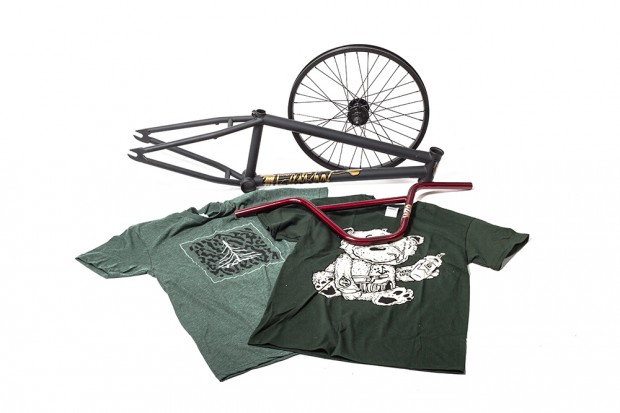 Whenever various Ride UK events roll around (Warehouse Project, Ride To Glory etc) creating these competition pages becomes more of a piece of detective work than the usual phone call or email. Sneaking around, dropping hints, or in one case literally cleaning up after the team has left, what we find or get donated is what we offer you guys right here. Be thankful that Dan Paley didn't need a new set of bars after that huge 360 in Elephant and Castle. That Dale Armstrong had to leave early due to injury, as those forks and cranks might have had to come into play judging from what Dale was getting up to. Even Matt Priest comes up short every now and again, and that rear wheel could have been called into action (but that was always unlikely). And what professional doesn't travel with a spare? Not Bruno. So as they were the last in the apartment, we managed to lighten his hand luggage and grab this treat of a frame.
Simply answer one very easy question and you could be taking home a shed load of produce from some of the best brands out there… and someone has to win it!
Thanks to the guys over at BSD, WeThePeople, Verde and Federal the following items are available for one lucky reader to take home.
What you can win –
BSD – WZA Bars
BSD – Logo tee
WeThePeople – Logo hood
Eclat – Onyx cranks
Eclat – Stream forks
Verde – Complete rear wheel
Verde – Logo tee
Federal – Bruno Hoffmann frame
For your chance to win the above prize, all you have to do is answer the following question…