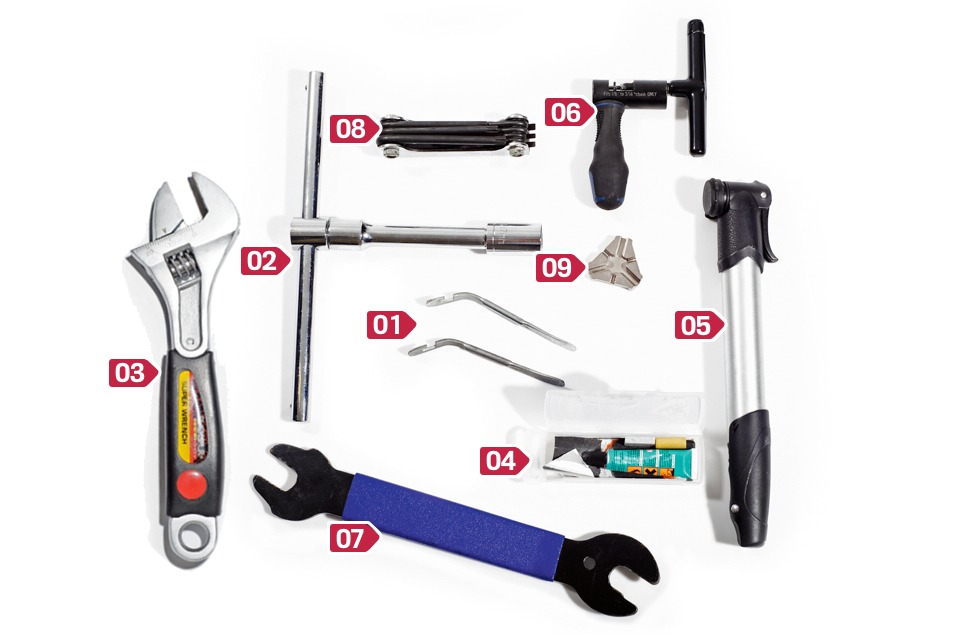 There's nothing worse than being miles from home and your bike breaking. Here's a rundown of a basic toolkit that should get you out of most situations.
It's important to have a good toolkit so you can fix your bike. Not only will it be invaluable when you get a puncture or your chain snaps, it'll also help you understand the workings of the bike much better than sending it on pointless trips to the bike shop to fix.
It's quite common to be able to take your whole bike apart using only two or three tools. With certain hubs, a 6mm allen key is all you need to take to pieces an entire bike! When you get your new bike, check exactly what you'll need to make the basic repairs, before you needlessly take more tools than needed.
1. Allen Keys
Handy sets like these will provide all the types you need to adjust anything on your bike. Most bolts can be fastened by UK standard Millimetre allen wrenches whilst some American-made products might have slightly different allen key sizes. In this case the manufacturer will provide the correct tool.
2. Socket set
If you're running pegs then you'll be needed an extension bar. The socket that fits the wheel nuts are usually the same front and back. Either way, just take the one, or ones you need as the socket set is pretty useless anywhere other than the wheels.
3. Adjustable spanner
If you're running brakes a small adjustable spanner will help you sort out braking problems when you're out riding, like slipped cables or loose brake blocks.
4. Puncture kit
Patching tubes is a much cheaper way of mending punctures than buying a new tube every time. As you get better at it, you won't even have to take your wheel out of the bike, which can make the whole process quicker than actually replacing the tube and save you having to re-align your back wheel.
5. Pump
Obviously this goes hand in hand with the rest of the puncture kit. The quality of pumps varies greatly and whilst the cheaper ones will at least get you home, it's better getting one which will get you up to the sort of high pressures BMX tyres need.
6. Chain tool
It's almost impossible, or at least very difficult, to fix a chain without one of these. Just don't forget to carry a small amount of spare chain, just like the one you're running on your bike, in your toolbag.
7. Pedal/wheel spanner
If you're not running pegs then all you need is a correct spanner to tighten them up. Something like our example will fit both your wheels and your pedals.
8. Tyre levers
High pressure tyres can be hard to get off the rims. It's often frustrating when you get a puncture and you have all the other tools but you can't get the tyre off. Keep these in your bag for when the tyre won't come off by hand.
9. Spoke key
Buckles can quickly be removed from wheels by following the later steps HERE. These things are handy to have around because if you keep your spokes tight, your wheels will last longer.