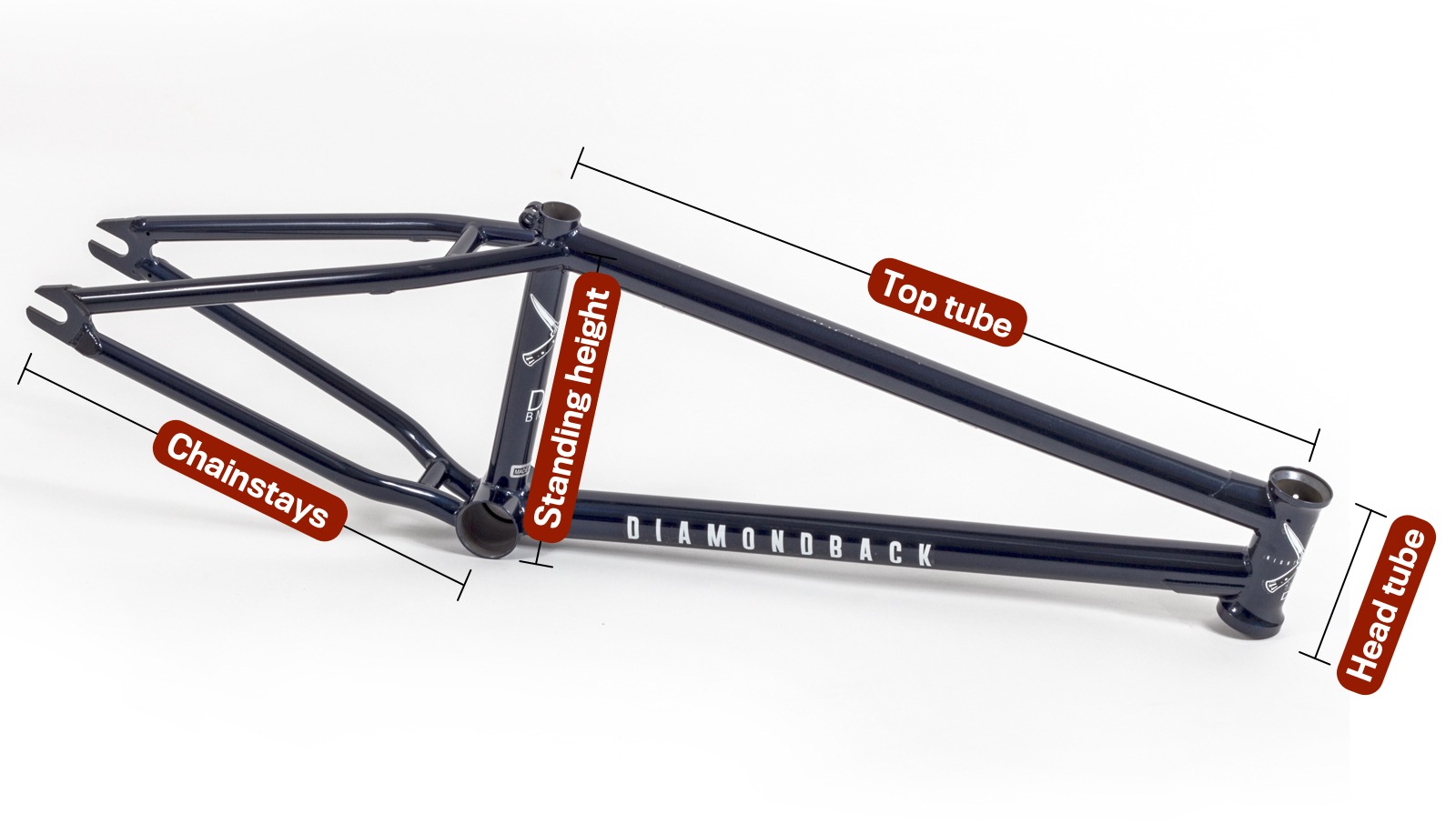 Subtle changes in angles on BMX frames can affect how the whole bike rides and also make it more suited to certain types of BMX. Whilst most frames will be made from the same material (the tried and tested 4130 chromoly steel) the design of them can quite often have a particular type of riding, or rider in mind…
Frame:
Chain Stays
The rear-end of the bike can be measured by the length of the chainstays. Shorter back ends are favoured by flatland and street riders as they can help with your hop. With ramp and trails riders spending more time in the air, a longer back end can feel more stable at speed and when jumping.
Standover height
The length of the seat tube will change depending on the standover height of the frame. This can alter without having too much of an effect on how the bike actually rides but some riders like the standover being lower as they think it can help with tricks like tailwhips. Other riders prefer the higher standover for more aesthetic reasons, thinking it gives the bike a more classic look.
Top Tube
The toptube runs from the headtube and fifinishes beneath the seat. The size of a frame is generally referred to in toptube lengths and this will often correlate with your height. To put it simply, taller riders generally have longer frames and vice versa. Anything at 21" and over is considered long, 20.5 is the middle ground and anything around 20" considered shorter. There's no right or wrong length of frame to buy, height is a good guideline but it comes down to personal preference.
Head Tube
The very front tube of a BMX is called the headtube. The angle of this will effect the steering of the bike, with certain angles helping particular tricks. An angle of 74.5 degrees is standard and practical with most disciplines within BMX. Steeper head angles are favoured by flatland riders and are becoming more common on street frames, whilst mellower angles are often favoured by racers and trails riders. Steeper generally means more responsive frames but can be slightly twitchier at speed and in the air, which is why racers and trails riders prefer the shallower angle. The change is rarely more than a degree each way.
Forks:
BMX forks take a huge amount of abuse from countless landings so their main objective is to be really strong. If you're thinking of replacing them make sure you buy some from a reputable brand. Most forks are of very similar dimensions; angled slightly forward from the head tube angle. This is called the rake and the reason for it is so the steering isn't too twitchy. You'll find some flatland forks have this steeper angle, as it can make front wheel tricks easier and because of this some street riders who like nose manuals might favour this too.