Here we go – the almighty Vans BMX Pro Cup kicks off the 2018 season in Sydney! Check the Sydney teaser above and get stoked…
It's going down 27th – 29th April at Five Dock Skatepark.
This park is a big old boy… Huge transitions, lots of hips and corners, a massive spine, plenty of scope for some seriously wild moves to go down. Don't believe us? Just revisit this session with Larry Edgar, Dylan Lewis and others… Fully mental. We can't wait to see what happens there at the end of the month.
The athlete list is now confirmed too – see below!
Who are you most looking forward to watching ride in Sydney?
---
Vans BMX Pro Cup, the world's leading platform for elite BMX park terrain competition, enters its second season announcing the pre-seeded World Championship Tour invitees for the 2018 Pro Tour series commencement in Sydney, Australia on April 27 – 28.
The 2018 Vans BMX Pro Cup Tour Pros are selected from the top 10 riders from the 2017 Vans BMX Pro Cup point standings. The Tour Pros are pre-seeded directly into the semi-finals at every Pro Tour event, and are also pre-qualified for the 2018 series World Championship finals. The Tour Pro roster will expand throughout the season with the addition of the top three podium winners from each regional qualifier, who will advance to the Vans BMX Pro Cup Pro Tour, and also secure their invite to the Vans BMX Pro Cup World Championships.
The following pre-qualified Tour Pros, including 2017's Vans BMX Pro Cup World Champion Larry Edgar, will meet 20 stop invitees, top 3 podium winners from the Chile regional qualifier, and 7 Australia regional qualifier advancers for a complete roster of 40 elite BMX riders, to kick off the series' first Vans BMX Pro Cup showdown of the year on Saturday, April 28.
Vans BMX Pro Cup Series 2018 Tour Pros:
Larry Edgar USA
Dennis Enarson USA
Sergio Layos ESP
Gary Young USA
Matt Cordova USA
Kevin Peraza USA
Jason Watts AUS
Corey Walsh CAN
Pat Casey USA
Chase Hawk USA
Vans BMX Pro Cup Womens 2018 Tour Pros:
Hannah Roberts USA
Macarena Perez CHL
Nikki Wetzel USA
Perris Benegas USA
Nina Buitrago USA
Teresa Azcoaga CHL
Angie Marino USA
Ellie Chew NZD
Jesse Gregory USA
Dani Windhause USA
---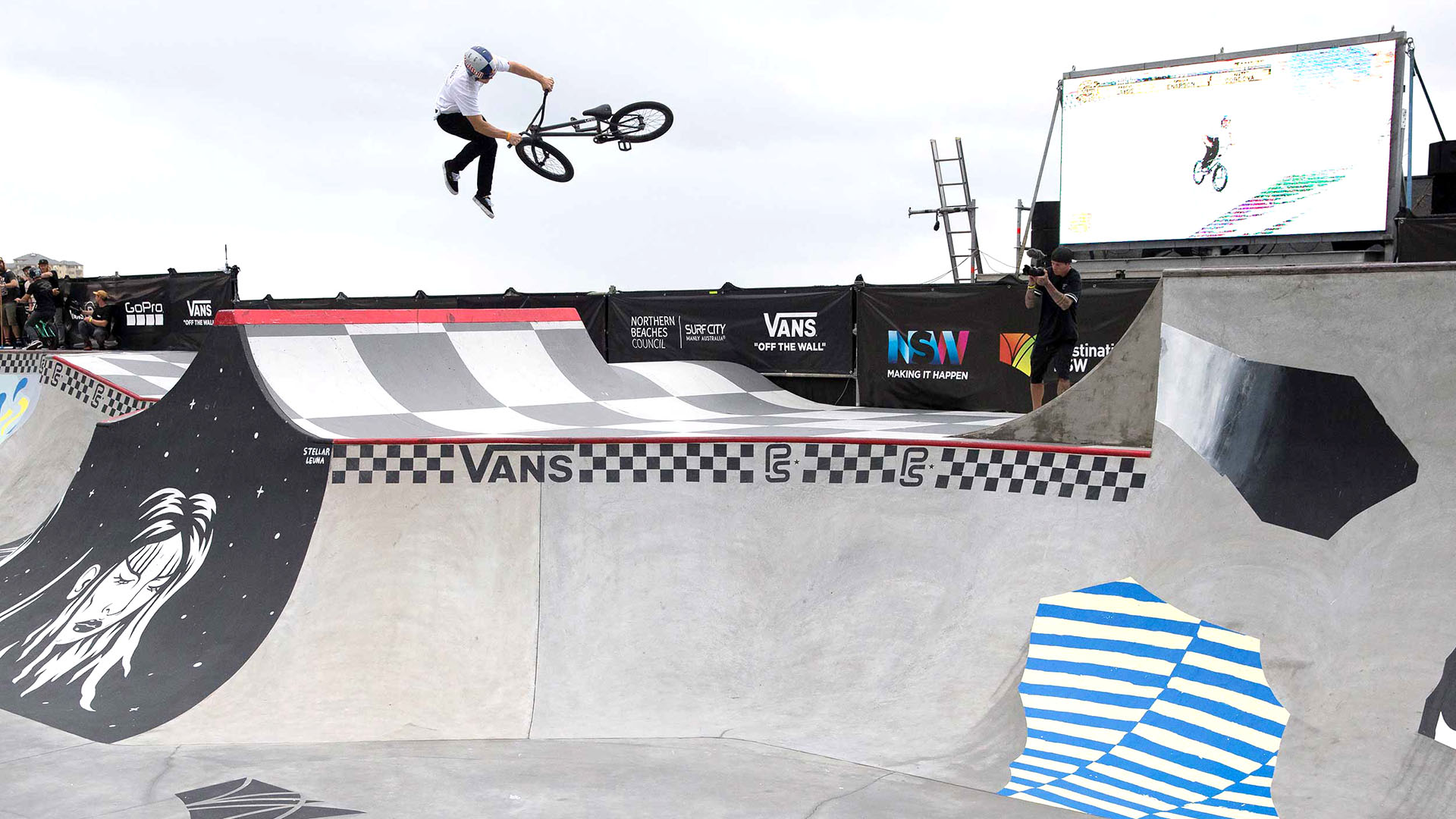 ---
Australia Schedule
Athlete Registration:
vansbmxprocup.com
Friday, April 27
Vans BMX Pro Cup Regional Qualifier – OPEN TO MEN & WOMEN REGISTRANTS
Saturday, April 28
Vans BMX Pro Cup Women's – Invitees Only
FINALS
Vans BMX Pro Cup Men's – Invitees Only
SEMI-FINALS & FINALS (LIVE WEBCAST)
---
The 2018 Vans BMX Pro Cup series opens in Sydney, Australia and embarks on a four-stop global tour, welcoming a top-ranking competitive field of invited pro BMX riders and Wildcards to compete on the world stage for a piece of the grand $155,000USD prize purse. The World Tour will culminate with the Vans BMX Pro Cup World Championships for Men and Women in Málaga, Spain on September 23 to crown the official 2018 Vans BMX Pro Cup World Champions. For new updates and more information on competition format, locations, athletes, tour highlights, photos, videos and more, please visit vansbmxprocup.com
---