Further to Part 1, here are some more trails gems I've dug out. It's amazing to look back through any collection of BMX photos and remember the stories, but for some reason I feel that more with trails shots. I remember the mood and atmosphere in the woods, the work we put in to get the lines ready on that particular day, the weather, the company, the smell of pine, the sounds.
I asked the riders to reflect on these memories, tell you about the trails themselves and share the story behind getting the shot.
---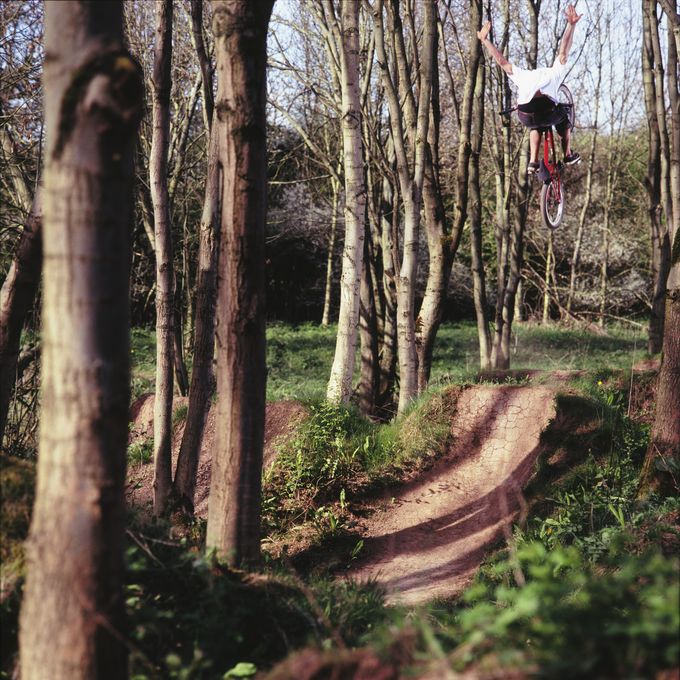 SVEN HACKETT: No hander, A38 trails, Derby, UK.
A38 trails were a set of trails I stumbled across when I was about 16 whilst riding around Derby aimlessly looking for things to ride, but it wasn't until I met Chris Radford who owned the trails a few years later that I got to ride them. Me and a few others used to go most weekends and ride with Chris, hang out and have a laugh.
This session was one I'll remember for a while, I got a phone call from either Nick or Ze I can't remember which one, asking if I wanted to ride trails and shoot some photos and at that time I hadn't rode my bike in at least 2 or 3 months but I couldn't turn down a session at the trails! I turned up and Robin was there shooting photos for Derby's bit in the This Is England Ride UK issue.
I was feeling good riding with Ben Basford and Sketch all day, well I remember Sketch front wheel casing because he was wearing sunglasses, haha, it didn't look nice! Shot some rad photos, then decided I wanted to whip one of them jumps, bearing in mind I hadn't ever whipped over anything that big, not rode in a while, downhill trails, brakeless and trees everywhere!
I rolled down the roll in, set up over a couple of jumps and went for it, pulled up too much… Over rotated whip… Caught pedals and landed 90 sliding down the landing and as I landed my chain exploded, haha… Session killer! But it was a rad day!
-Sven

---