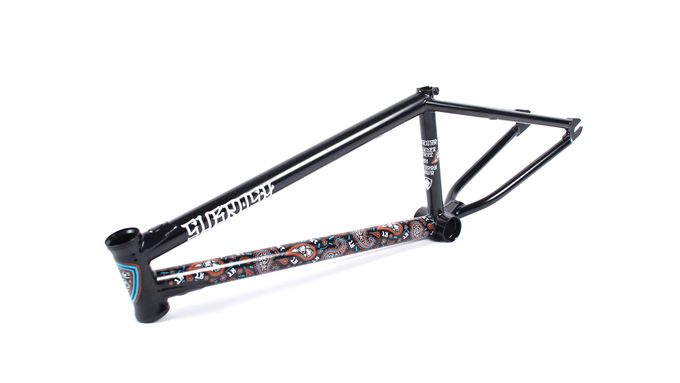 Custom Riders have selected the Subrosa Thunderbeast Frame – in Black Paisley – for their Sweet Deal.
RRP £294.99, Custom Riders price only £199.99 – Sweet Deals! Here's what they have to say:
"We selected the Thunderbeast as its rare to see something distinctively different when it comes to frames. The Thunderbeast is Scott Ditchburn's signature model which comes with a ovalized down tube thicker chains stays to prevent denting. This is to help prevent denting associated with grinding. If you ride like Scott then this is particularly important! It a sweet looking Paisley pattern downtube and investment cast wishbone and seat stay bridge. The chain stay and seat stays are flattened at the dropouts to accept hub guards."
Specs
– Scott Ditchburn Signature Model
– 4130 chromoly, double butted top tube, double butted down tube
– Chain stay and seat stay flattened at drops to accept hubguards
– Laser cut 6mm dropouts to match 34mm pegs
– Top and down tube gussets with Subrosa logo
– Low profile removable brake mounts
– Integrated seat clamp
– Includes deluxe Thunderbeast decal sheet
– Headtube, BB and dropouts all Deathproof heat treated
– Chain Stay: 13.75" with room to remove wheel, 13.5" fully slammed
– Head tube: 75° integrated headset
– Seat tube: 69°
– BB Height: 11.6"
– Standover 9.0"
– Weight: 5.1 lbs for 21.0"
Pick up the frame from Custom Riders HERE.