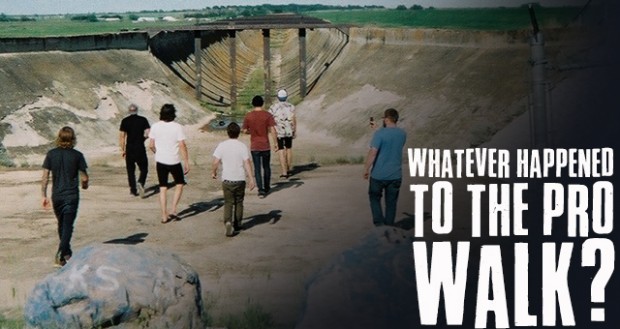 An early naughties mainstay to any BMX team road trip was the PRO WALK, which consisted of a casual jaunt across the park with no bike, huge backpack on, scoping the lines and saying to ones self "I'm about to destroy this set up, and all these guys watching me know it."
Meanwhile, the jittery locals look on in amazement as their heroes strut their stuff on the Skatepark catwalk, coffee in hand, brand new signature shoes on, as they try and jog up a quarter one handed.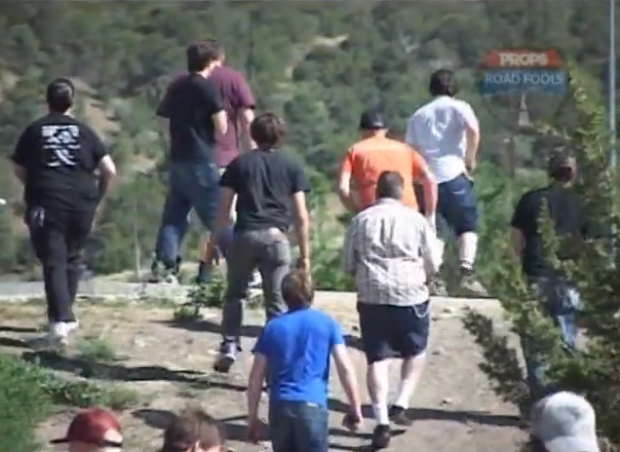 Every Props Road Fools crew knew how to drop a PRO WALK. They also knew how to shut down your local! These guys had it on lock..
But whatever happened to the PRO WALK? have you seen one in recent times?
It feels like an age since I was either involved in one (questionably, I might add) or have seen one in real life! Here's some positives and negatives to the humble stroll that got BMXers excited, and peaked in the decade 1998 – 2008.

 as they try and jog up a quarter one handed
PRO WALK POSITIVES
Professional or not, you must respect the local spot. The PRO WALK was a great ice breaker for disgruntled locals to stand aside, and witness the best BMXers in the world make them look shit on home soil. Kids love it though, and the PRO WALK enabled them to get a close up of the clothing, shoes and hairstyles of the era. When Joe Rich PRO WALKED the f*ck out of bike 99, it was no coincidence that two years later I had the same hair style, to the complete horror of my parents.
Believe it or not, there's a lot of competition on a team trip, lines need to be called out early doors, the PRO WALK was an essential tool in the structure of one-upmanship.
Learning the terrain is an essential part of the PRO WALK.
PRO WALK NEGATIVES
The PRO WALK negatives can be catastrophic for your BMX career. A failed WALK will land you in whole realms of dire situations. A trip or fall mid strut is a sure fire way to lose the respect of the locals.
If you're going to drop a PRO WALK, you better have the skill set to match. I've personally witnessed Little Lee at Hyde Park in Leeds destroy whole teams who've PRO WALKED their way into the park, thinking they're about to shut the place down. Background checks must be applied, the local hero is always better than the seasoned PRO.
Spilling any kind of beverage on quarters while clambering up one handed is a no no. Calling out legendary gaps is fine, but failing to pull them is a no no. Hitting on locals girlfriends is generally a no no, unless you have the express permission from said local.