Ever since we started the Reader Awards survey one result remained the same. Your number one crank choice is Profile. This is perhaps not surprising to many. When I started riding in the mid 90's Profile were by far and away the number one cranks in the game. It's incredible that now, and after 35 years of manufacturing them at their Florida factory they're still rooted to the top spot. We've managed to grab this awesome interview with Profile founder and owner Jim Alley. Here he reveals the history and manufacturing process of their famous cranks.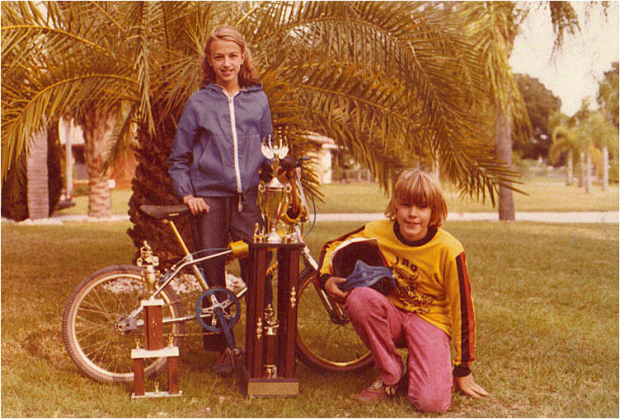 Justine and Corey Alley
When did Profile make its first three-piece crankset, and how did it come about?
In 1979 Profile Racing was (and still is) a well-established racecar building company. I decided to add a division to our manufacturing facility. This decision came about because of my son and daughter's early interest in BMX racing. When we started going to local races, I, with my fabricating background, started to take a close look at the equipment that was being used, particularly the crank arms. All of them were 1-piece hunks of iron and a heavy rotating mass on top of that. I thought there was definitely a need for change and innovation. That year we designed and made prototypes and our first production crankset was sold in 1980.
How much has the design changed over the years? What were some of the areas that have been improved, and what are some points that have been dialed from the beginning?
Well, the original arms I made were fabricated from sheet metal. They were square or box crankarms. We still use the chromemoly 48-splined spindle and sealed bearing but now we manufacture the arms from chromemoly tubing. Not much from the original design has changed. Some things have changed by market demand, for instance, bottom brackets have changed in popularity from American to European to Spanish to Mid. Titanium is being used to lighten the weight and now we're hollowing out the chromemoly spindle for weight and cost savings.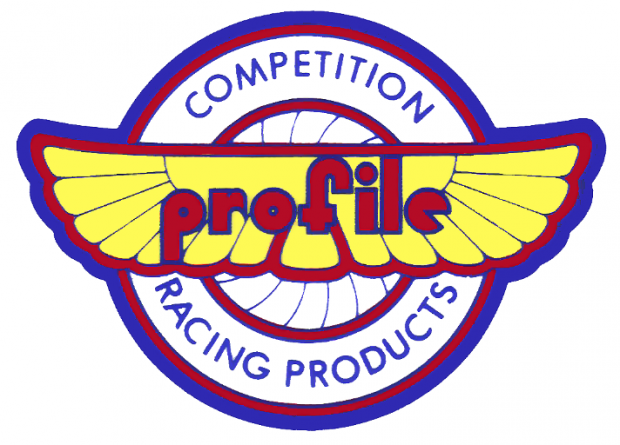 An early Profile logo. This would look so sick on a T-shirt today!
Aside from making cranks under the Profile name, what other companies have you made cranks for?
Currently we make cranks exclusively for Profile Racing and our Madera BMX brand but we have, in the past, made them for Hutch, Powerlite, GT, Haro and a BMX company called Boss.
Have Profile cranks always been made in Florida? Have you ever thought about going overseas?
They have always been manufactured in Florida and yes, we have thought about going overseas to make the crankset but, if we did then we would lose control of the manufacturing process. We then could not guarantee the quality of our crankset as we do now. Plus, our goal has been accomplished here in America: Profile Racing has set and become the standard for the industry and is still made in the USA. We couldn't say that if it was made in China.
How long does it take to make one set of cranks?
Each crankset has about 10-steps that it goes through before we ship it to our distributors. In all, I say about 90-minutes for each crankset but that is the cumulative time of all 10-steps. The 10-steps are: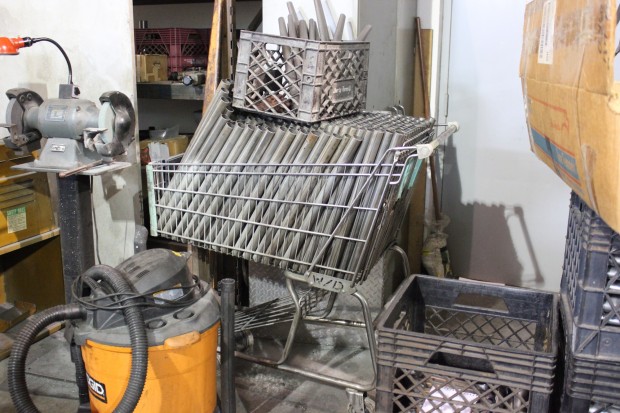 1. Tubing – we start with only the highest quality American manufactured tubing, 4140 chromemoly and titanium bar stock. Profile Racing crank tubing is a special high strength alloy that we have perfected. This tubing is manufactured exclusively for Profile Racing. Deliveries from the mill arrive daily at our St. Petersburg, Florida manufacturing facility daily.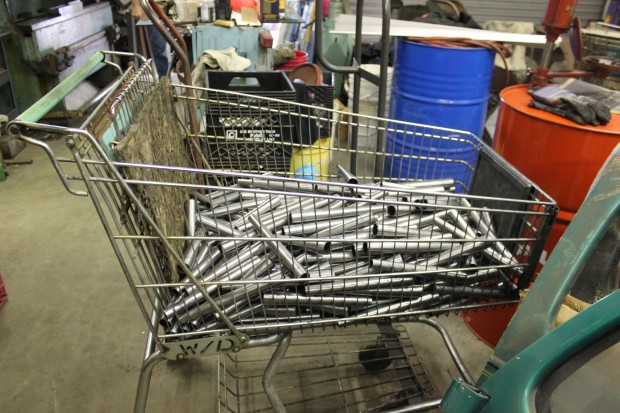 2. Cutting – the 4140 chromemoly and titanium bar stock are rough-cut. The tubing then will go on to be swage (pronounced swedge) formed and bar stock will go on to be precision machined, drilled and tapped in our CNC lathes.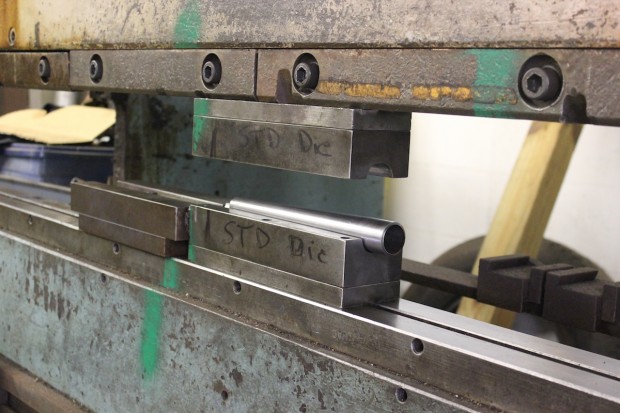 3. Swaging – the cut crank tubing goes to our rotary forming machines where the tubing is formed into the classic Profile Racing tapered look. This process adds the superior strength to the crank arm blank by realigning the molecular metal structure of the tubing. Taper formed blanks are then cut and sent on to be CNC milled for the large spindle bosses and small pedal basses.
4. Boss Turning – our state of the art CNC lathes automatically machine the bar stock to left arid right hand pedal bosses, large spindle bosses and tubing spacers. The spindle bosses are then sent on to our broaching department where the female 48-spline is broached into the bosses.
5. Crank Arm Milling – our CNC milling machines then form crank blanks. The tubing blanks are placed into special fixtured vises and the ends are precision cut to specific lengths and milled with U-shaped pockets for fitting of pedal and axle bosses. Profile Racing makes over 15 different length crank arms. Precision accuracy is the factor here.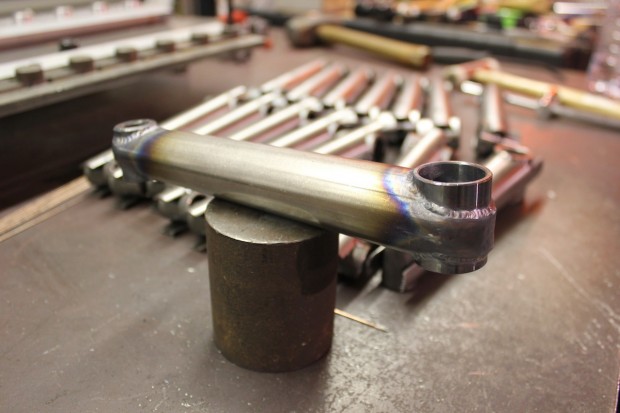 6. Stamping – the precision milled crank blanks are sent on to our 100-ton press brake. Here the arm goes through the final stage of being ovalized and stamped with the Profile Racing logo. Then it's on to the welding department.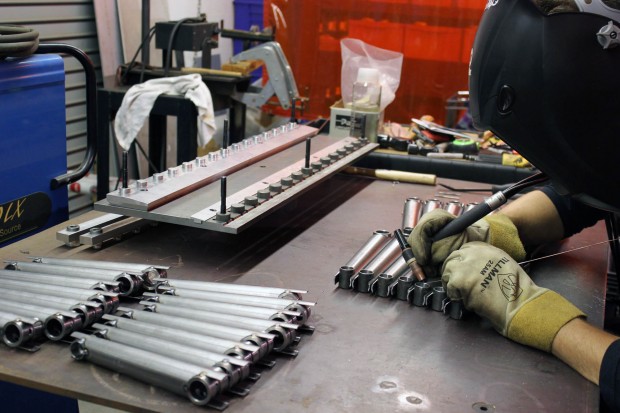 7. Welding – the milled crank arms, pedal and 48-splined axle bosses are then positioned in precision fixtures, tacked and artfully welded by our certified welders who have a combined 100-plus years of welding experience.
8. Spindle Turning – the spindle blanks, both 4140 chromemoly and titanium, are machine drilled and thread tapped to exacting specifications. Precision quality accuracy is a top priority.
9. Axle Hobbing – the drilled and tapped spindles are then spline-hobbed in our CNC hobber. The precision hobbing is very critical so that both sides of the axle have 48-splines that line up perfectly with each other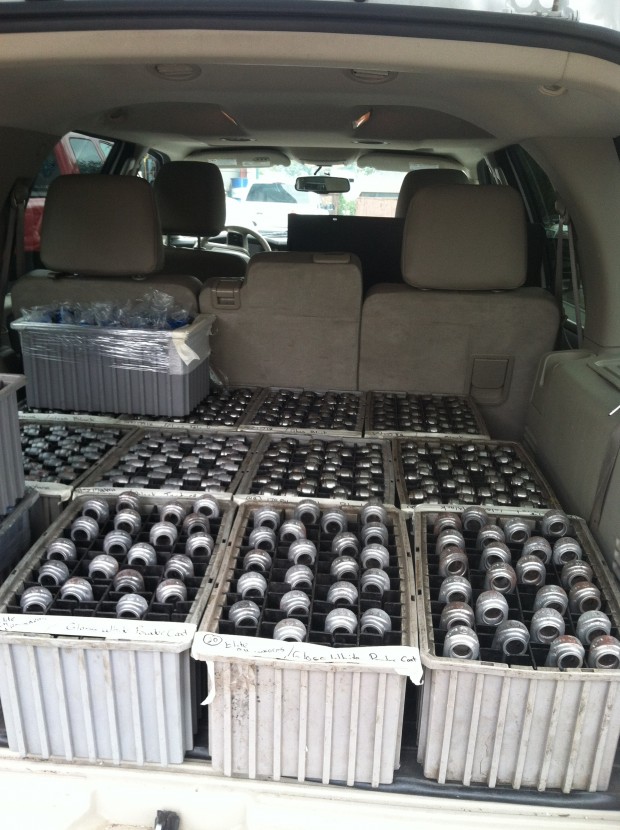 10. Finishing Stage – is where the finish (plate or powder coat) is manufactured. Crank arms are ground and polished to prepare them for the triple chrome finish or the black (or other color) powder coat finish. At the completion of this process, all parts arrive at our packaging facility at which point they are boxed and sent off to our awaiting customers.
When making cranks, what testing methods do you use to make sure they are strong enough?
Right now, the current Profile Racing crank design has been "time tested." I mean, the design has been tested by its longevity in the market. If we change any component of the crankset then we do material testing and tinsel strength testing then real time, and real world testing with our factory riders.
The Profile three-piece crank is an iconic product in BMX. Is that something that you expected or does it surprise you?
I don't think that I'm surprised, like being surprised that "something happened unexpectedly." This company has worked hard to get where it is today and it wasn't easy. My original objectives have not changed. I wanted to design and build 1) a crankset that was lightweight and strong, 2) a crankarm that could be taken on and off easily so arm size could be changed, 3) an axle that had superior strength with no flex, 4) sealed bearings and 5) a sprocket setup that could be changed quickly for differing gearing and track conditions. What is surprising is that Profile Racing set the standard for the BMX industry and 30-years later, we are still the leading American-made crank manufacturer and still setting the standards high with our complete product line.
What is that you think makes Profile cranks unique?
What we originally thought was the uniqueness of Profile Racing cranks has today become the industry standard. That is, our 48-splined spindle and tubular designed crankarms. If I had to pick something that makes Profile cranks unique today, it would be our Limited Lifetime Warranty and that Profile Racing cranks are still made in the USA.
Profile Racing Europe are the official Distributor for Profile Racing products in the UK and Europe
02380 458328
info@profileeurope.co.uk
instagram: @profileeurope also #profileeurope