Joe Simon is a legendary filmmaker in BMX. His videos are synonymous with quality and style and he's been one of the most progressive thinkers of the HD revolution.  It's guaranteed you'll have seen his footage either on the internet, DVD or videotape. Joe has close ties with Mutiny, after riding for them for many years he's now turned his talents to documenting their current team. We wanted to know more about him, so here is a quick Q&A…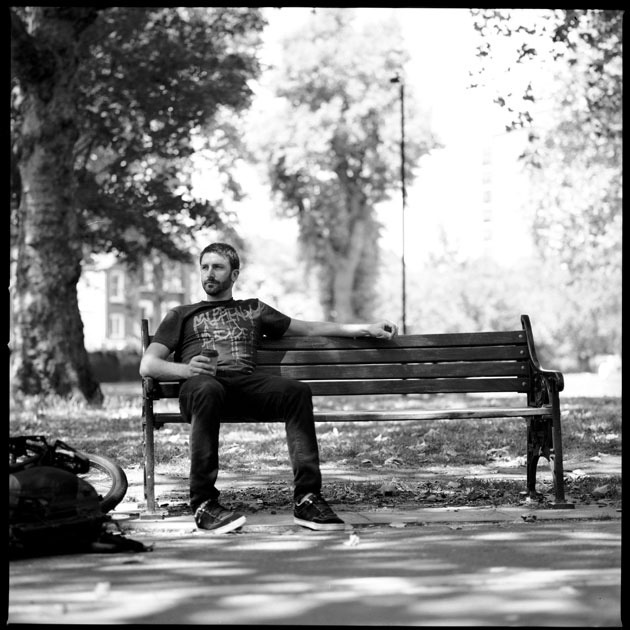 Joe Simon in Victoria Park, London. June 2009. Photo by George Marshall
Name: Joe Simon
Age: 31
Hometown: Austin Texas
Sponsor: Mutiny Bikes, Empire BMX
Job: Filmmaker
Pet hates: Divas, bad filming, ass holes
Favorite DVD: Anthem, No Where Fast (tie)
Favorite Web edit: T1 train trip ( think it was a web edit)
Favorite personal project: Thats a hard one. Every project has it's highlights but it's hard to pin point just one. The thing I like most about my projects are the memorys I get from them and the amazing quotes and phrases that we end up repeating for years. But if I had to pick one it would be Subversion. Things were just different back then, chillin with friends, road trippin. Not worrying about anything. Those were the days when Indian givers and sketchyness didn't matter, just huck some moves and hope for the best haha. Good times!
This is one of Joe's edit's welcoming Mutiny rider Hanson Little to the team…
Currently shooting: Filming Mutiny Team guys……..
Best filming story: A really good one was when we were shooting for SOBP. Hanson wanted to do this gap. We went there a few different times and every time the same car is parked in the way. So the third or fourth time we went we said f-it,  and decided to bounce the car out of the way. Haha it was awesome. Literally 6-7 dudes bouncing a cars back end to turn it sideways and out of the way. I wish I could have seen the peoples faces that came to the office on Monday. That would have been priceless! There are always so many good storys from a trip, it's never ending.
Worst filming story: Anytime someone gets really hurt is a bad filming story. One time filming for subversion, Neil Harrington and I were shooting at a rail here in Austin. He was trying and over to backwards double peg on the rail. He ended up flipping backwards down the rail and landing on the back of his head. It was bad. He started throwing up and I know that was not a good sign.  I was there filming with him by myself and I had to pick him up to get him to the car because he was really out of it and couldn't walk well. He's no small guy, so it was pretty crazy dragging him to the car and then getting all my gear and what not so we could get out of there. But those are scary times when I see anyone hit their head like that…… no fun at all.
Favorite filmer/editor/director: Wes Anderson, Michael Gondry
Favorite place to travel: Anywhere new. I love going to Mexico, Europe and Vancouver.
Best thing about being a pro rider and a filmer: Well I'm not a pro rider. Haven't been riding at that level in a few years. Lately all I've been doing is filming. Over the past year while filming for the latest Mutiny video I've had little to no time to ride. I find it hard to ride and film at the same time. I think to really do the best job of filming you have to be able to roll up to a spot and start checking out angles. If I start riding then it's hard to stop to start filming.  I always want to be creative as possible and make sure I'm getting the best footage possible.  So for me the best thing is to focus on shooting and make sure I'm getting the best shots. After this project I'm going to take some time off to spend time riding with no cameras. It's going to be awesome, just in time for Austin trail season!
Best other thing to do than video: Take photos. ride bikes, hiking and swimming.
Future plans: Chill and do some riding for the winter. Hoping to line up some fun new projects for next year.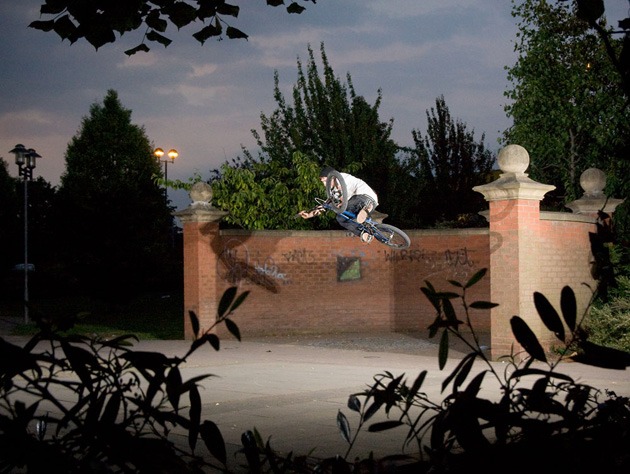 Tom 'Robbo' Robinson on the latest Mutiny trip that Joe Simon filmed on… Photo by George Marshall