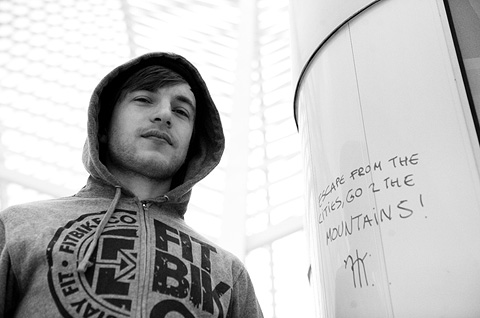 'Escape from the cities, go to the mountains!'
Daniel Benson is one of the mighty Fit Olde English teams street riders. He's well known for his unique style and ability to balance upon his rear peg for alot longer than most. Benson is originally from Sheffield but then moved to Bristol before London.
Benson's day job is a Freelance Photographic Assistant. He lives in London and frequents the streets either working or riding. Last weekend he came out to shoot photos with Dan Lacey which you'll see in the next issue of the magazine. We caught up with him to see what he's been up to and what he has planned.
Where are you living?
Bethnal Green. London.
What are you riding?
A 20″ Fit dehart. Fit, Animal and Union products.
Where are you riding?
I'm going to go and ride the grindbox near my house in about half an hour.
Who are you riding with?
Marv, as usual. Jon Gorrigan, Mike Mills and today I might actually be riding that grindbox i mentioned with Rob Hate! a rare delight.
Are you working?
Kind of… Some stuff for Ride UK and Vice. Feeling the recession.
What's the best bit of news you've heard recently?
Just before I answered this a friend who now lives in Montreal told me to get a cheap flight tomorrow to New York for £250, where he'll pick me up and then we would go on a roadtrip down to South by Southwest in Austin. That quickly became the worst bit of news when I remembered I had no cash and some deadlines to make for the end of the week.
What do you want to do in the next few months?
Go to Sweden, win some money at the dogs, ride some dirt jumps, get some stuff filmed for Stay Fit and also Marv's video. Shoot more photos, get film cameras and flashes fixed. Start wearing shorts again, stop eating so much shite from Mcdonalds (never gonna happen), go to more parties, drink some more beer, more riding more fun.
Who do you want to do it with?
I'll be doing all that with the mates
How's things going with Fit?
Good, as always. Greece was loads of fun. I filmed a web video for them recently, although I've no idea if James (Cox) is ever gonna put it online. I think he hates me because it took me so many goes to pull stuff. He looks like the type of man to hold a grudge. Ha!
What did you do this weekend?
Went bowling, finished second overall.
What are you going to do today?
Go and ride that grindbox.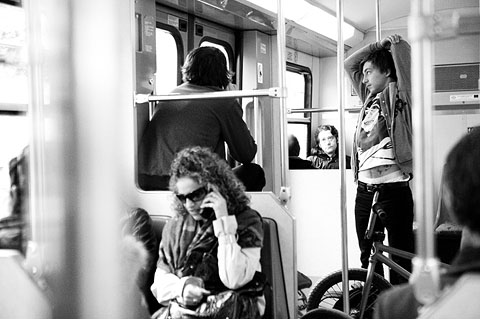 Stretching on the tube…