What exactly is the greatest BMX game ever made anyway? I think it all started on the Spectrum ZX with some race simulator. You'll have to excuse my ignorance because I never played it but I'm guessing it was rubbish. The first real BMX game I ever played was the BMX portion of California Games. I'm not just being nostalgic when I declare that game mint! A race track featuring bad ass jumps that you could 360 and even flip all culminating in you doing a massive fly out over a motorbike. It didn't get much better than that. Does Paperboy count as a BMX game? He was certainly on a BMX, could pop a wheelie and jump a ramp but throwing newspapers at lawnmowers?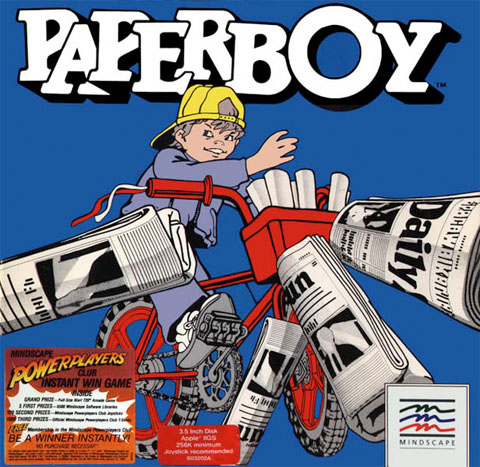 Paperboy, released in 1984.
Then there seems to be a definite lack of games until Courier Crisis rears its ugly head. Far from a proper BMX game it was more a GT marketing tool. Lets look at the evidence, the no footer was called a Spread Eagle. The motion capture looks like it was done by no way Hans Rey and I dare say probably was. Work through some missions and get some cash so you could ride a GT Speed Series. I doubt riding the GT Speed Series of the lumberjack would actually make you any better at delivering parcels and jumping off wooden kickers in the street. It never made him any good at riding trails that's for sure. It was crap. However it didn't stop me playing it quite a bit just because I could do some tricks and jump off some kickers on a BMX.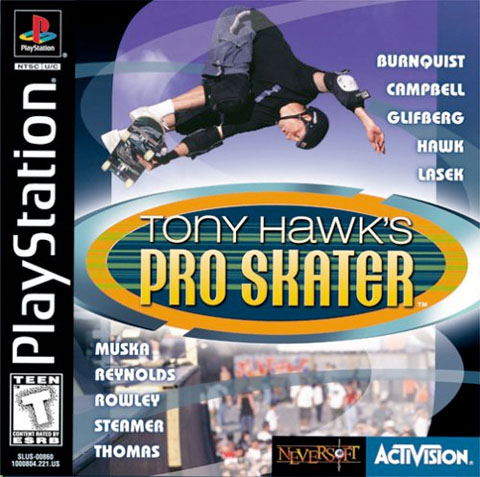 Tony Hawk's Pro Skater, released 1999.
Tony Hawks Pro Skater isn't a BMX game but it is a mile stone in the genre. You could do tricks and just shred about a level, styling bro. BMXers go on about style a lot. Style in computer games is also an important factor that people often overlook. Button bashers are the bitch cranking brake squealing Indian giving goof riders of BMX! Why is that skaters always have it better and we are left with the scraps? How come there are no BMXers getting a cameo on entourage? Tony Hawk was mint! When the sequel dropped with the all important gap list and mannies, I was in heaven. Probably more of a money thing than an actual love for BMX they dropped Mat Hoffman's Pro BMX. A cookie cutter cut and paste clone of T Hawks. Hurrah! A BMX game that will potentially be as good as Tony Hawks? No such luck, the game was a sham. The controls were crap and the game engine didn't correlate with BMX at all.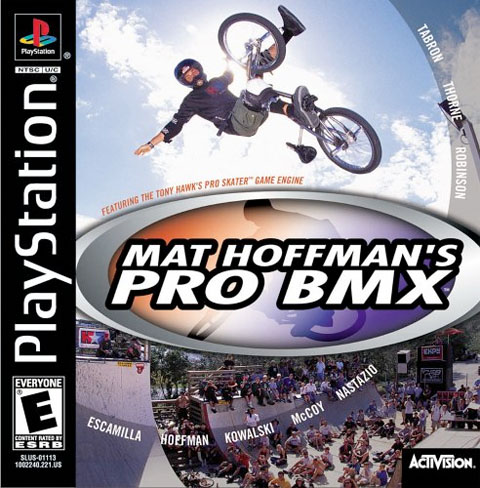 Mat Hoffman's Pro BMX, released 2001.
Luckily though, Dave Mirra was there to save  the day. His game was actually built from the ground up with a bit of thought and attention to the control system. Woodward Camp was always the best level. You could do every trick that was in your head and then some. The way you could chuck a barspin in or take a limb off during any trick was a right touch. Granted the Backflip bunnyhop is a bit 3003 and you couldn't do whops. The whop should have been a dragon punch style button sequence. I even heard Dave Mirra used it as a training aid and puts it down to this game that he supermanned the channel to manual on the Woodward Vert ramp. All these modern day ramp heroes must be on it all day as well; flair to tyretap to footjam whip. Where do you think the ideas for that nonsense comes from? The Maximum Remix edition even had the added bonus of the wallride! The sessions on the game were epic.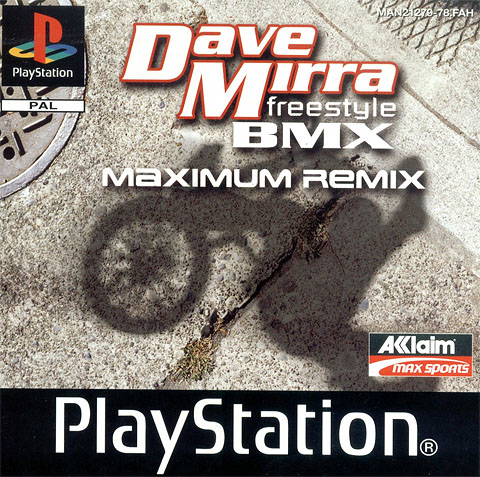 Dave Mirra Freestyle BMX – Maximum Remix, released 2001.
I have forgot to mention TJ Lavins game, Sorry TJ but I'm tryin' to forget it. What were you thinking putting your name on the box? Royalty cheque probably. Sometimes bad computer games are so bad they are good. TJ Lavin's potentially had this factor, just trying to ride a six pack was such a challenge and Beringer was in it. All of the dog shit challenges and whack levels killed it though. Here it is what we've all been waiting for, the best BMX game ever made, Dave Mirra Freestyle BMX 2!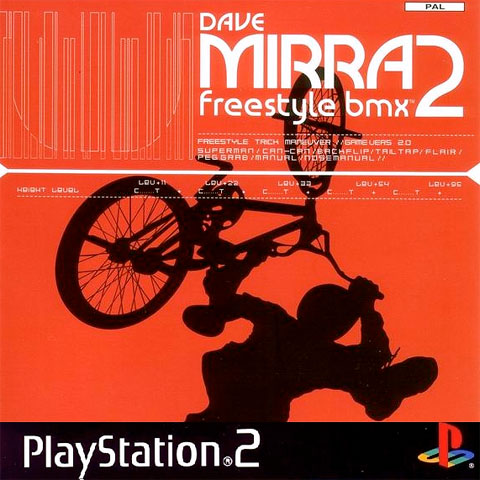 Dave Mirra Freestyle BMX 2, released 2002
Building on the awesomeness of the first game they produced this radical bonanza. Like the original but better graphics and better levels. Woodward was still the best level like. People clocking video sections for BMXBOARD, everyone was in love. I could play this game forever, just trying to manual rails and styling it out. Then they had to go and spoil it all, BMX XXX. This single-handedly ruined BMX games for the rest of time. Who thought it was a good idea to take a clone of Dave Mirra 2 and give it an erotica story-line, not make the game any better and make all the levels shit. That's going to sell isn't it? Dave Mirra snatched away his image rights and name before it even hit the shelves. Dave Mirra 3 could have been immense but it'll never happen now all down to some suit deciding to release XXX. Matt Hoffman had the cheek to try again as well, waste of time my friend. It was just as crap as the first attempt except with rubbish flatland tricks.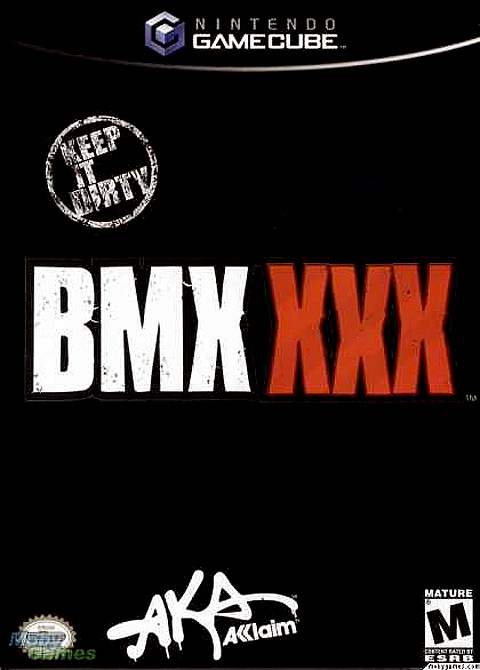 BMX XXX, released 2003
The powers that be obviously thought BMX was a waste of time and shoved the third BMX game in Tony Hawk American Wasteland as a side note just because they had already paid the guy to make it. A little mess about on GTA was OK for a laugh but it was never anything special. Although it was Tony Hawks was mint, Thrasher Skate and Destroy did show that a few things could have been done better and that's exactly what happened when Skate dropped. T Hawk got blown out of the water. Button bashing was out and straight up skills was in. I've seen reviews of Skate saying it is too hard for the casual gamer. This is exactly what we need. Casual gamers are wankers. I remember completing Metal Gear Solids VR Missions thinking I was the boy. As a reward they show you how good the japs are at it. Blown away, I got down to some hardcore training to get some good times.
Now where are we at with the BMX game? Still playing Dave Mirra 2 while everyone else is playing Skate 2 on an Xbox or PS3. It pains me to say it but I think Skate 2 is probably the best BMX game ever but the fact it hasn't even got a BMX in it is somewhat of an issue.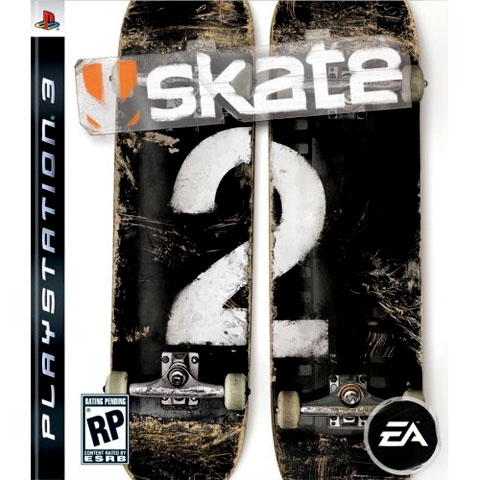 Skate 2, released 2009
The greatest BMX game ever to be made will be, BIKE. Or should it be called RIDE? It hasn't been made yet but EA Games are sure to pick up this article and get on it. Once that's happened I'll be living off a royalty cheque for the rest of my days. So its going to be slightly Dave Mirra 2 and slightly Skate 2 mixed up in a pot. The level is going to be one massive GTA/SKATE style city with a ton of real spots in it. The invented levels on these games are always slightly disappointing. You play as a gadgy trying to come up just like Skate. There are no challenges which involve scoring points as these have always annoyed me. The one major twist in this game is that it isn't just riding a BMX bike, you can get a downhill bike, a fixie, a racer and the unicycle, tandem and recumberent are going to be an unlockable options once you've completed it. Taj, Vic Murphy, Chase Gouin and the Gonz are going to be in it dishing out the challenges as is Chris Hoy. Chris will deliver the velodrome challenges where you will be riding a fixed gear. Some kind of perpetual circular motion on the analogue stick is how its going to work while on a fixie. A few courier missions here and there from Joey Joe, Poppa Smurf, Kinyarda and that Greek fella who was in the chippendales. As everyone is saying there is no money in BMX the fixie riding and downhill elements will get the punters buying it, insuring good sales figures. Plenty of bike brands will hand of the cash for some sponsorship and licensing. We can even stick John Cardiel cameo in as well for good measure. A Tom Simpson drug fuelled ventoux Tour de France stage. Its going to be great. You'll be able to ride whichever bike on whichever terrain. Try to BMX down the downhill track and you'll be rubbish, try to do stunts on a fixie in the park and you'll fold it in half. Dragon punch whoppers. Its all in my head. EA I'm waiting for the call…
by Carmine Fortini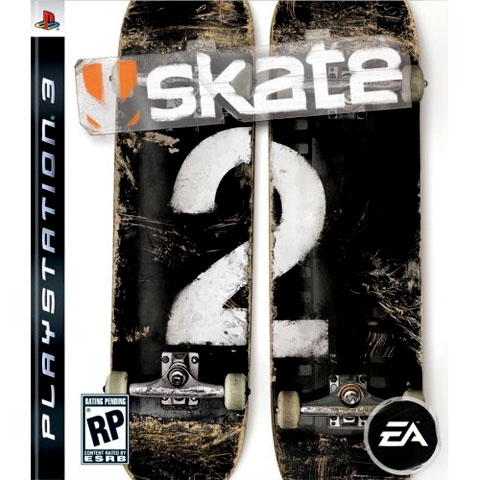 Open Gallery
10 Images