S&M rider Mike Hoder was in the UK for the first time not so long ago, taking part in this years Ride To Glory. We dug deep into the archives and pulled out this classic interview with him from issue 112.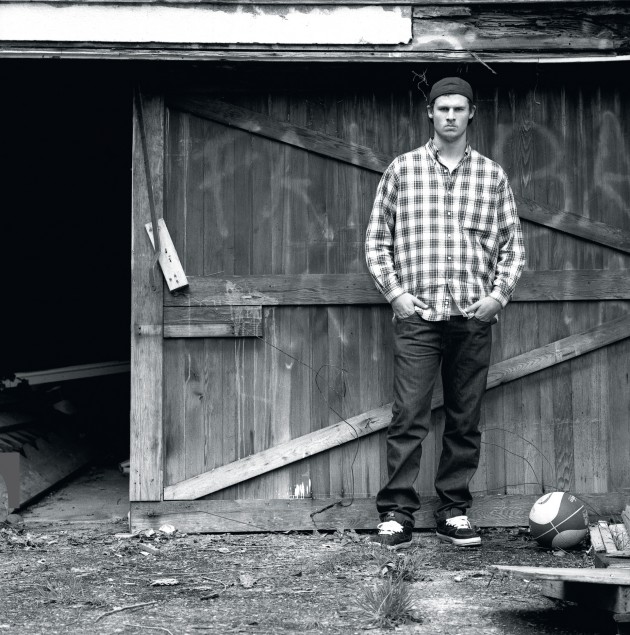 Fat Mike is a name that came around way before my time. It apparently best described a short and chubby Seattle local rider who was given that name by his friend Jack when they were 14. It was a name for me that was not easily forgotten, nor said, as I tend to never mention the condition of one's obesity. To this day I've very seldom crossed that line. Fat, or Fat Mike just never felt right saying, even if "everyone else is saying it" or even if the kid has lost a lot of weight throughout the years. Hoder, or just plain Mike, will do for me.
But as the nickname goes – Fat Mike – there's something different about that character. There's something you always remember even if it's for a short visit with him. For those of you who already know Mike, it's obvious. But for those of you who don't, the best way I can describe it is it's how Mike Hoder visualizes his future near and far, that makes him different than a lot of us.
Near: most everything I film of him could go wrong in so many ways yet I don't think he lets himself realize that.
Far: Mike doesn't live life worrying about consequences that may occur further on down the road. As I've said, it's his vision and he keeps to it regardless of any other opinion or judgment.
Having been around this example has opened my eyes to a lot of things, and will hopefully carry on through me for a long time; life is very short, live each day as if it's your last, and come to think of it, a ten-stair just doesn't seem as scary anymore.
---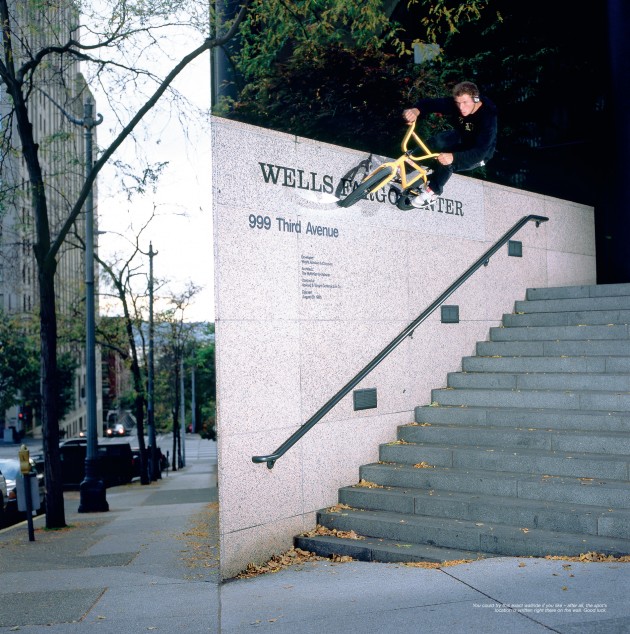 RIDE: How old are you, and where are you from?
I am 21 and I am from Seattle, Washington, also known as the hood and also known as Earth.
How long have you been riding, and how did you get into it?
I've been riding for about eight years, and how I got into it was when I was about 12 years old I used to walk by the Greenlake jumps all the time, but then I moved to California with my mom for a year. Then when I was there I traded a skateboard that I had for a BMX, but it got stolen. So then what happened next was I met Robbie Miranda at a place called Hidden Valley in Huntington Beach and he said he had a DK for sale. So I said I would buy it and he gave it to me, but I never paid him. Then I got the f—k out of there and moved back to Seattle a year later. Holla!
How would you describe the Seattle scene?
It's a great place to be. It's a beautiful day in the neighbourhood. People outside watering their lawn and shit. Birds are chirpin' and the dogs are barkin'. It's beautiful. That might be your hood, but this is my hood. Jeezy. But besides that whole young jeezy line, to tell you the truth there ain't that much to do at all especially in the winter. All we really got here is bars, strip clubs – Lusty Lady – parties and all right street and a lot of people. Retirement homes and lots of old people also. So if you're thinking of retiring soon, Seattle is probably a good place for you. Why do you think we ain't got fresh rap comin' out of this State, and why do you think no one visits here? 'Cause all there is, is lots of hippies, bums, and weird shit going on. That's why I mostly like travelling so much. But you gotta deal with it with where you live always.
What's the riding like in the winter in Seattle?
Not much at all, but since it is like 30 degrees and raining every day we usually just throw on the air conditioning and sit on the couch and watch the Menace II Society, the Façad video, play cee-low, smoke weed and drink a couple 40s. No joke.
What type of riding are you into?
Trails. Psyche! RAILS NOT TRAILS – so yeah, I mostly ride street 'cause all my good friends ride it and 'cause I hate going to the trails and fallin' and getting my new white tees and shoes dirty. Street killaz.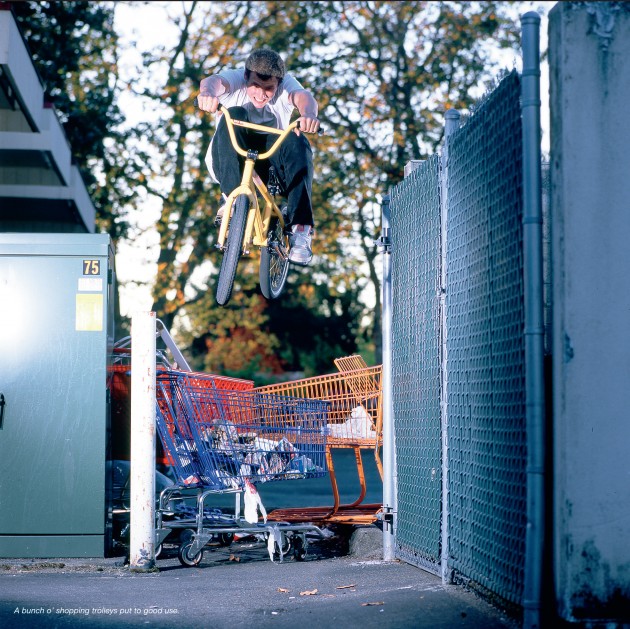 If you could ask for one thing in the world what would it be?
A very very fast car, so I could drive 200mph and get a cop chase going and outrun the Jakes, five-Os or the pigs – whatever you want to call them. I hate cops.
What's your favourite thing to eat?
Top Ramen sandwiches with lots of Sriracha sauce. You gotta love it!
What is the most common part you break on your bike?
Cranks and wheels.
What are your favourite things to do when you aren't riding?
Play ping-pong, draw as much as possible while listening to as much music as possible, while being high out of my mind, and also blowing all my money on cool shit and getting as many tattoos as possible.
If you could go anywhere in the world to ride where would it be?
I really want to go to Japan for some reason. It just seems like I would have a good time there and to ride and see cool things, and also it doesn't seem like a lot of people have been there to ride street. I hate played-out places 'cause that takes the fun out of finding new things to do.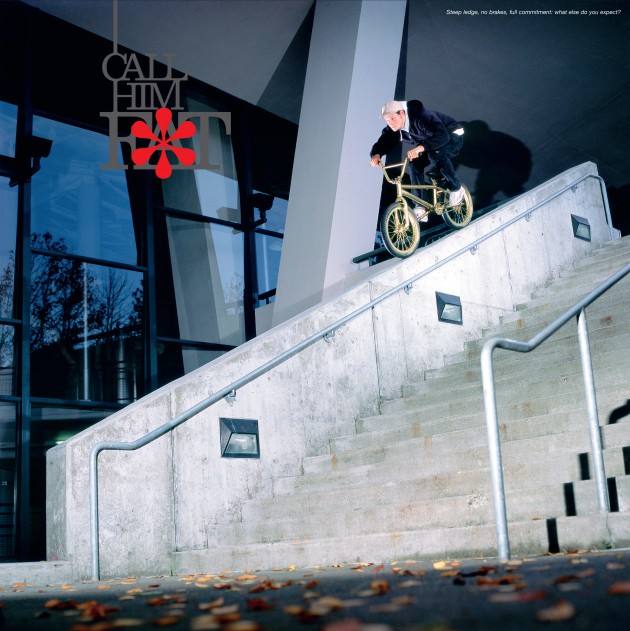 Were you actually born on your couch?
I was actually born on the couch at my house. My family must have been too poor to do that shit at a hospital!
I notice you have lots of clothes and shoes, but it seems like you wear the same thing every day? Why is that?
'Cause if I like the way the stuff I'm wearing feels, I don't like to change it up. I go for function not fashion.
Obviously, you ride for Sunday, how did that come about?
Well Jim called me a couple years ago and asked me if I wanted to ride for Sunday. So then we started going on trips and filmin' for the Sunday video. This is my home since day one. It's all right.
Your section in that Façad video has some pretty serious stuff. Were you happy with how it came out?
I'm very happy with the way it came out, in my eyes I think it was the best video of last year and I'm not just saying that 'cause I rode for the company – all I can say is I'm happy about not dying on some of my clips. Knock on wood. And if you haven't seen it you should check it out. IT'S THAT KILLA! Kind of like the purple we got out here. And I mean that purple haze! Best killa in the world.
It seems like you aren't scared to try much. What is going through your head when you're riding? Like the last clip in your part?
What is going through my head. All I know that's running through my head is; one, stay alive and, two, don't do it if you're scared 'cause you'll psyche yourself out. Just remember there's always another day. And on the last clip of my part I wasn't thinking about anything. I was talking to the people on the third storey of an apartment across the street. It was legit!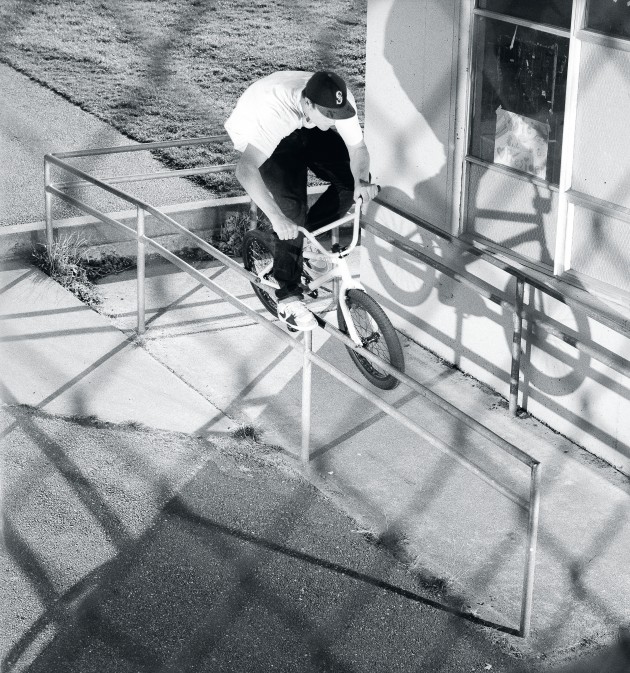 Are there any riders you look up to?
Not too many, maybe the Gonz, Chris Toth, and Lou Rajisch. But mostly I just look up to my friends and some skaters, Antwuan Dixon, and some others. For the most part I don't feel the need to look up to people, 'cause I'm not trying to be like anyone.
What do you think of the state of BMX right now?
It's not doin' too good right now. But it's all good 'cause I know there's ups and downs in everything. I pretty much just don't worry about it 'cause I know it's just something in my life for the time, and I don't understand this question very much.
How did you acquire your tattoos?
Not too long ago I had a friend with a tattoo gun so I did one on myself with his gun. Then I came up on some money around Christmas time, so I bought my own gun. I knew the second the gun came it would be all over. And yes I was right – now I went from one to about twenty. I get one every two to three days. I love it, and just remember you only live once. At least that's all I know.
What do you see yourself doing in the next ten years?I just want to ride for as long as possible and just experience as much as I can through riding. Also, just meet new people 'cause I think that's good for me. Also I hope to have a good hustle going, hopefully do a bunch of tattoos for people, or a good job when I am done with bike riding. I just want to have fun for as long as possible.
What's the craziest thing that's happened to you lately?
Damn crazy things. It seems like something crazy happens every day. I'll give you a good one though. For instance today I blew a bomb off in my front yard. It was equal to a half a stick of dynamite. The second I lit it I ran and watched from about twenty feet away. It blew me and my two friends' hats off our heads. If you think that's it, I'm sorry but it isn't. Since I blew it up in a five-gallon bucket of paint 'cause it was waterproof dynamite, so of course it blew paint all over my dad's and my friends' cars. Then also when it blew off I noticed that we were getting hit by glass. I looked over and noticed the ten-foot by ten-foot was gone from the front of my house and two of my neighbour's windows were gone. My dad was again pissed as usual. Tearing down the house party!
Sounds like your life is going pretty well – would you like to say anything else?
This is going to be a long one so here I go. I would just like to thank my parents and family in general for helping me out as much as possible. I would like to thank my friends Jack, Davey, T-berg, Austin, GJ, Marcie and JB, Mariam, Redline Kid, Nick Crime, Def Paul, my neighbours Woof, Shorty, Latrese, Momma, Monster, Brazy, also some more of my friends DR, BG, Andrew C, Ryan Paulsen, Eddie Cleveland, Little Jeff, Antonio, Mercer, and all the others that I didn't remember for being there and helping me out whenever they can. I would like to thank my sponsors Sunday, Lotek, Animal, Goods, Came Up, Mkshft, for helping me out as much as they can. Also I would like to thank anyone who has ever takin' me on a trip 'cause I love going on trips. A couple more: the weed in Seattle, of course young Jeezy for giving me something to wake up every morning and listen to. I LOVE IT!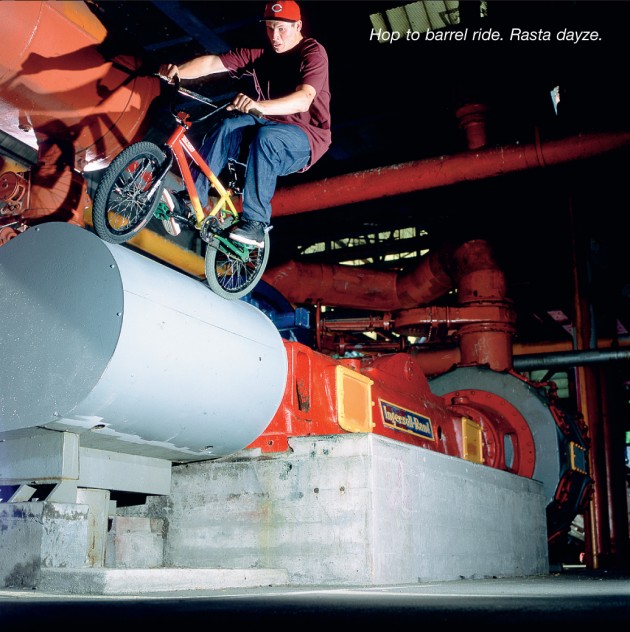 ---
Also while we're on the subject of classic articles and Mike Hoder. Here's Mike Hoder's cover from issue 101!