UPDATE – Press Release:
Skatepark refusal by Norton councillors outrages campaigners
Fury erupted at the latest Norton council meeting as a grant worth thousands of pounds offered to save the iconic half-pipe ramp was rejected by councillors.
Chaos followed the decision as councillors and supporters of the bid walked out of the meeting in "disgust and incredulity" over the decision by members.
#RescueTheRamp supporters witnessed the council vote by five votes to four to refuse permission for the ramp to be fully refurbished, despite funding having been lined up for the work be carried out at no cost to the council.
£15,000 was on offer in sponsorship from online mortgage brokers and sponsors of SkateboardGB in the Tokyo Olympics, Habito, plus pledges of further support from local contractors.
Volunteers have already carried out initial work – worth thousands of pounds – free of charge amid huge community support from young people, but the council chose to reject the community led bid.
Ryan Swain who led the #RescueTheRamp campaign, said: "Having put my heart and soul into this campaign, I am devastated. The town council has failed this community and the young people who live here.
"The half-pipe refurbishment has so much to offer more than skating – in arts, diversity, equality and a community coming together – but the very people who should be there to support us just ignored us like we didn't even exist."
Norton town and district councillor, Di Keal, who supported the campaign said: "The decision by a majority of members to turn their backs on our young people has made me ashamed to be a member of Norton town council.
"It has let them down and thrown hard work and commitment back in the faces of volunteers in our community, including well respected local businesses and members of Malton, Norton & District Lions Club.
"The council was presented with a credible, funded plan, that would not have cost it a penny and they voted it down. It is an absolutely unbelievable decision.
"This was a shameful display of the council being given a menu of misinformation and scaremongering, which fed the fears of councillors who chose to ignore the wishes of local people."
Councillor Martin Brampton, chairman of the Malton and Norton Area Partnership (MNAP), which delivered Phase One of the project, completing initial work on the half-pipe, said: "It is hugely disappointing that Norton town council has rejected MNAP's proposal to renew a valued community asset at no cost to the council.
"Exaggerated accounts of risk were allowed to trump community interest and to deny local youngsters a landmark skating facility."
James Lindenberg, who has been instrumental in bringing together local business support for the project, said: "In a very year that skateboarding makes its Olympic debut I am shocked and saddened that some members of Norton Town Council cannot see the value of the half-pipe to young people in this town.
"Skateboarding as a sport is on the up and once refurbished the half pipe would attract skaters from all of the country – I am baffled as to why a local council wouldn't support a plan to increase visitors and help our local economy thrive"
---
Original article continues below:
As you may have seen on Instagram over the past couple of months, ex-BMX rider / skater / comedian Ryan Swain has been on a mission to save his local vert ramp from being torn down.
"I am running a public campaign at the moment to rescue, repair and save the iconic, free to use outdoor half-pipe at Malton skatepark in North Yorkshire.  It has blown up since I launched the campaign and has gained National Media Attention."
---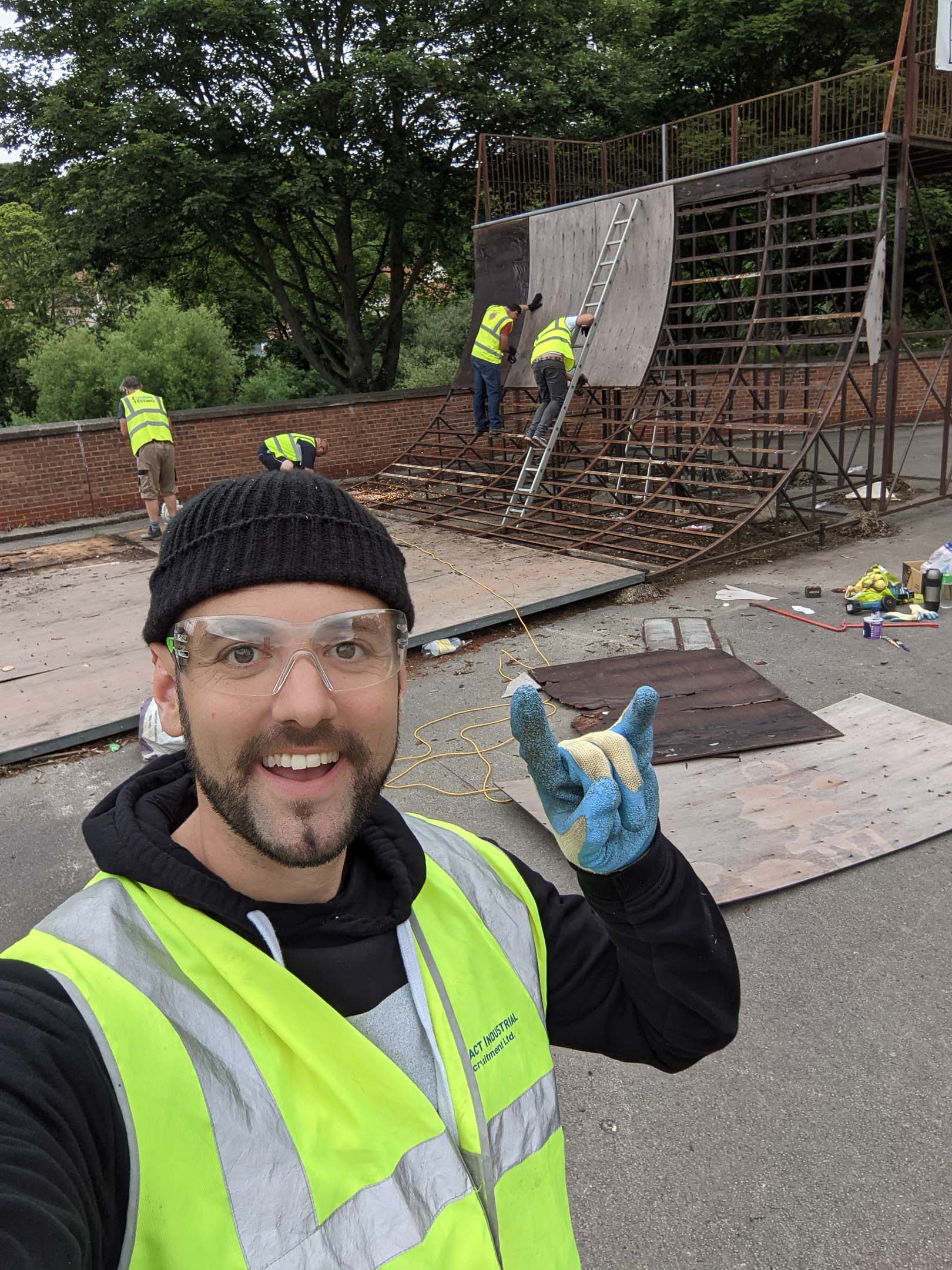 Outdoor vert ramps are very few and far between!  OK, vert might not be the most popular discipline but here is a facility and structure well worth preserving.  We're with Ryan on this, 100%.  As you can imagine, Jamie Bestwick agrees:
View this post on Instagram
Ryan's already got over a few hurdles with the local council and the ramp's structure is now being inspected before any additional work can be done.
For updates and to show your support, follow Ryan on Instagram and see how he's getting on with the campaign.
---
Below: Ryan Carpenter & Callum Saul riding the ramp. Photographer unknown.