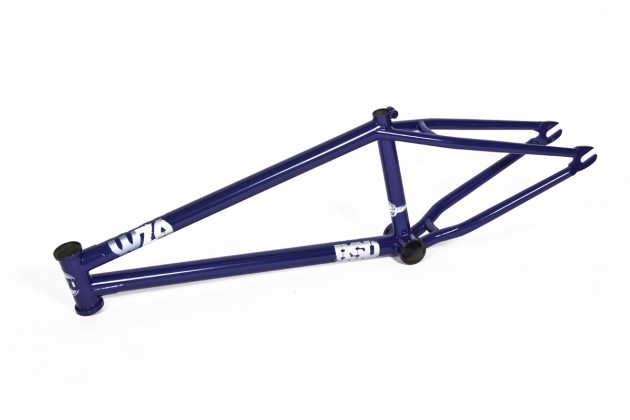 If you've read the current issue's product pages, then no doubt you will have seen Mike "Jersey" Taylor's signature BSD frame featured. Seeing as he's currently on the recovery table we decided to give him a shout and get some more in-depth info on it. We thought the WZA would be a good honest street only frame, but Jersey has been wise enough to design an all rounder. And it does not disappoint…
Mike, we've got the second version of your signature WZA BSD frame in the current issue of the mag (161). Can you tell us what changes you made this time around and why?
How do Cleggy. Well I've shortened the rear end to make it a little sharper at the back, and also the seat tube, as it was looking a little silly as I run the seatpost out of the frame as I dont do busdrivers.
Lets cut to the chase, this is designed for maximum rail action, did you have this in mind when designing the frame?
It's more of an all rounder leaning to the side of big stuff. I wanted sharp steering but not the twitchiness of just thrusting the front wheel towards the cranks as so many people do. It's easier just to have the offset of the forks if you want that than making the steering angle steeper so its got a 21.1 top tube and 75 head angle.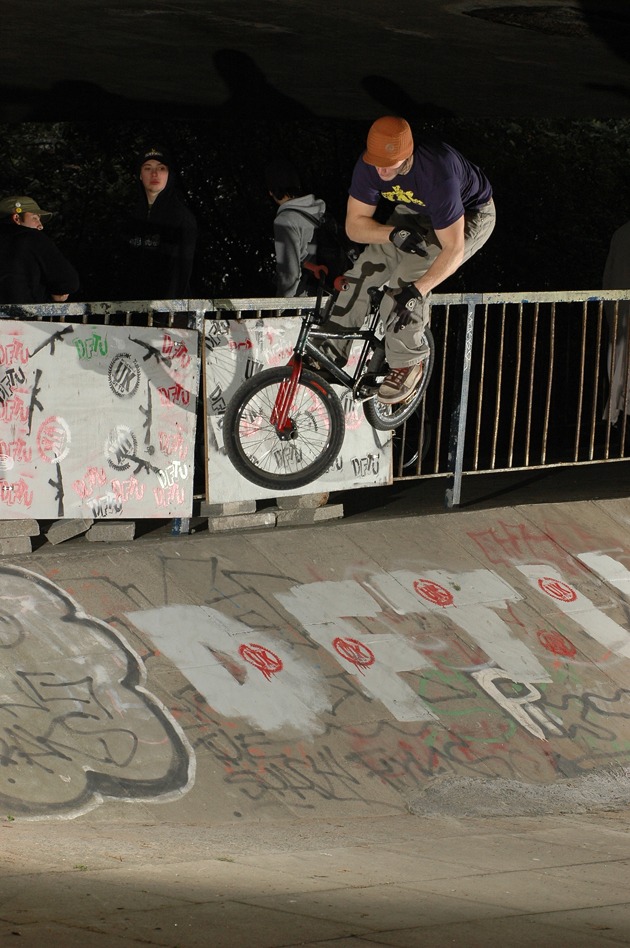 Jersey has been slinging the bars for years. This is 2004 ice to bars. Thanks to H-Man for digging these out of the archives for us.
What mods did you put on there for a smoother grind?
For the grinding I wanted a low BB so the centre of gravity is more balanced, just look at F1 cars! I had Grant calculate where the chain would be, then on the prototype we adjusted it to perfection with a old chain as there is no point setting a bike up with a new chain because it stretches and your peg is hanging out the drop-out.
I'm into the Peacock Blue, did you choose this because you were the "cock" of the school?
*cock, being hardest. (Yorkshire slang)
Just a cock in general… nah I've recently bought a house on Peacock Street so I thought that would be a cool colour as I wanted it blue but couldnt decide what shade.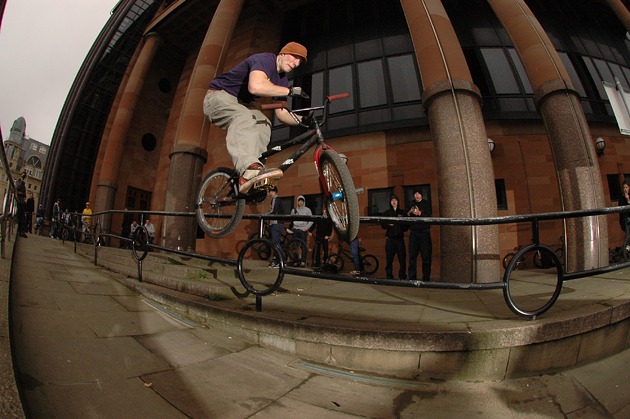 "I run the seatpost out of the frame as I dont do busdrivers" 2004. H-Man photo.
You strike me as someone who thinks art is for people who want putting down like an old dog. Is this why you have kept your graphics simple on the WZA?
If I could draw it might be a bit more lavish, but my ideas go through to Dave Sowerby who then pumps something out as close to my ideas as possible (if he can understand my Microsoft Paint drawings).
And finally, can you give us an update on your health? I know you've been out for a while.
Yeah after Ride to Glory I had knee surgery to sort out a bit of torn cartilage then after about 2 months I was pumping round the park and a kid snaked me up, I just reacted by putting my healing leg down and unfortunately tore it again, so I had to have surgery at the start of January. Now I'm just exercising back to strength……… I'll be back.
I've got some spots I want you to show me when im back riding
It's a date, thanks Jersey. Check out more specs and info on the WZA here www.bsdforever.com