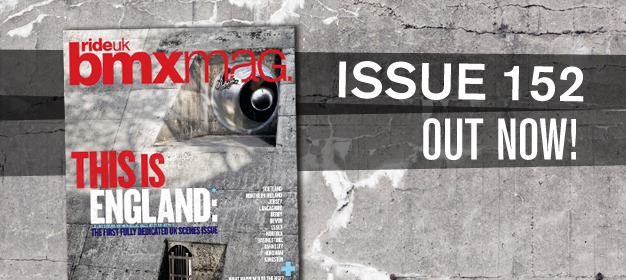 Before we kick things off next week with Ride To Glory, or throw some more Swimming Pool vids at ya, you'll be happy to know that the new one-off dedicated UK Scenes Issue is officially out now!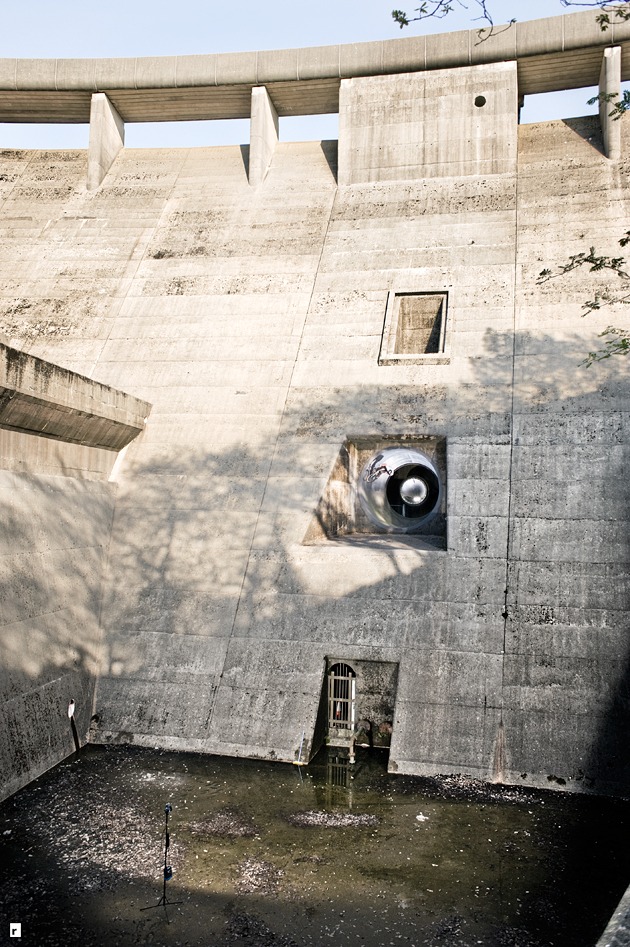 We've never jam-packed an issue with so much UK specific content before… From Scotland to Jersey to Northern Ireland and back again; we've gone to almost every corner of the British Isles, and more, to give you an insight of what the UK BMX scene is all about.
Here are just a few things to tickle your fancy:
Ben Lewis gives up his top 9 favourite spots in Liverpool, an insight into what happened to the NSF crew from Olly Olsen, a full cover story on how we shot this month's cover with UK spot-finding legend Owain Clegg, a 'Back in Time' look at Northern John recreating his cover shot from 10 years ago, a few Snippets including the Game of Ride at the Source Bowl and also info on how to win VIP tickets to this year's Relentless NASS.
Here's a little clip of Owain Clegg exiting the full pipe.
The Features:
Crossing the Channel: Alex Coleborn's Jersey.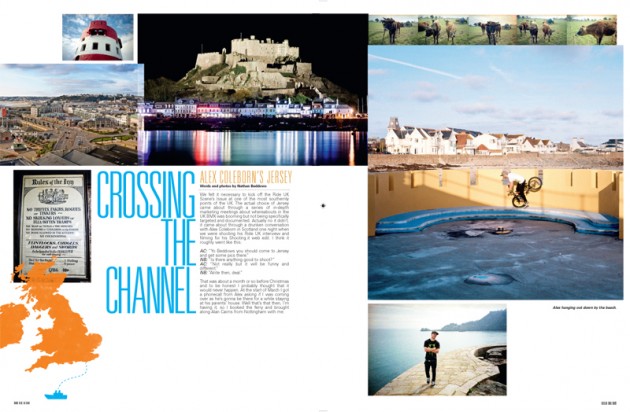 Can Devon Kick It… Yes It Can!: Devon and the South West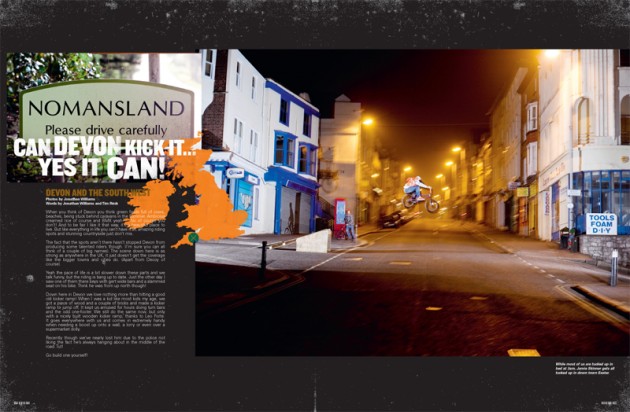 Norfolk n' Good: Officially the driest county in the UK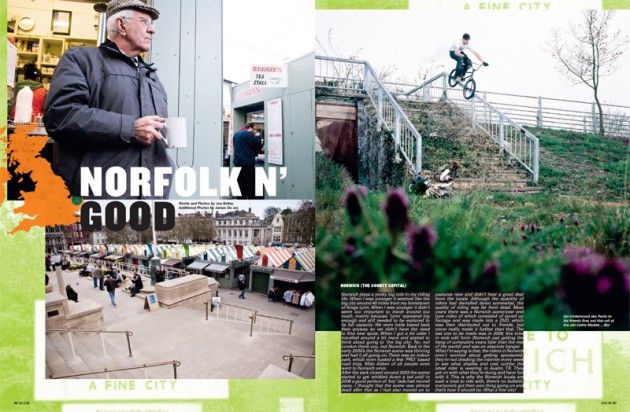 Derby Ain't Dead: Great Derby and Greater Derby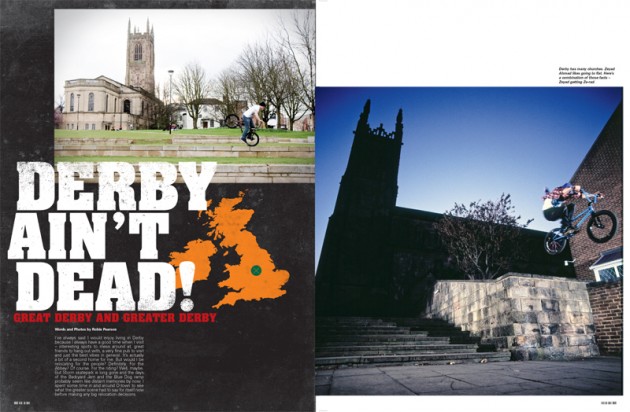 This is Not England: Scotland – This is England my arse.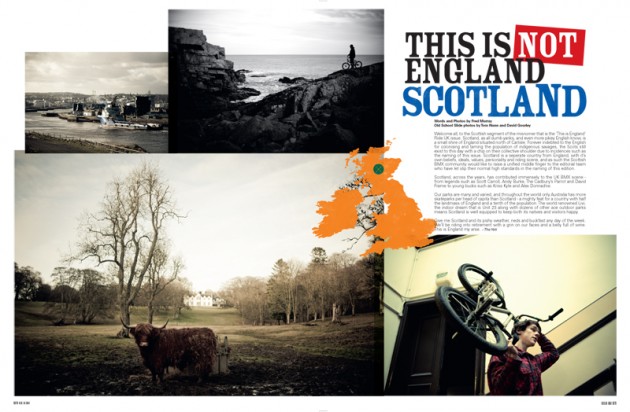 Piss Cat Ears and Budget Beers: Basingstoke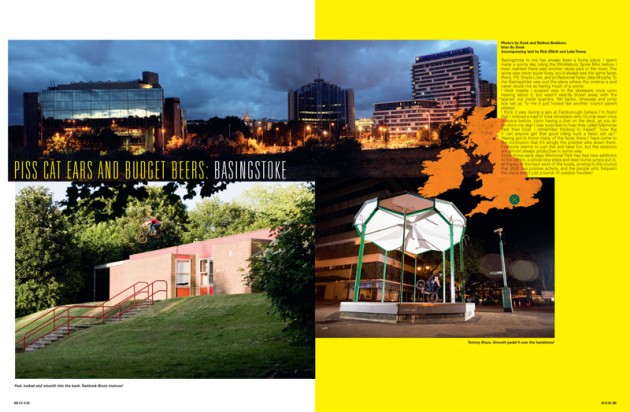 The Greatest Place on Earth: Lancashire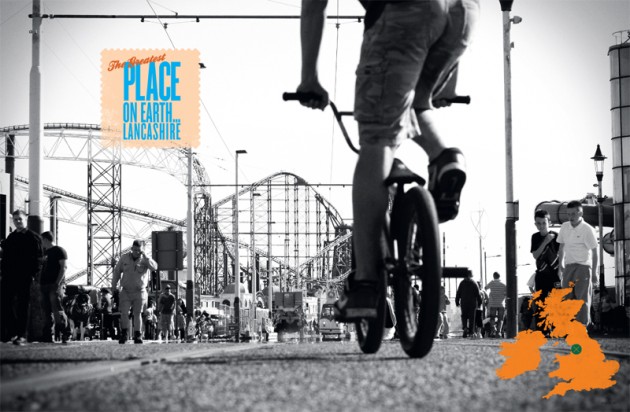 Bout Ye! Norn Iron!: Northern Ireland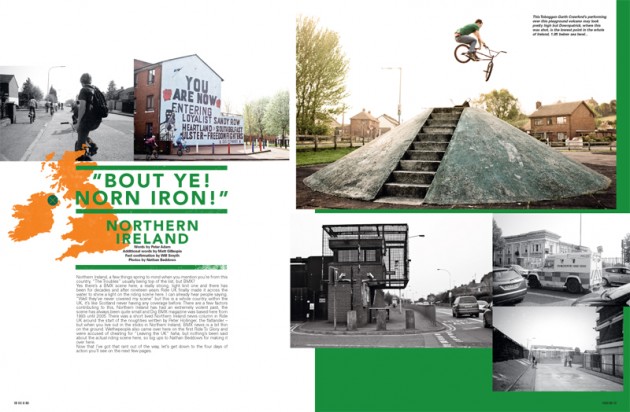 Home Away From Home: UK Pros in Austin.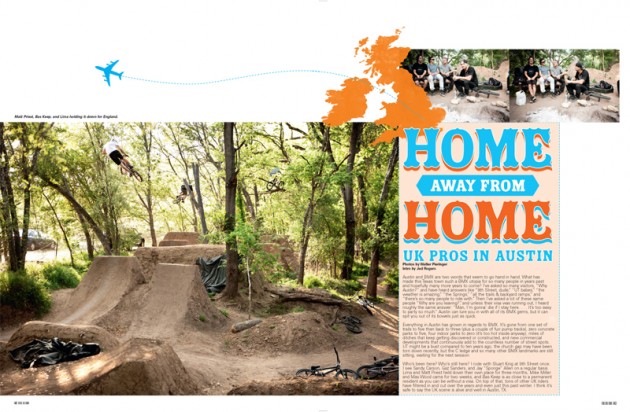 And whole lot more…
We've had a lot of people contact us asking why we decided to call it the 'This Is England' Issue when it blatantly covers the whole of the UK. So here's the Foreword text from the magazine explaining why we chose to call it the This Is England issue:
This is England
Welcome to the This is England issue, the first fully dedicated UK-specific scenes issue that Ride UK has ever attempted. We have had the idea of doing this full scenes issue for quite some time now, but unfortunately it got put on the back burner for a few years. We decided that this year however, we just absolutely had to get it done.
Previously, whenever we had penciled it in, we had always referred to it as the "This is England" issue. The intention to come up with a different, more politically correct name was always there, but as time went on the name just kept sticking until it stuck. When we laid out the cover image and added the text, there really was only one choice for the largest wording – "This is England" – It just sounded so right. I dunno, blame the iconic Shane Meadows film if you will, but nothing else just seemed to work as well.
As a consequence though we made damn sure that we included as much of the UK as we possibly could with Scotland, Northern Ireland, a Channel Island and Wales all getting represented in some form or another. We also deliberately avoided the usual suspects that get documented throughout the rest of the calendar and sent our troops out into pastures new. With only a limited number of pages we can utilise each month we decided to scrap a bunch of the regular articles – like the complete bike test, informers, WTFs etc. and no one article was longer than 10 pages, all just to free up more room for scene articles. If your scene wasn't included in here, but you think it needs some light soon, then drop us a line and tell us why – we're all ears. Everyone who works for Ride UK has gone above and beyond these last few months to get this issue done – old school scene legends were hunted down for info, old film slides were dug out of shoeboxes, hundreds of miles were driven and sailed, some classic spots were revisited (some so old they had literally been claimed back by mother nature) and our designer has even added a few more strays of grey to his belt…
We hope you enjoy this special one-off issue – please do get a brew on, sit down, put your feet up and get stuck-in to reading about everything that's great about BMX in the United Kingdom.