Harry Main is a name that's been on everybodies lips recently, mostly due to his ability to invent impossible new tricks and put it out online for all to see. Part of the reason for this is Harry's natural bike riding ability, another reason is that he doesn't spend every weekend getting wasted. As part of our series on healthy living (If you missed Scott Buchanan's article, click here) we present Harry Main…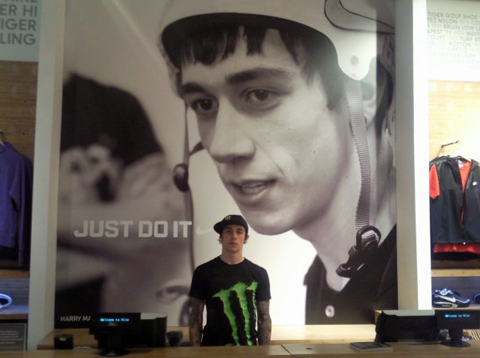 Have you always steered clear of drugs and alcohol?
Yeah, I pretty much messed around at the age of 16, the normal you know? What every teenager would do… I got to a point were I just thought I really am not into this. I didn't really enjoy the feeling of being drunk it just didn't and hasn't ever done it for me. I know its kind of cool being drunk, but when I go and get drunk every once in a while its kind of like I feel like I haven't achieved anything but instead wasted a night. I could of been out having a chilled curb sesh or something, maybe enjoying nice food. That doesn't mean I don't drink ever. If I go to a contest and I do well I'll defiantly have a few drinks to celebrate but as for getting trolleyed every Friday and Saturday I've never been a taker.
Do you not miss it when you goto a comp and everyone's partying and you are not?
I don't miss it at all. I can have just as much fun sober as they can have drunk. I'll still have a few drinks at some contest. One thing I find annoying is people like "Have a drink, come on have a drink." but I suppose that's them just wanting you to have a good time. I got pretty loose in Estonia and the next morning just thought to myself, why? What was the point in that? To feel crusty and tired the next day? But once again nothing against people who drink. It's pretty cool when everyone is having a good time. Just my good time isn't so drunk…
Can you explain what working out is and how it helps you as a rider?
I started going to the gym in about February. Jamie and Kerry [Bestwick] helped me out and showed me alot. Without them I would be kind of clueless as to what to eat and how to stay fit. I think the hardest thing for me is committing to eating healthy. It's like when I go out I have a choice pizza or a salad and that's when you really know where you are with eating healthy. It wasn't until I got back in England I knew weather I was committed or not. I'm not going to lie. I'm not 100% clean cut with healthy eating training in the gym. But I'm a 100% sure its a damn shot better than MacDonald's and 4 litres of soda a day! That was my regular diet every single day before I started trying harder to look after my body.
What sort of foods do you eat and not eat?
When I'm riding ill wake up and eat some form of healthy cereal you know special k or Weetabix then for my dinner ill have a tuna salad or a sandwich with some salad. When I'm home from riding if I haven't already gotten a subway ill get myself some a meal with some chicken in it.
Who taught you about all this?
Jamie and Kerry Bestwick

Can you summarize how all this has helped you as a person and a rider?
As a person it's made me more confident with myself just being able to have mind control on what to eat when I need to and it's made me feel alot better. When I come out of the gym I feel really good and ready to ride. Motivated and stronger. Lately I've been doing alot of stretching, I felt that was something that I needed to work on.
But once again, if eating healthy isn't an option for you then that's fair enough. I ate fast food for pretty much at least a year straight with at least one 2 litre bottle of pop a day, it was the normal for me, I thought I felt good. When I started eating properly I would wake up in Jamie's after a good ride at Woodward. I was like, 'Jesus I'm not aching all over from head to toe!' and that was from just eating a good diet not to mention what going to the gym helps you feel like. Alot of people consider going the gym as just going and getting massive arms and massive pecks it's not about that, it's about letting your body loosen up. But I'm far from eating perfect or drinking perfect, I still drink a Monster Energy when I ride and eat sweets every once and a while. It's not a problem I just feel a hundred times better than I ever have!