So the word on the web is that freestyle BMX will be the Olympics. And not just Vert. Apparently, unbeknown to anyone until now, Street, ahem, Park will now be included in the 2012 Olympics in London.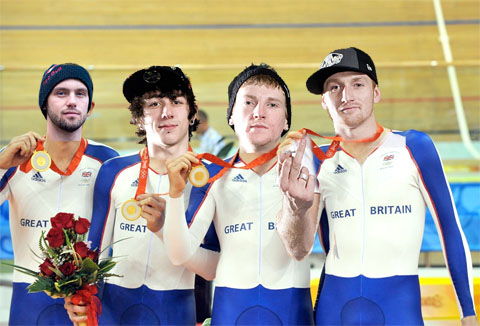 Kye Forte, Harry Main, Dan Lacey and Ben Hennon mocked up in Olympic attire…
Firstly, who will be riding? BMX isn't even organized enough to have a World Champion. Kye Forte can legitimately put on his CV that he's an undisputed 4 year World Champion of Dirt. This is because the last Worlds was run in 2005.
The iBMXFF or International BMX Freestyle Federation are so organised that their website is currently flagged by Google as one that maliciously downloads virus' and who's latest update is the World's results from 2005. Check that here if you dare. They are a partner of the UCI and could possibly be running things. The UCI is probably an alien name to anyone who's not into BMX Racing. But the UCI stands for the Union Cycliste Internationale, for specifics on what they do try Wiki here.
In a nutshell, the UCI are the people who give riders licenses to compete, they arrange dope testing (which with a rough estimation, 60% of riders would fail) and in event's where a country competes instead of an individual (like the Olympics) they watch over a points ranking system. BMX Fresstyle doesn't have one of these yet. So in order to qualify for the Olympics, a ranking system is going to have to be instated worldwide.
The Olympics is usually a fastest, highest, furthest competition. In the events in which a freestyle element is key such as Gymnastics, the criteria for judging is very strict and quite simple. The manoeuvrings are subject to one variable, the human body, and the platform is a flat piece of ground. BMX street would be set on a street course with rails, ramps, jumps, etc and so would be much more complicated.
What are the benefits of BMX street being in the Olympics? Snowboarding as we now know it is a hugely mainstream sport, widely accepted worldwide but only a few short years ago was underground and seen as a pest by the skiing comunity. The Olympics is no doubt a huge catalyst for the acceptance of this. What does that mean for BMX? Would BMX becoming that mainstream be a good thing?
There's a whole new world that BMX is about to go into and it could divide alot of people. Do we love our little world of bike riding and want to keep it to ourselves? Or do we want it to go mainstream, get more skateparks, grow brands and get riders paid properly? Wouldn't it be nice for a pro rider to actually make some money? Look at Shawn White for proof of what's possible…
The future is uncertain but it's new territroy. Let's just hope the performance director wises up a little bit. British Cycling's performance director David Brailsford told MP's and Peers at a recent Westminster conference that, "The information I'm getting is I'll be performance director of street BMX so I will have to go and get my hoodie and baggie shorts."
Nearly as good as this joke…
Check out Bike Biz for the full article and the latest info on the Olympic progress…