Frames and products are now up from issue 175. Need more info on your next purchase, give these a look over.

Mutiny
Rune
This looks a solid workhorse from Mutiny. Rune is their new team edition frame and is built to all the usual Mutiny standards. We have a elliptical down tube, this helps prevent dents when things don't quite go as planned trick wise. 100% 4130 Chromoly Sanko tubing, tapered top, seat tube and seat stays. Heat treated dropouts, 2 piece removable brake lugs and S bend chain stays. All in a really well packaged frame that can compete with the best of them on price.
Specs:
Top Tube: 20.25″ . 20.6″ . 21″ . 21.25″
Chain Stay Length: 13″
Angles: 70 degree seatube, 75  degree head angle
Bottom Bracket: 11.6"
Weight: 4.9 lbs
Colours: Dirty White, Flame Red, Barren Black, Silver, Grass.
RRP: £299.99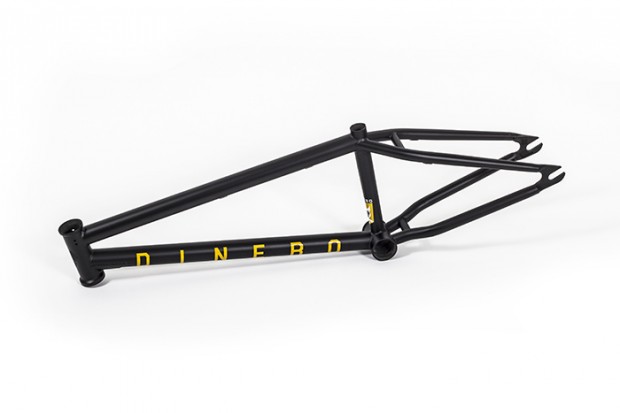 United
Dinero
The awesome Dinero forks came first, and now United have just released the frame to match and it does not disappoint! What makes the forks famous is the investment casted dropouts, and of course these are here on the Dinero frame too. Rock solid dropout set up, which is proven by the team. Also, while they were at it United also decided to investment cast the seat clamp which is a really nice touch. Ashley Charles and Alex Valentino both rep this frame hard, both even have their own colour way to choose from. 100% seamless Japanese 4130 cromo, straight gauge tube set with tapered down tube and stays, heat treated headtube, BB and dropouts. Removable brake mounts and a decent 2.35″ tyre clearance. Hit the specs for more.
Specs:
Top Tube: 20.5″ . 20.8″ . 21″ . 21.2″
Chain Stay Length: 13.25 – 12.9″
Angles: 71 degree seatube, 75.5  degree head angle
Bottom Bracket: 11.8"
Weight: 4.9 lbs
Colours: Satin Black, Satin Blood Red (Alex V), Flat Grey (Ash Charles).
RRP: £299.99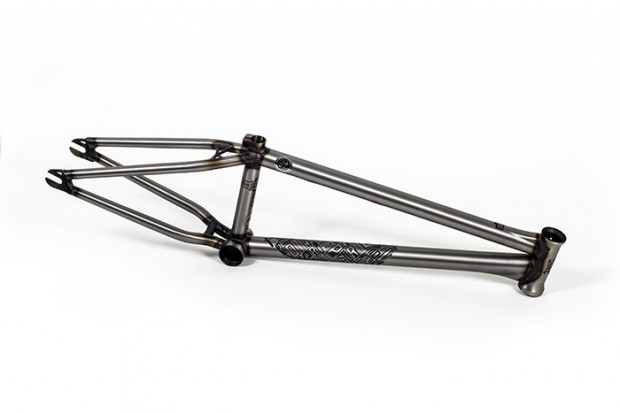 Wethepeople
Scorpio
WeThePeople switched up the LO-FI frame and it's now called "Scorpio". The Scorpio frame is literally a follow on from that, where everything was clean, simple and strong. This all stays. The one thing you notice right away is the hydro formed top and downtube gusset. These are a new feature and provide a greater surface area for welding which in turn makes for a stronger join. This thing just looks like it could take a beating or 2 and it even includes a lifetime guarantee! WTP mean business with this one, it's so slick. Ours came through in raw, it's available in black, chrome plate and trans blue but, the trans red version is immense so keep an eye out for that one!
Specs:
Top Tube: 20.25″ . 20.5″ . 20.75″ . 21″ . 21.25″
Chain Stay Length: 13.21″
Angles: 71 degree seatube, 75  degree head angle
Bottom Bracket: 11.75"
Weight: 4.34 lbs
Colours: Raw, Trans Red, Trans Blue, Chrome Plate, Black.
RRP: £279.99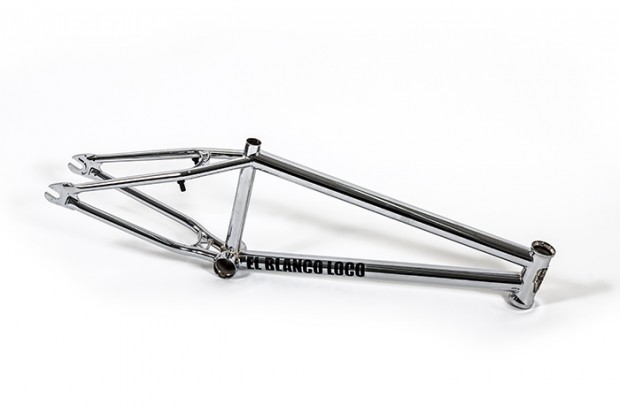 Skavenger
El Blanco Loco
This thing is a work of art from Skavenger! It's had everyone drooling over it in the office. El Blanco Loco is Tom White's signature frame. This really is a class act, especially in chrome. It's made from Mugen double-butted and heat treated tubing that is 20% stronger than 4130. The custom headtube badge is dope too, really sets everything off. As for the specs, butted seat tube and tapered stays with removable brake mounts and custom chain and seatstay braces as we've come to expect from Skavenger. 5mm heat treated dropouts and an extra wide rear end for those 2.35 MTT's to slide in to with ease.
Specs:
Top Tube: 20.75″ . 21″
Chain Stay Length: 13.5 – 14″
Angles: 71 degree seatube, 75  degree head angle
Bottom Bracket: 11.75"
Weight: 5.2 lbs
Colours: Black, Chrome.
RRP: £369.99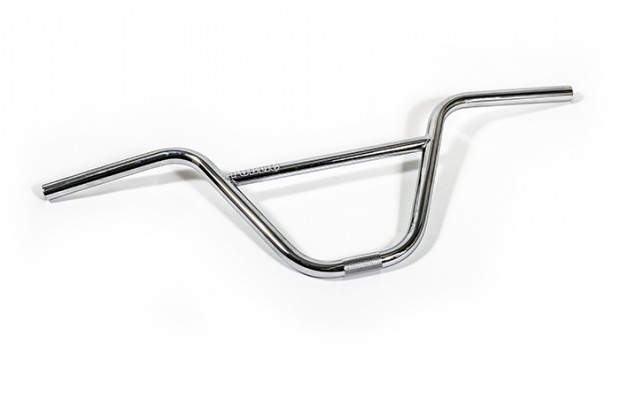 Gusset
Public Bars
Gusset's new value Public bars are multi butted cro-moly construction and are super lightweight, ideal for park and street. 19mm crossbar brace with a solid 8.75″ rise, 28.75″ wide, 12 degree back and 1 degree upsweep. Available in blue, black, red, chrome or purple. If you're on a budget then these are worth a look for sure. RRP: £44.99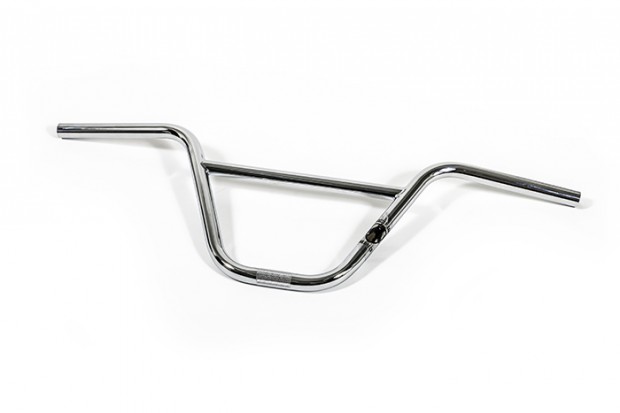 Kink
Grizzly Bars
Good set of 9 inchers here from Kink. The Grizzly Bars a 29.5″ wide, 12 degree back and a 1 degree up sweep. 13 butted 4130 construction with TruTherm post weld heat treatment. Kink keep it simple with availability in black ED and chrome. Weighing in at 28.03oz these are built to last. RRP: £69.99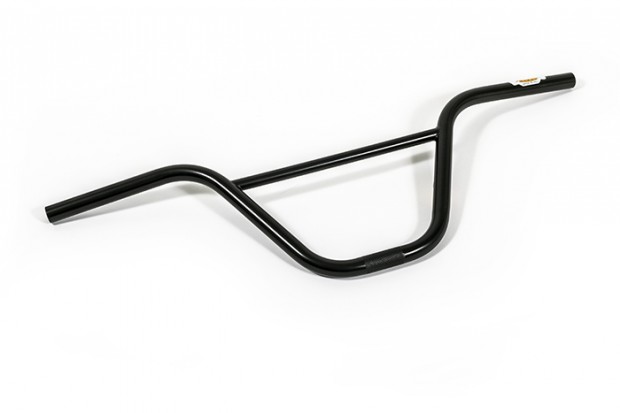 S&M
Credence Bars
S&M have been producing some of the best bars in the business for a long, long time. They without doubt offer the widest range of any brand, they have almost every angle covered. Here's the Credence bars, Clint Reynolds signature line and the stuff is dope. 8.7″ high, 29″ wide, 3 degree up and 11 degree back sweep. Weighing in at 2.13 lb and constructed from only the finest USA 4130 CrMo. RRP: £59.99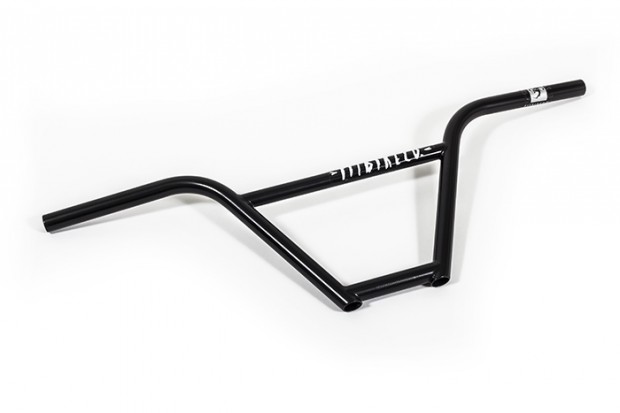 Fit
Benny L Bars
The UK has been awaiting these for some time. Benny L's signature Fit 4 piece bars. These look so good! Benny's sales pitch "It's what I grew up riding, it's what I think's the best" Not going to argue with that my son. 100% 4Q baked heat treated 4130, big box design, straight gauge crmo tubing with an 8.85″ rise, 28.5″ width. 10.8 degree back and 4 degree up sweep. American made and weighing in at 2.15 lbs. Phew.. You know these are going to be popular this summer. RRP: £69.99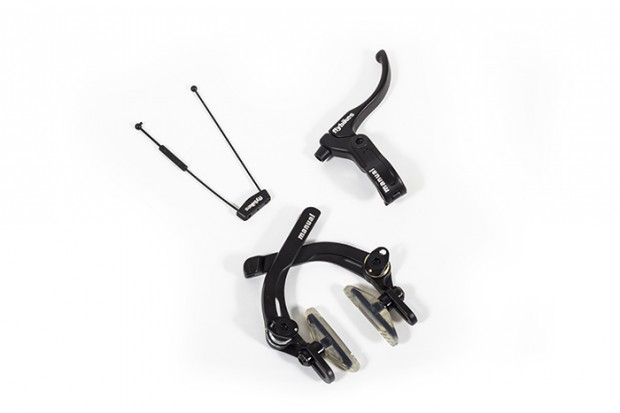 Fly
Manual Brake + Lever
What Fly have done here is awesome. The Manual brake and lever are both based on the Classico brake system. That set up wasn't cheap so they decided to figure a way of creating a proven system, for half the price. Here it is, the Manual brake and lever. Fly simply eliminated the CNC process and went with the cost effective mould treatment. It works a treat and it's good to know companies are looking our for us in difficult financial times. Good stuff. Brake RRP: £54.99 Lever RRP: £27.99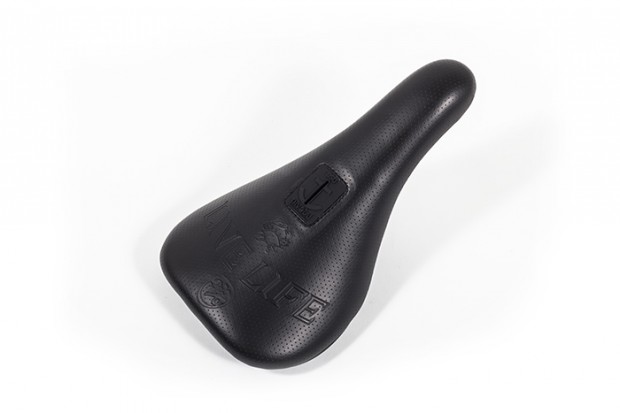 BSD
Kriss Kyle Live Life pivotal
Classy bit of kit from BSD and Kriss Kyle. The Live Life seat features a slim profile, durable pivotal construction, tough perforated vinyl and a custom anchor bolt patch. This is based on one of Kriss's tat's. Very trendy! Available in black only. RRP: £27.99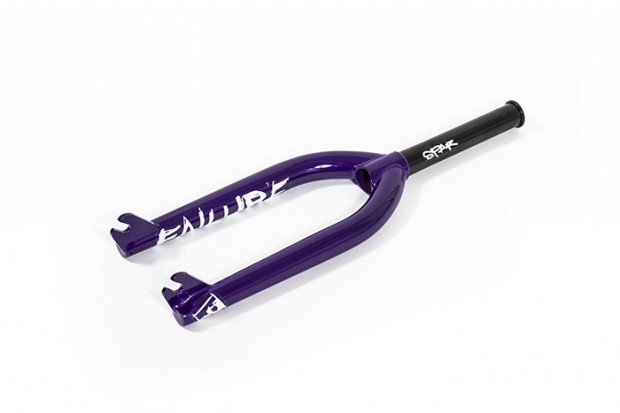 Failure
Spar Forks
Plenty of solid produce coming out of the Failure catalogue recently. These Spar forks are no different. Made from heat treated chromoly which features a reinforced 1 piece machined steerer tube with an integrated bearing race, tapered legs which are notched for peg clearance and a solid set of drop outs. Weighing in at 991g and available in purple or black. RRP: £124.99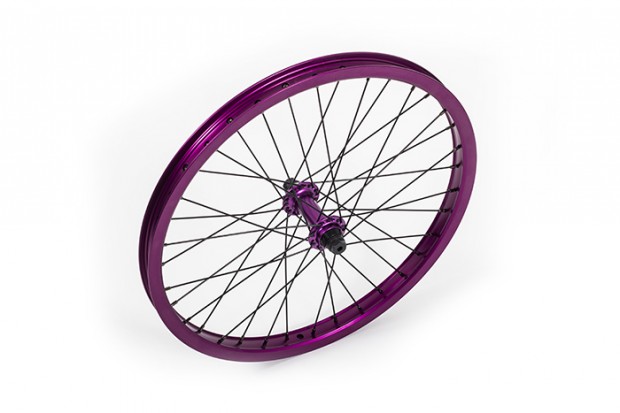 United
Supreme front wheel
Great value from United with this Supreme front wheel. Sealed bearing front hub with female axle bolts built up on to a wide profile double wall, alloy 36 hole rim. Nice and light at 2.1 lbs but laced up with these solid stainless spokes they're nice and tough. Also available in black, red and blue. RRP: £59.99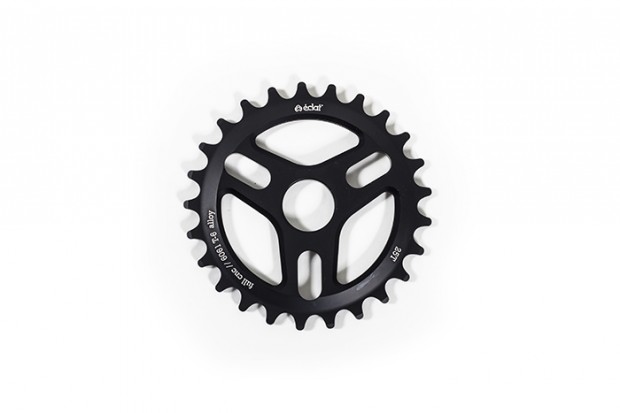 Eclat
Tilt Sprocket 25t
More great looking products from Eclat. This time we have the proven Tilt sprocket. Constructed from 7076 T-6 aluminium, CNC'd with a hard anodised finish. 6.35mm thick and available in 25T, 28T, 30T and 33T. RRP: £44.99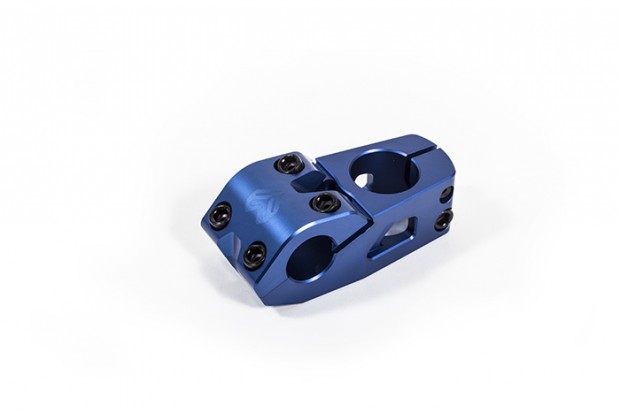 Eclat
Nathan Stem
Strong, light and it's Nathan Williams. I'm not sure what else you need to know when choosing a new stem! But, as ever we like to delve a little deeper to tell you that it's fully CNC machines from 6061-T6 aluminium has a 49mm reach and benefits from the offset rear which improves the clamping system. Weighing in at 289g and available in black and high polished this is well worth a shout of you're looking for a switch to top load anytime soon. RRP: £59.99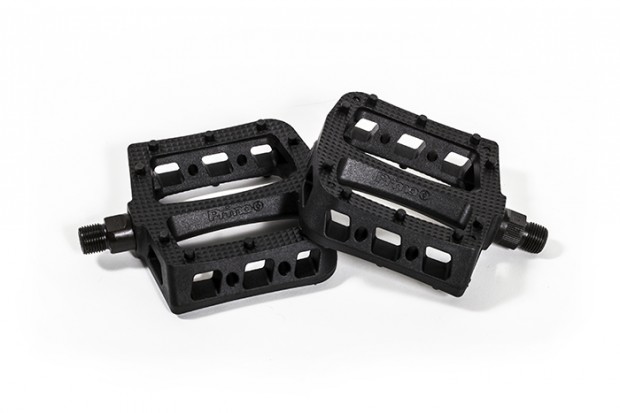 Primo
Stance Pedal
These look super good from Primo. Their new Stance pedal is constructed from a tough nylon composite plastic which feature a knurled concave body, moulded pins and a cr-mo axle. The shape and size are spot on. Great value and one of the better plastic pedals available today without a doubt. Choose you colour, there's black, trans black,blue, green, red and purple. RRP: £16.99