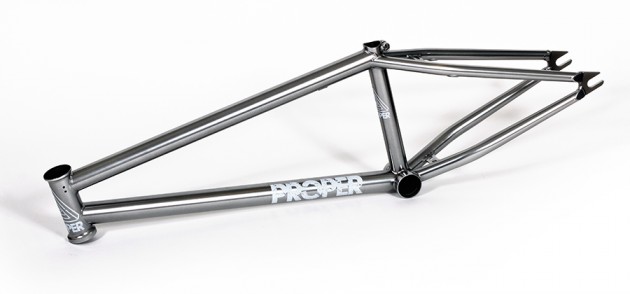 Proper
TTL
Mike Miller's super popular TTL frame from Proper has been on the scene for a while now, so if you're not riding one yourself, then you'll certainly know someone who is, that's how trusted these things are. Seamless 4130 chromoly tubing is the backbone to the TTL along with laser cut dropouts and double butted top and down tubes. Spanish BB with removable tabs and brake mounts. Integrated seat clamp and weighing in at 4.7ibs this thing is solid. All from a UK company too, it's hard to overlook this if you're on the market for a new frame.
Specs
Top Tube: 20", 20.7", 21"
Chain Stay Length: 13.58"
Angles: 71 degree seatube, 75 degree head angle
Bottom Bracket: 11.6"
Weight: 4.7 lbs
Colours: Satin Silver, Matte Black, Matte Red
RRP: £279.99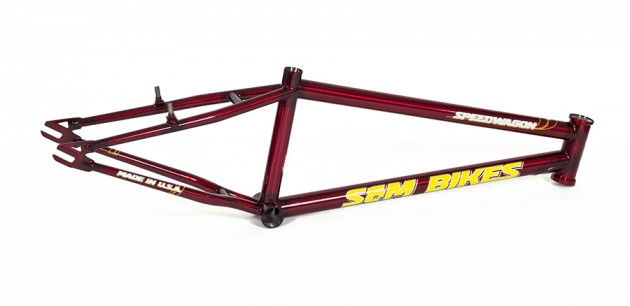 S&M
Speedwagon
I'm certainly not a racing buff, and I won't pretend to know what I'm talking about when it comes to the relevant equipment for such a discipline, which essentially requires your bike to be the equivalent of an F1 car. But, what I do know is this race frame has been designed and manufactured by S&M, who's roots lie deep within the racing scene. The Speedwagon evolved from the popular .38 Special frame. Which was one of the best Cro-Mo race frames in the industry and was spotted in and around various trails spots across the UK. The Speedwagon has a lower stand-over height, increased size options, s bend chainstays and a shorter rear end. This thing is light and responsive. And according to Gunner's (the Editor) Twitter page, he's taken this puppy home ha!
Specs
Top Tube: 20.5", 20.75", 21",
21.25", 21.5", 21.75", 22"
Chain Stay Length: 14" – 15"
Angles: 71 degree seatube,
74.5 degree head angle
Bottom Bracket: 11.5"
Weight: 4.17 lbs
Colours: Gloss Black,
Trans Red, Chrome
RRP: £429.99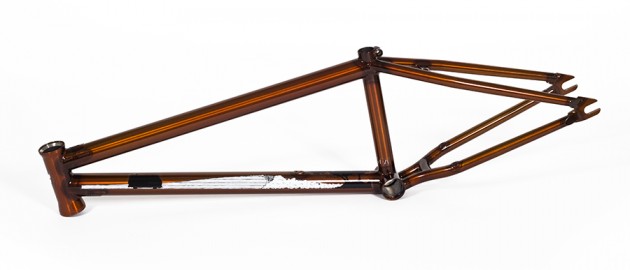 T1
SFA
Garrett Byrnes has been an iconic figure in BMX for over a decade, and along with T-1 he's always produced amazing frames and the 2013 SFA is no different. Hand built by S&M in California from the finest heat treated 4130 chromoly this thing is here to stay. Spanish BB, integrated seat clamp,
top and down tube gussets, removable brake mounts and
guides, and how amazing does this Trans Orange look?
Without a doubt my colourway of choice this year.
Specs
Top Tube: 20.75", 21", 21.25"
Chain Stay Length: 13.75"
Angles: 71 degree seatube, 74.5 degree head angle
Bottom Bracket: 11.75"
www.terribleone.comWeight: 4.7 lbs
Colours: Gloss Black, Raw, Navy, Trans Orange
RRP: £399.99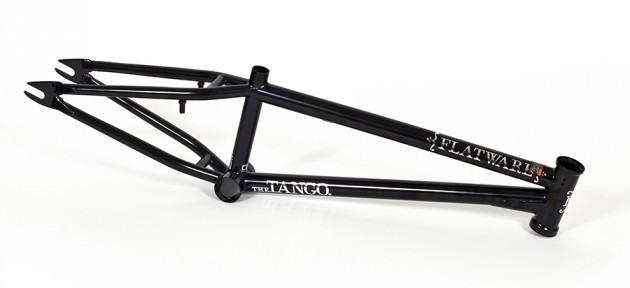 Odyssey
Flatware Tango
Another frame in here today, which is slightly out of my comfort zone. This is the flatland specific Flatware Tango from Odyssey. These guys have been involved in every discipline of BMX for many, many years. They know the drill with flatland produce and all under the "Flatware" label. This frame is designed to "blur" the lines between street and flatland. I love that idea! Guys who are more into the technical side of street may be interested in pushing that into flatland. This frame has that covered. It certainly looks burly enough to do many a harsh brick ledge while having the angles for a mellow carpark sesh afterwards. The build quality is what you'd expect from Odyssey. Full 4130 chromoly with the 41 thermal heat treatment technology. There's even a limited lifetime warranty against bending or breaking.
Specs
Top Tube: 19.5"
Chain Stay Length: 13.25"
Angles: 71 degree seatube, 75 degree head angle
Bottom Bracket: 11.85"
Weight: 3.85 lbs
Colours: Black
RRP: £299.99