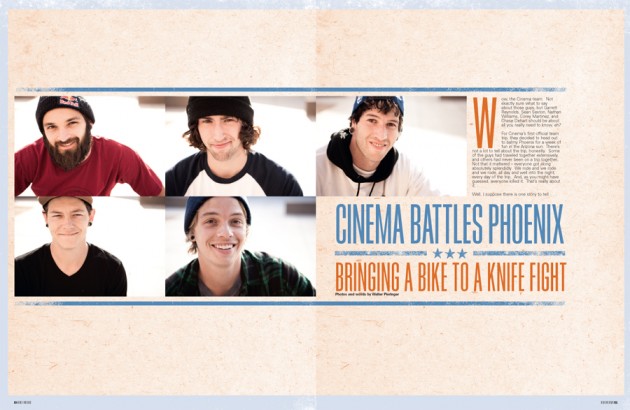 In the latest issue (148), we feature the Cinema Wheel Co – 'Cinema Battles Phoenix' article. If you've seen the article in the mag then your know what your about to see, so don't hold up – hit play now! If you haven't seen the article, don't worry. Your still in for a treat!
---
---
The CINEMA Wheel Co. BMX team spent a week in Phoenix in Nov. 2010. Garrett Reynolds, Corey Martinez, Chase DeHart, Sean Sexton and Nathan Williams.
Directed and Edited by
Will Stroud
Filmed by
Will Stroud & Christian Rigal
Art Direction by
Harrison Boyce
Special Thanks:
Christian Rigal, Walter Pieringer, Ride UK, Drew Hosselton, KC Badger, Eric Bahlman, Bink, Gordy's Bicycles and PHX locals.
www.cinemawheelco.com
www.greenhousebmx.com
Music:
Song 1
The Brothers Johnson
"Strawberry Letter 23"
Song 2
The Byrds
"Artificial Energy"