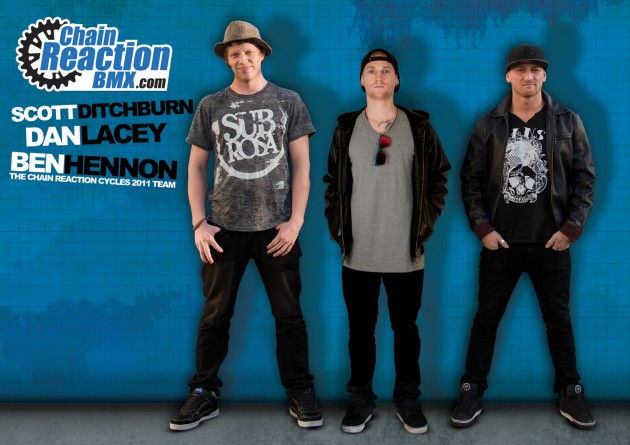 Chain Reaction Cycles are proud to announce the launch of our new BMX team, where we'll be backing top UK riders Dan Lacey , Scott Ditchburn and Ben Hennon.
As well as being the first UK street rider to be invited to X Games Street in 2010, Dan won the Best Line award at the Nike Tunnel Jam 2009 and Best Trick at last year's Simpel Session in Estonia. Dan will compete at next month's Simpel Sessions in Estonia and said on the new team: "It's nice to see someone putting back, here's to 2011."
Newcastle-based Ben Hennon hopes to build on his recent competition success during the upcoming season. Ben's top results include first place at the Let it Ride Bowl contest in Belgium, 2009; first place and Best Trick at Boardmasters, Newquay 2010; second place at Big in Bavaria, Germany 2010; third place at NASS Street 2010; third place at Let it Ride, Portugal 2010.
The formation of the new team will allow all the riders to continue what they do best, according to Ben: "BMX for me means travelling, riding and partying with my friends around the world. Being a part of the Chain Reaction Cycles team lets me do more of what I love."
Scott Ditchburn, who has won a number of UK street jams in the last few years is heading to America soon to film for the forthcoming Subrosa video 'Get Used to It'. On joining the new BMX team, Scott said: "Looking forward to the year ahead, 2011 find it and grind it."
Throughout the year we will be releasing exclusive edits and doing what we can to support our team and help promote and develop BMX . Keep checking the site, plus our Facebook and Twitter pages for team news, videos and more.