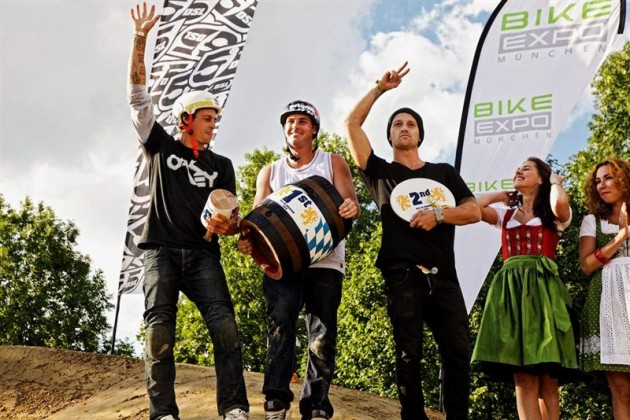 The Big In Bavaria dirt contest was held this weekend. Due to rain in Munich, a straight final was held on the the Sunday. Check out the full press release below.
Munich, Germany, July 26th 2010 – Dane Searls went "BIG" in Bavaria and dominated the international dirt jump competition hosted by the bicycle tradeshow BIKE EXPO. A lot of the big names in the BMX industry made their way into Bavaria's capital to show their latest tricks on a big sized dirt line. The winners did not only receive 10,000 US Dollars cash, but also a big keg of Bavarian beer.
The weather conditions at the BIKE EXPO trade show in Munich didn't make it easy for the riders: The first training day on Thursday was sunny, but Friday and Saturday were rained out. So the whole comp had to be done on Sunday.
The 150 meters long dirt line featured a lot of airtime. The numerous spectators on site as well as the ones watching the live webcast on soulbmx.tv presented by GoPro cameras got some first class dirt jump action.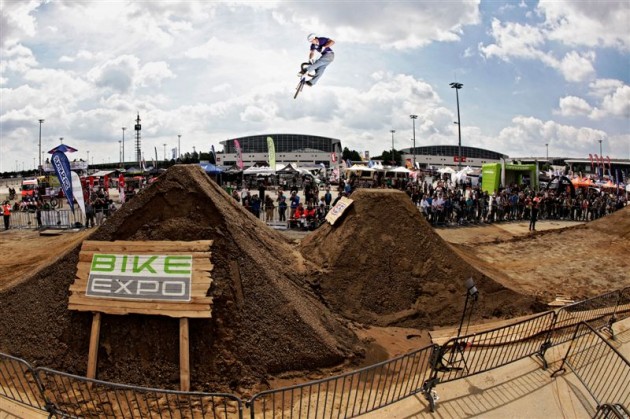 Australian Dane Searls, who is well known as an airtime lover, went crazy on the super-sized doubles of the BIG IN BAVARIA dirt line and showed tricks like 360 superman seatgrap indian airs or a super nice downside whip to tailwhip. No question, he was the man of the day with this super technical tricks and great style. Second place went to Ben Hennon from the United Kingdom who also had a big banger on the last jump: a 360 turndown to tailwhip. But combined with flip lookdowns and double tailwhips, he was not able to take the win. The German BMX legend Markus Hampl rocked the line with opposite 360 combos, flipwhips and 360 super seaters. He finished with a great third place in front of Ricardo Laguna and Patrick Guimez.
The final TOP10 results in a short overview:
Rank Firstname Lastname (Nat./Team)
1. Dane Searls (AUS / Unit Clothing)
2. Ben Hennon (GBR / Eastpak)
3. Markus Hampl (GER /Twenty Bikes)
4. Ricardo Laguna (USA / Dans Comp)
5. Patrick Guimez (FRA / Monster Energy)
6. Dusan Antalík (SLO / Nike 6.0)
7. Bob Manchester (GBR)
8. Jean-Baptiste Peytavit (FRA / Twenty Bikes)
9. Daniel Juchatz (GER / Vans)
10. Sven Lehmann (GER / KHE)
The prize ceremony was very traditional in a Bavarian way: The winner got a 30 liters beer keg, the second a spigot and the third a hammer. A few minutes of teamwork later, the men on the podium were able to celebrate their success with a zip of fresh and cold beer.
Most of the riders already took care, that their spot on the riders' list of the BIG IN BAVARIA in 2011 is secured. So you can already look forward to next year's Vol.III of the BIG IN BAVARIA at the BIKE EXPO tradeshow (July 21st to 24th).