British BMX National Series – Rounds 5 & 6
Cyclopark, Kent
After the postponement of rounds 3 and 4 of this year's British National Series at Leicester, it had felt like an age since Manchester Indoor and the whole of the Twisted Concepts team had got together, as the UK team are spread across 3 different regions. Rounds 5 and 6 were hosted at Cyclopark in Gravesend, a formidable track with a reputation for hard racing, lippy jumps and changeable weather conditions, especially the wind, which have lead it to getting a few nicknames such as 'Psychopark and Cyclonepark'.
The BMX track is located in the middle of a large cycling complex on the edge of the A2, complete with a large outer perimeter road racing circuit suitable camping and overflow parking, a cafe, changing rooms and many other facilities, which makes it the perfect venue for a national (other than a small matter of the M25). The track itself was originally built by Clark and Kent, it's been slightly altered over the years, some would say mellowed out, some would say tweaked, but it still has their trademark lippy jumps and deep rhythm sections, making it the ultimate challenge to race on. The start hill is reasonably steep, not quite as steep as Manchester Indoor, but still steep enough that you're going absolutely flat out when you hit the sizable first double and it's one of the only tracks you'll see young kids sending jumps of that size. For the older riders the second jump, a lippy triple, is a real test, with the fastest route through being a double manual or just send it, if you have the room and the nerve, then finally a step-up triple most can jump onto or manual up. The first berm is massive, with plenty of scope for gaining and loosing places, and greatly improved now there's no longer a step with a split for the second straight pro section.
The second straight amateur side is a nice long flowing straight of step-ups and doubles, big enough for the small ones to pedal through and the older ones to regain their composure after the roller-coaster first straight. There is room for passing in turn two, but you have to be quick and judge your line right as you're unsighted of the apex coming over the last step up into the corner and if you cross the tight inside line you're in for a DQ.
The third straight has seen a bit of mellowing out, with a mid-way bomb hole being filled in, which certainly seems to have worked as there were considerably less big crashes and injuries this year. Turn three is the real game changer and not everyone's favourite, it's steep and tight with a pretty low/mellow exit, so you have a choice if your trying to get though the pack, you can rail it for exit speed and make the pass on the final straight, but that leaves you vulnerable to the rider behind coming under you, but if you go for a swoop it's easy to get tangled up and the rider behind can easily pass you then.
The final straight is tight and the jumps quite small, compared with the rest of the track, a technical run of step ups and step downs in a rhythm section, with a table top thrown in right at the end for good measure and if you're feeling tired coming out of the last turn it can really feel to the older riders like your racing over a bar of Toblerone.
The Twisted gazebo was, as usual, in prime location just by the first double at the bottom of the start hill giving the riders, families and guests a great view of the first straight action. This national the Twisted team area was even busier than usual as we were giving away team posters, something no UK team had done for years to our knowledge, we also had an Instagram booth with the opportunity to win some Twisted Concepts gloves which will be arriving in the store any day now. It was just as well that we had brought both bike racks and managed to put them across the road circuit from the tent because most of the weekend out the back our team area was the place for teenagers to hang out!  The weather forecast for the weekend was changeable, but apart from the Saturday wind, which got pretty scary at times and the overnight thunder storms which got pretty scary too (for the campers) it turned out dry and sunny for a majority of the time. All the riders on the team have very different opinions on the track and certainly had very different results on it, as you always expect from Cyclopark it was an emotional rollercoaster and a completely mixed bag for almost everyone.
---
Ben Hallett, 9-12 Cruisers.
Ben has been competing in the Junior Cruiser Class in the Midlands Regional Series. Despite being only eleven years old, he has been racing against sixteen-year olds but has risen to the challenge and seen some great improvements to his riding. Ben hoped his new skills would translate to the National Series, but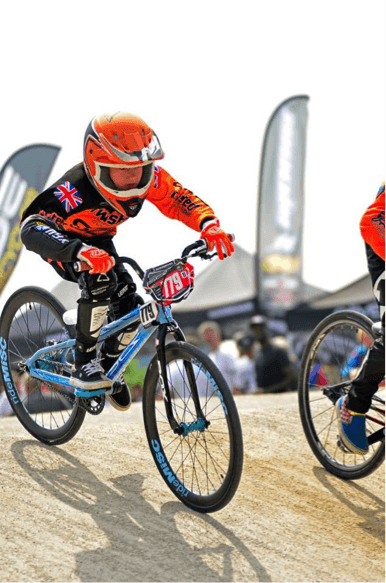 Cyclopark is renowned for being a windy track, and due to his small stature, Ben struggles when the wind gusts across the track.
Saturday was a struggle for Ben, with the constant windy gusts pushing against him, occasionally almost bringing him to a halt. Unfortunately, he didn't get past the Motos.
Sunday and Ben felt more determined. In his first two Motos, he got pushed wide on the first berm, losing places. However, by the third Moto, he was ready for another battle and fought from start to finish, overtaking right up to the line.
Ben is looking forward to Glasgow where a completely new track means all riders have lots to learn.
---
Harry Kirby, 11 Boys,
It's safe to say Harry has always been cautious of Cyclopark, but after racing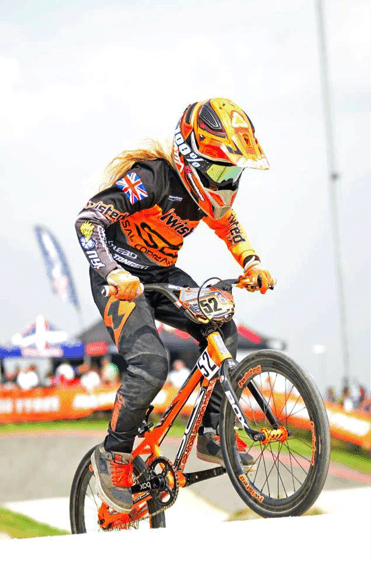 the regional there a couple of weeks ago he's gained a little more confidence, at least now he was fully committing out of the gate and peddling to the first jump with conviction. His first couple of motos he was still a bit over cautious, but he really went for it in his third moto and heading into the first double mid-pack, getting his best gate there so far, but disaster struck, a brutal crosswind came across and blew him and a couple of other riders off and over the first jump, he was fine, just a few cuts and bruises, but we were worried it would really knock his confidence back, it would also mean he would go out in the motos. It didn't stop him smiling though, he dusted himself down and got on the rest of the weekend. On day two Harry was feeling stiff and sore, but still kept on committing to the first jump, he didn't come last, but we could see he wasn't at his best after the previous day's tumble and with 21 to drop for semi-finals it was a big cut and he failed to make the cut again.
---
Morgan Haslam, 13-14 Girls.
Cyclopark has never been Morgan's favourite track, but she went into the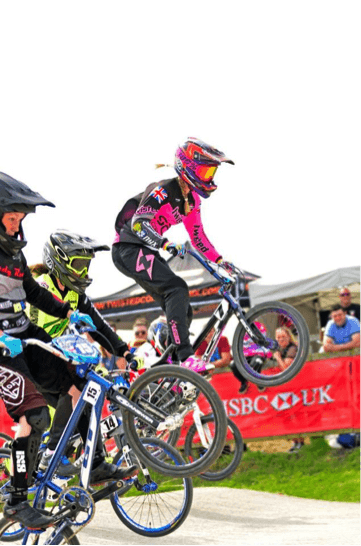 weekend feeling positive. Saturday she was racing both bikes, on cruiser it was always going to be tough racing with the mixed boys / girls 13-14 category. She got 5th in each of her motos which ended her days racing there finishing in 9th overall. It was better on her 20" getting 2nd, 3rd, 2nd in the motos, the wind got up for the semi and it meant she couldn't jump the first which was the fastest way through but she still made it through to the A final and finished 6th. On Sunday, Morgan only raced 20", the wind had died down and she was able to jump again! She got 1st, 4th, 3rd in her motos and was buzzing to have got the nerve to send the triple on first straight in two of her motos (before her Dad too). Again, she made the A final and unfortunately was too boxed in to jump and got stuck at the back of the pack struggling to battle through but was happy with 7th. Not the results she was hoping for. Making more technical moves doesn't always give Morgan the speed she needs, but that's something that will come with time. At the moment Morgan is really enjoying her enjoying riding and stepping it up with her skills, especially jumping.