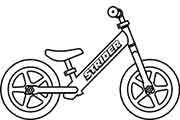 Strider World Championships
British Rider aged 5 takes home a respectable 6th Place in the Strider Cup World Championships.
---
Last weekend saw 300 pint sized riders from 15 different countries descend on Boulder Colorado, USA for the 8th annual Strider Cup World Championship.
Cohan Jagielski, the 2018 British champion took his place on the start line and despite very tough competition from the well-trained Japanese fought his way onto the podium.
The Strider race scene features excited and proud parents and grandparents eagerly encouraging their young racers as bright yellow cowbells are rung and the starting gate drops. Toddlers from the age of 1 years, some still in nappies, lean forward, kick their short legs, and embark upon their 600-foot plus journey over obstacles from dirt mounds to wooden ramps. Tight cornering and fast racing action over several moto's produces the finalists and the quickest kids in the World.