By Nathan Beddows
Okay so it occurred to me that this scenario is so common when shooting photos yet no one has ever really wrote anything about it.
Anyway, whenever you see some guy taking riding photos at skatepark or at the trails or on street or whatever they would have probably set up some flashes…
I'm not gonna rabble on too much but flashes are so important to achieving good riding shots. A burst of light fires the moment you press the shutter and freezes the trick way sharper and brighter than is normally possible with just daylight.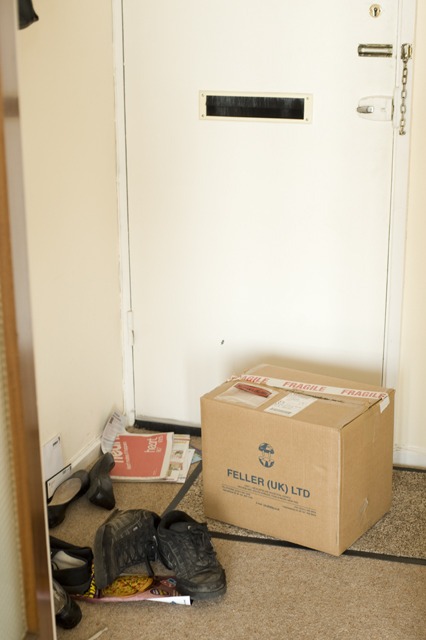 Yesterday morning before going to the Nike Tunnel Jam practice I waited in for the postman because he was going to deliver a new flash to me. I had saved up for months for this and also had been waiting weeks for it to come (long story) but today was the day and I was soooo psyched because I already had one of these type of flashes and they really are amazing (yes flashes come in all different shapes and sizes!) and I thought 'Perfect, I will be all set for the weekend shooting at the Tunnel Jam! – Xmas has come early!'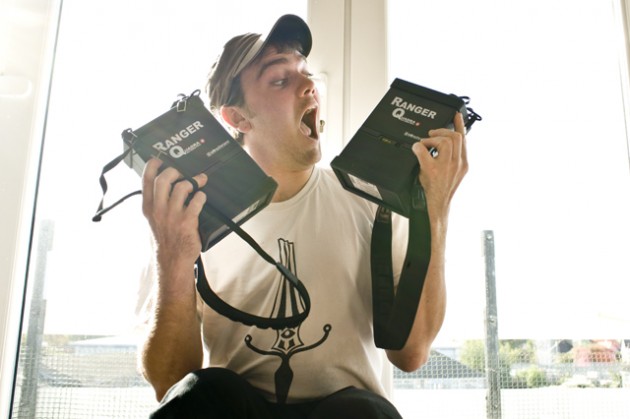 For any keen BMX photographers out there who want to know, it was another Elinchrom Quadra Ranger – http://www.theflashcentre.com/elinchrom-ranger-quanta-kit-i2716.html and yes they really do cost that much money…
So anyway I arrived at the Tunnel and the set up looked amazing, I don't think I can show you any photos of it just yet but just take my word for it… I had taken a few shots already and then had in mind taking one of Mike Miller doing a 270 no hander. Mike had done a few feeler runs and I had just found the perfect angle. I set the flashes up in the least selfish way I could so that people could still ride the quarter and vert walls near the hip and was all ready to take the shot…
I was under the impression that everyone riding the course knew I was gonna shoot this photo as I had been up on the hip metering the light, moved the flashes about and generally made my presence known I guess is one way of putting it. Mike had been feeling out the no hander and I think people were waiting to see it because he is so f*cking good at doing them to be honest!
So anyway I'm not gonna actually name the poor guy so shall we say a young Mr X comes flying down the course and out of nowhere carves round the door gap (I'm standing above it) and ploughs straight smack bang into my… brand… new… flash… and up it flew up the vert wall, carving nearly as high as he did…
Now I don't normally get livid at much but I was so p*ssed off about this – not just because it was brand new and not just because I was about to get a sweeet photo and not just because I had put the flash (what I thought was) well out of the way… but mainly because these flashes are only sold in a couple of specialist shops in the UK and there would be no way of getting it fixed in time for tomorrow or the Saturday. F*CK!
The guy was so sorry and probably felt like a bit of a muppet because everyone had heard/seen this… I couldn't blame him either, even though I was so mad, it was just one of those horrible situations. I was so wounded though!
Upon inspection the mangled flash wasn't too bad. The most expensive parts of the flash had survived and only the actual stand and the cable had been ruined beyond repair. A quick calculation in my head still put the damage at way over a tonne though… damn. They poor lad asked me how much it was and said he would pay for it but I said I couldn't take his money but he forced 30 sheets, what he had on him, in my pocket anyway… It was totally f*cked though and would no way be working for the weekend. I was so bummed. Some people tried to make me feel better by saying there was a Jessops near by and did they sell anything to fix it? (unfortunately not) and some other guy also asked won't Ride buy you another one? We had a laugh when I said not a chance in hell! Haha.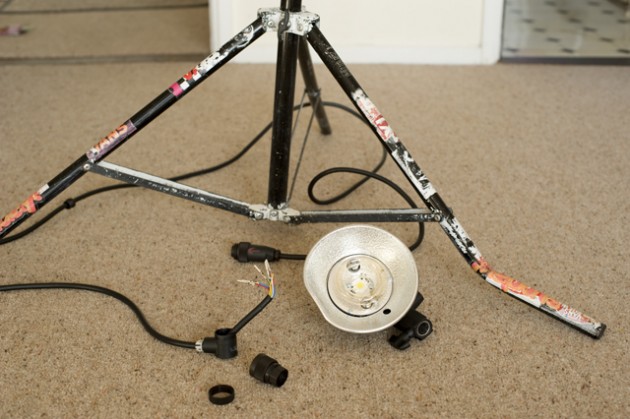 I don't think Mr X truly believed me that even just the cable and the stand cost that much, but I'm sad to say they do:
http://www.theflashcentre.com/elinchrom-ranger-quadra-25m-head-cable-i4333.html
and
http://www.calumetphoto.co.uk/item/MF6060/
So anyway I thought I would end this rant with just a couple of pointers to try and help end this dreaded scenario, the bane of any photographers wallet!
1. This is the most important one! If you see a photographer setting up a photo and think his flash stand / tripod might be in your way – Just tell him! We won't care one bit about moving it to a safer location! Trust me on that one. We can't go round asking everyone in the skatepark if it is in their way so we rely on you telling us if it is in your way! Please do tell us!!!
2. Flashes and flash stands / tripods are so f*cking expensive! And they are so flimsy because they're supposed to be lightweight AND are definitely not meant to be ridden into!  Please just avoid them at all costs! We promise we won't leave them there all day, they will soon be out of your way and if we do leave them in your way, again, just tell us and we'll gladly move them.
3. Yes we do have to pay for all this equipment ourselves! No matter who you work for – Vogue, Grazia, Ride UK, The Evening Post, whoever – you have to buy your own equipment. That's just how it is.
4. Just incase you are wondering do we really have to use them? And why sometimes do we need 3 or even 4 of them? I can honestly say to you that YES we do need to use them. Having the flash on the camera is gay because it adds no dimension to the lighting, so we need to get them at different angles to make the picture look better, we also need to get them off the floor (on a stand) because we don't want a big patch of light on the floor do we now?
5. Please read point 1. again. Seriously just tell us if you think it is going to be in your way!!! Be vocal, we won't care! I promise you that.
Thanks for reading this rabble, right I'm now back off to the Nike Tunnel Jam to hopefully get some photos… Cheers, Beddows