By Nathan Beddows
Day 8 and the Ride To Glory 2009 victory!
Okay so team Wethepeople left Basingstoke mid-afternoon after ticking a load of challenges off in the morning at some loading bay and at the skatepark. Big thanks again to the BRUZA twins for putting us up, showing us round and being rad dudes.
The beer-bong was already being sessioned on the drive down and low and behold we spotted the Relentless van stuck in traffic as we approached the Level skatepark in Brighton. It was still before 6 so we hurled some eggs it's way (although I'm not actually sure if we ticked it off in the actual book?).
The mood was a bit tense but team WTP seemed in good spirits. I think we thought we were going to get 3rd again or maybe even 2nd. There was no way we could of beat the heavy hitters of Shadow or even the American muscle of Odyssey..? But who cared at least we had made it all there in one piece (and Rob Harrison's car had thankfully not been towed away after spending a week parked dodgily in Brighton).
On arrival to the Level a heavy egging session got underway and mugshots of everyone were taken as the Ride adjudicators added up the points…
As Shadow were announced 3rd I think everyone's jaw dropped, what the f@ck? They were surely gonna win no?
"In second place… Profile!"
WHAT?!?!?
Wethepeople had just won Ride To Glory 2009?
How on earth had that just happened? It seemed like the first part of the week we spent in wet socks looking for dry spots and the second half just boozing and messing about riding street. No one genuinely thought we would actually win it… Corr blimey!
Looking around there were a few slightly annoyed faces but most folk were smiling as it had been one hell of a week and tonite some serious partying would go down to celebrate that.
So that was that. Wethepeople, winners of best edit last year, had just won Ride To Glory 2009 and what a crazy week it was. Be sure to watch the cover mounted DVD and see all the riding photos in Ride issue 132.
Beddows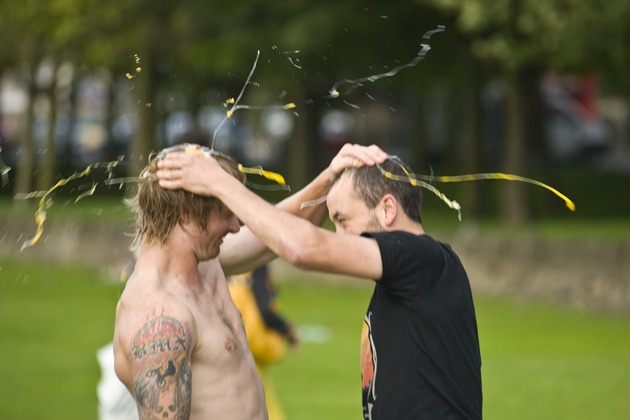 Open Gallery
12 Images