I'd seen G-Sport's George French on Instagram had created his own 3D printer. In true George fashion he built the thing himself, and was busy printing pedal bodies. We hit him up this week to learn more about 3D printing, and wether in the future our parts will be manufactured in this way…
Hey George, from your own experience can you give us a brief description of what 3D printing is?
3D printing is a lot of things. It is a thriving open source hobby activity; and it is a popular media buzzword; and it is a very useful prototyping tool; and it is a manufacturing technique with (currently) some small production uses for very small volume or specialized parts.
The term 3D printing also covers a whole range of different methods and materials. At the high end you have selective laser melting of (for example) titanium powder in an inert atmosphere, and at the low end you have home-made desktop machines extruding icing onto biscuits. In-between these two extremes you have lots of other options but the most common is a machine like my own which is essentially just a robot with a glue-gun. The robot moves the "glue gun" very precisely and controls with good precision how fast the "glue" (or in my case a plastic called PLA which is made from sugar) comes out the tip.
Software "slices" up my model into slices that can be as thin as a tenth of a millimetre (or even less) and then prints one slice at a time on top of each other to build up a model of a part.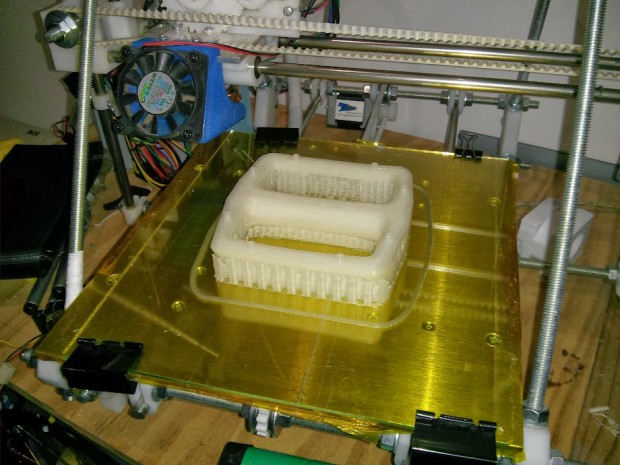 I'd seen an article about UK fighter planes now replacing spare parts using 3D printed ones, and then wondered if it would be possible to produce BMX products?
3D printing is in its infancy right now. Many years ago I read a novel called "The Diamond Age" by Neal Stephenson. This was published in 1995 (thanks internet) and envisages a future where everything is "assembled" (and disassembled) in the home by a machine that would be the ultimate vision for a 3D printer. If you imagine being able to build things atom by atom and you could pull carbon dioxide out of the air and strip off the oxygen then you would have a source of carbon and might as well make everything out of diamond. Hence the title's reference to a Diamond age in the same way that you might think of the Stone, Bronze, Iron and Silicon Ages.
Sadly we are a loooooong way from this, and in production terms 3d printing has a huge way to go. So although it would be theoretically possible right now to SLM (selective laser melting) an entire BMX frame from say titanium, with geometry, stiffness and strength to your own personal preferences; the cost would be astronomical.
Right now, 3D printing is very commonly used for prototyping. Although modern CAD software will give you a beautiful image on the screen, it is amazing how far this falls short of having the physical item in your hands. Most big engineering companies now have either their own 3D printer to produce plastic prototype "mock-ups" of things or will have a subcontractor they can use (or both). My own 3D printer is an open source "Prusa Mendel" that I built myself and uses open source software to control it. I use it to mock up things like pedals, stems, hub guards, but it would also allow me to make a form to wrap in composites or a pattern to create a casting. Doing a pedal body (for example) is incredibly informative, sections that looked "nice" on the screen can suddenly seem too chunky or too angular or whatever, and we can check the fit of say pedal reflectors to see how easy they are to put on or knock off.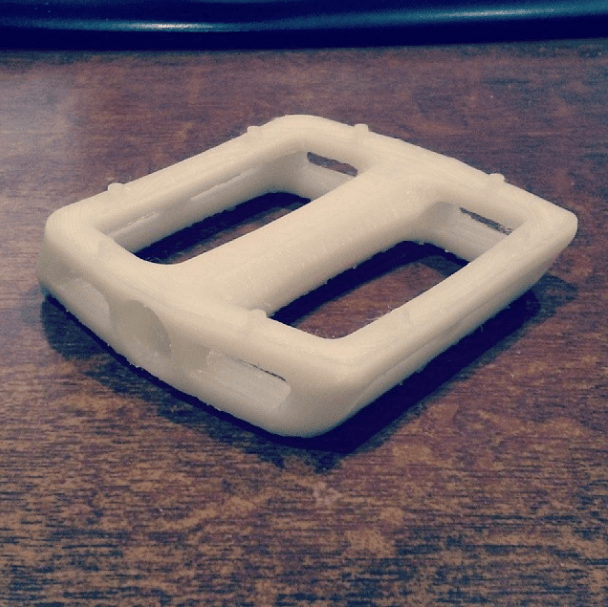 What are the potential pitfalls of using 3D printing technology for BMX?
Right now 3D printing can only produce "low strength" parts. So my plastic prints are a lot weaker than an injection moulded part and even the SLM parts are weak when compared to say a forging in the same material. Their big advantage is in speed and tooling. An injection moulding tool for a pedal body will cost many thousands of pounds and take weeks to make, if you mess it up, then it may or may not be possible to modify the tool, but it will definitely be slow and expensive. Forging tools are even more unforgiving and similarly expensive and slow to make. So being able to prototype and avoid these mistakes is brilliant.
When 3D printing gets cheaper and faster (right now it takes me about 3 hours to print out a good resolution pedal body) it will be possible to make production parts, and another benefit of 3D printing will come to the fore; the fact that you can print things that you could never make any other way. You can make hollow parts and parts that would never come out of a traditional injection moulding tool. And by designing for the lower strength of the material but with big hollow cores etc we will be able to use 3D printing for some jobs.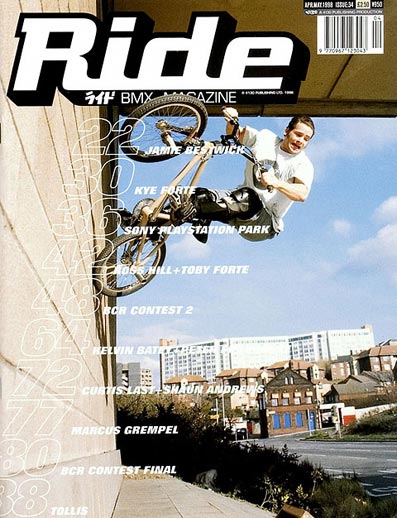 Back to the future? George covering issue 34 in April/May 1998
What do you feel is the future for manufacturing strong, light and affordable BMX products?
The future of strong light and affordable BMX parts lies not with 3D printing but with design. Exotic materials and advanced production techniques are all very well, but the vast majority of BMX parts failures are down to design limitations. When we were all running 1″ threaded forks there was virtually no way to make them strong enough for modern riding. It was only by going to the bigger size and dumping the quill stem that we got the design freedom to make them stronger.