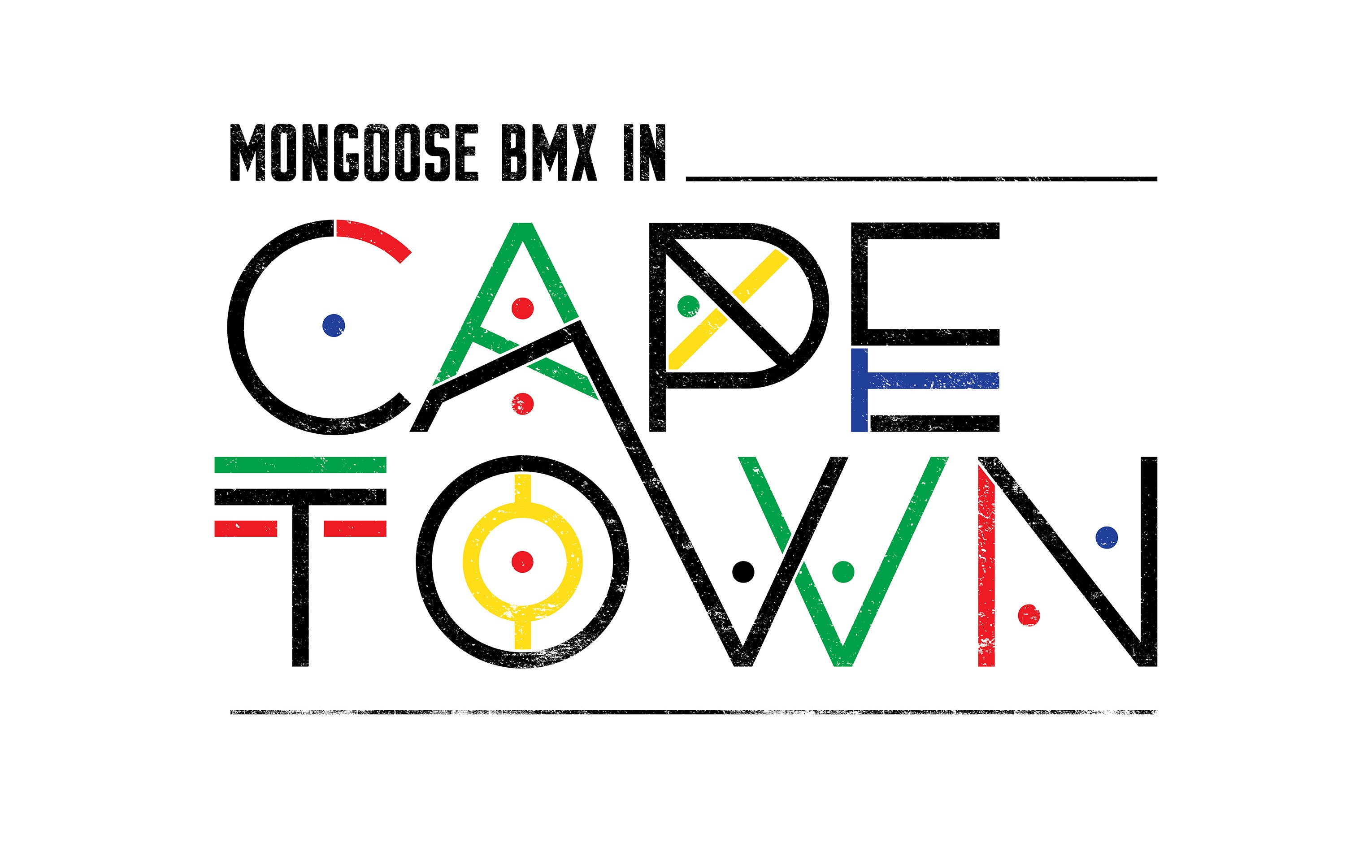 For the past few years Mongoose rider Greg Illingworth has been inviting riders to Cape Town, South Africa for the Ultimate-X and Monster Night Harvest contests that happen on back-to-back weekends. With the week off in between the events it made perfect sense for Mongoose to make an appearance there to hit the contests and shoot a video. So Greg and Paul Ryan headed out of the rainy, cold UK and Kevin Peraza left Arizona to meet up with SA local Stuart Loudon for a week filled with sun, riding and experiencing the awesomeness of Cape Town!
Words: Leigh Ramsdell and Eisa Bakos
Photography: Eisa Bakos
Riders: Greg Illingworth, Kevin Peraza, Stuart Loudon and Paul Ryan
Random fact#1:
In 2014, Cape Town was named the best place in the world to visit by New York Times.
Now that's proof we are off to a great trip.
The first weekend we hit the Ultimate-X, which Kevin Peraza won with Greg taking 3rd and winning Best trick with a big Tailwhip, transfer. The next day we took it easy and went to Llandudno Beach to soak up some sun and go swimming. The water was ice cold. I mean it was freaking freezing! Trip photographer, Eisa Bakos got dragged into the water by the French guys and as soon as he hit the water realized his phone was in his pocket. Not even a bag of rice could save it.
Later that evening we hit up one of Greg's favourite place in Cape Town, Chapmans Peak, to see an amazing sunset.
After a day of rest it was time to ride. We hit up a DIY spot and wall ride. Paul Ryan and Kevin Peraza both had good lines there and Kevin boosted some moves off the wall ride like stretched no-handers and whips. Kevin also gave a random local kid his Vans because he didn't have any sneakers. It was so awesome seeing how stoked that kid got wearing those shoes and cruising around on Kevin's bike.
Random fact # 2:
So far this year there have been more than 35 shark sightings at Cape Town beaches.
Random fact #3:
Mongoose (the team only) and penguins can cohabitate.
The next day it was off to swim with some penguins. On the way we stopped at Muizenberg Beach, not for more beach activities but to hit up some spots. This was a little difficult due to a security guard on a bike following us around giving us the boot. After some evasive measures we were able to avoid beach cop for the guys to session a perfect uprail. Moves were captured on film and it was time to check out the penguins at Boulders Beach. It was amazing to be able to be face to beak with those little guys and to be able to swim with them.
Waking up early we headed to a loading dock spot that had a lot of cars in front of it and a homeless person had a camp set up at the base of it. After talking with the workers there they kindly moved their cars and we helped the homeless guy move his camp and gave him a few bucks for his trouble. Now the session was on! Paul Ryan nailed a wallride line to 540 off the dock first try. Peraza casually did a variety of nose manual moves off the dock and a fakie whip pulled so clean while Stuart did a barspin line to fakie t-bog. You could say this spot was worth going to and it was so refreshing to see people pumped we were riding it instead of kicking us out.
Random fact #4:
The University was not too far from the Groote Schuur Hospital
where the world first heart transplant was done in 1967.
We left the loading dock and headed to the local University where Greg promptly did some lines down a set of stairs and Peraza did a huge hanger down a steep rail. I think that was the first time I ever saw Kevin nervous but he came out of it all smiles! On to the next spot. Downtown had a fun plaza set up where Paul and Greg got straight to work. While they were pulling their lines some crazy person appeared out of nowhere yelling that he knew how to ride bikes and even looked like he wanted to fight but everyone just ignored him and got what they wanted done. The sun went down, the crazy guy went elsewhere and it was time for bed.
Today we woke up ready to go ride the Neptune Death Bowl. Never heard of it? Us either. It was a private concrete park that was at a guesthouse of a really, really rich dude. The bowl was hand made and some of the transitions were tricky to get use to but that didn't stop Greg from destroying the place. He blasted huge tables, had lines for days and did a big table fastplant on the back retaining wall. You could say we left that day with big smiles. Huge shout out to Captain Kai for helping hook that session up!
Random Fact #5:
In 2014 South Africa has just over 600 multi-millionaires. The UK had over 10,000.
Random fact #6:
According to Leigh Ramsdell, Kevin Peraza smiles more than any BMXer on Earth!
I can't believe how chill most of the local business owners are with us just hitting spots. We started today at a bank to wallride that was behind a big shopping centre. Usually this would be a bust but no one said anything other than a few cheers when someone did something good like Paul with a double can-can fastplant or Kevin downside whipping out of the wall. I seriously love Cape Town!
After the morning session it was time to hit the Monster Energy Night Harvest event. It was a little bit windy but that didn't stop anyone from riding. Greg and Stuart were flowing thought the jumps with style and Kevin was just being Kevin tricking everything, smiling and taking the win! Greg fell on one jump and hurt himself but still managed to get more clips the next few days.
The next day I had to leave the trip a little early so I am going to turn the rest of this story over to Mr Bakos. Eisa…you there? What happened after I left?…
Thanks Leigh, well with only a couple days left in this phenomenal city we still had some work to do. Shortly after Mr Ramsdell left us we headed into the heart of the city to hit a couple spots. We rolled up to a pretty high ledge just round the corner from where we met the dude who wanted to fight all of us. The ledge itself was up to Pauls shoulders, that might not sound high but believe me it was! Paul managed to chuck a bars out the end which brought major excitement to the 3 dudes watching who where all missing there teeth perhaps from Mohammed Ali round the corner.
Random #7 and the only fact I learnt about cape town:
alcohol can not be served from a store after the hours of 6pm. It took me and a few of the
others to keep track of time and it seemed only right to make a stop while in town for
Hennons birthday later that night.
All loaded up we made one last stop at a skinny ledge which started off lower and finished with a decent drop into a downhill carpark. Peraza fancied the nozzer to bar and as always made it look effortless. With it being that easy for him we decided to shoot a couple angles of it. In the mean time the car park barrier had plans on pissing me off and of course it succeeded. With my back to the barrier that was constantly opening and closing I had no idea what was going to happen next. This weighty thing just came down with full force connecting to the top of my head which I can tell you was far from pleasant.
On that bombshell it was time to head back to the apartments for a good old South African Bri (bbq) That night was the last proper night without having to worry about flights, it was more just enjoying the warm weather at midnight with a bloody good crew.
The next day was another beautiful day, I was running low on my factor 50 and my sunburn was way over due, it was only a matter of time as I was surprised I made it this far into the trip without being cooked. With everyone awake and read we loaded up for are last full days riding. We made it to a spot at a hospital that has seen some action in the passed. Hospital patients seemed to be walking very freely outside with there drips still attached to them, kids all loaded up in the bays of there pickup trucks all eyes focused on Greg who managed to get two creative lines on the same setup while in the savage heat that got the better a side of most of us that day.
The sun started to drop as we pulled up to the next spot where I witnessed maybe one of the most insane lines. Kevin bombing downhill putting together a line that was seriously f***** to the point where Will Evans was filming it from the backseat of the rental car while Greg drove to keep up.
Another day came to a end and it was late with a lot of us with flights to catch tomorrow afternoon. To make the most the day and morning we headed out early to Potato trails to session the trails to get some clips and photos without the hectic competition.
The weather didn't fail us throughout are stay and it held up for are last day with not a single cloud in sight it was a banger swell as the riding. All the guys killed it at the trails, Will managed to crash his drone into a tree which was kind of funny, sorry mate it was pretty hilarious.
South Africa is truly an amazing country and I'm sure everyone on that trip is still thanking BMX for making it all possible. Yes its not Barcelona where you can just ride from spot to spot but thats not to say the spots there are not special because they truly are.
Before I came on this trip I got the prep talk from the parents as anyone would when traveling and il be honest I was slightly worried myself with all the stores you hear about Cape Town. I'm not calling Ross Kemp a lier I'm not saying those stories are not true about gangs, corruption etc but from what I witnessed the city is truly beautiful filled with friendly humans. When your there you tend to forget about the stories people tell you because your not exactly wondering the cape flats at midnight its just common sense, its the same with any city you was to visit.
If your looking for an amazing time away with your friends where you can ride your bikes, meet penguins, eat Nandos for a fiver and explore one of the most amazing countries in the world you have my recommendation.
With Me, Will and Catfish all had are flights just round the corner which meant we had to call it a wrap at midday to head back and sort are bags out. A small VW polo saloon 3 humans 3 bike bags and 4 camera bags meant a tight squeeze but all loaded up it was a end of a the best trip I have experienced to date in my life.
I would like to thanks all the dudes who came out making the trip what it was; Kevin for constantly smiling and killing it at every spot without fail, Paul for being the lad he is and vouching for me making this trip possible for me, thanks again mate. Stu and his brother Colin for being the true gents they are and killing it everyday, Team Manager and BMX legend Leigh constantly making me laugh with his wit and sarcasm and for a American thats impressive. Wayne showing us around everyday you killed it dude another gent amongst them all, Will who I have never really worked alongside, it was a pleasure to see you work mate and piss you off on the way. All the vans dudes who made it out for the good times you still ow me a phone frenchies!!! last but not least Greg, you made this all happen so give your self a pat on the back, I know it can be hard for me to some times meet 3 mates at the local park at a specific time but for you to sort out nearly 20bmxers to meet up on the other side of the world to share an amazing time is something else buddy so one more time THANK YOU SIR!
Till next time Africa…