Kriss Kyle Interview | Live Life
RIDE ISSUE 190 - AUGUST 2014

I'm not going to use this space to run on and on about how amazing Kriss Kyle is at riding a BMX, we all know what he's capable of and hopefully these photos will back that up even more. I'm not even going to pretend that I've known him for years and know every little thing that makes him tick, but I would like to think that I've gotten to know Kriss pretty well over the last few months documenting this interview. Well enough to know that he's a down to earth, talented, funny and caring young man with a solid group of friends and the integrity to match.
There are always times when BMX gets you down, you see the same old riding from the same old people and you find yourself pleading for someone to break the mould and go their own way. Thankfully, Kriss is one of these people. He's wise beyond his years, he's never one to bring the mood down about anything and is one of the most motivated riders I have ever met in my life. He eats, sleeps and breaths BMX every day, of course I don't mean that in the literal sense, that would just be absurd but you get what I mean, he's pretty keen… The following interview was recorded in some woods in a small town called Crieff in Scotland whilst on a camping road trip with Alex Donnachie, Chaz Mailey and Jason Phelan. It had just started raining, the campfire was roaring and the booze flowing. Here is what he had to say… The Beginning I'm originally from a small town on the south west coast of Scotland called Stranraer. I first got into riding because of my older brother Leigh, he started riding before me and I used to go up the skatepark with my Mum at about nine years old to watch everyone ride. It looked like so much fun to be able to ride like them and even though I tried on the bike I had at the time, it was a massive heavy thing called an Expert 10Z from JJB Sport and at nine years old I couldn't really ride it because it was so big and heavy, luckily for my tenth birthday, I got a sixteen inch Haro 360 and I was set from there on. I used to ride with my brother and all his friends and we would have such a great time back then, we'd go to a friends house and watch the old Road Fools amongst other BMX videos then go down to the local health centre to ride street, even though street at the health centre was just a couple of curbs, it was still so much fun. The majority of the other lads were quite a few years older than me and they soon got into going out drinking and cars, like most people do at that age, especially in small towns like Stranraer. BMX soon became a thing of the past for most of the riders in the town where I grew up and before long there were only me and two others of about the same age left and by this point they weren't into riding as much as myself. I used call them up to see if they wanted to ride but most of the time they would be busy doing something else, so I would end up just going to the skatepark riding by myself.
By the time I was thirteen, I started getting the train on my own to Dumbarton to ride Unit 23, pretty much every weekend, travelling on my own was quite daunting at that age because I had to travel for three and a half hours on the train and change at Glasgow just to ride with other people at a good skatepark. I didn't even know anyone there apart from Chaz (Mailey) and I didn't even know him properly, I was too shy to talk to anyone else, I didn't care too much though, I was so motivated to ride that just being on my bike was good enough. I remember when I first went to Unit with my brother and his friends like it was yesterday, I was twelve at the time and I was trying to air the eight-foot quarter they had. I remember asking over and over again if I was near the coping and then going a bit faster at it and getting closer and closer every time. Stranraer skatepark's biggest quarter was five feet tall so riding the eight foot one at Unit felt crazy to me. I was never set on being sponsored or making a living off of riding or anything back then, in fact, it never even came into my mind at all at that age, especially being from such a small place in Scotland, to me things like that never happened to people like me in a place like Stranraer, all I wanted to do was ride and it still is to this day.
Schools Out. School for me wasn't the best of experiences, my Mum was a teacher at my high school helping kids with learning disabilities, my Dad was a janitor there and my brother-in-law was my geography teacher. After going to high school for a year or so I never really wanted to be there at all for the rest of my school life, all I wanted to do was ride my bike and once I got the idea in my head it was something I couldn't budge. I had been at school for a couple of years, I would be sitting in class looking out of the window when the sun was shining through thinking to myself "what the fuck am I doing here!?"
I would have the teacher trying to tell me something over and over but it would end up just going in one ear and out of the other, so I would just fall asleep in class just so I could get kicked out to a place that they called 'time out'. Time out was pretty much just detention, but instead of going there I would walk home, grab my bike and go ride the skatepark by myself. For me at the time, it was the best thing to do and I started doing that as often as I could get away with. I would say to my Mum most mornings that I was ill but she would obviously always try to make me go to school, my remedy for this was a packet of crisps and a can of Coke. I would munch it all up and pretend to be sick in a bucket and convince her that I was ill. Once everyone had gone to work I would just sneak out on my bike again up to the skatepark. It got to the point that when I did have to go to school I would go in for registration to get signed in then just walk home again, my Mum would call me up and ask why I wasn't there but I would always have an excuse like I needed a shit and didn't want to go in the school toilets or something else ridiculous like that. Obviously my parents and me used to argue all the time because of my absence from school. The whole charade kept going on and on where I would be finding new ways to not have to attend school until it got to the point where I was skiving four times a week and everyone at the school was asking my Mum if I was okay, I nearly got taken to court because of it all but thankfully it never came to that.
I remember one day my Mum had ran out of excuses to tell the school about what was wrong with me and why I wasn't there and she just broke down crying in front of me one day saying that she didn't know what else to do with me, it must have been really hard for my family at the time looking back but I couldn't help it, I just had to get out of there, so I pretty much just dispersed from Stranraer at fifteen years old and haven't really been back for any length of time since. Moving On For me, school was done a long time before moving away from Stranraer, and moving out of that town was something that I just had to do. I had already been up to Unit 23 a bunch of times and made a good group of friends, so, I got the train up to Unit at 7am on Saturday morning to ride for the weekend and said I would be back on the Sunday to my Mum and Dad, Sunday soon came around and I rang up my parents to say that I've missed the last train home and asked if they could pick me up, it's a long drive from Stranraer to Dumbarton so obviously they said no and were shouting at me to get home, there was no way I could have gotten home that night after missing the last train, so I just stayed up there. I know I was a total dick to my family at the time and put them through a lot of stress but I knew what I wanted to do and I just wanted to be left to get on with it.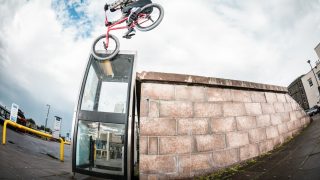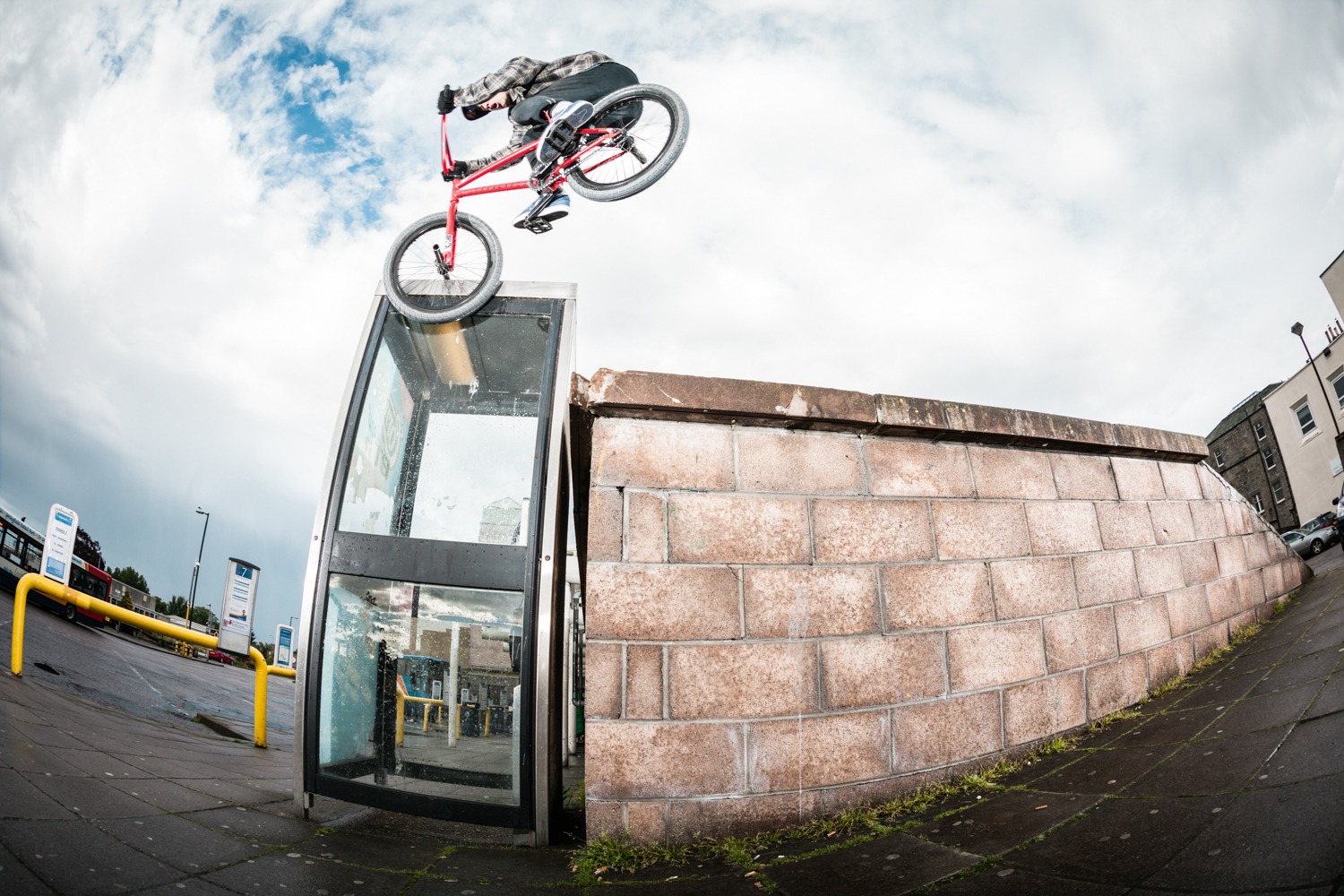 The first place I stayed at was at a guy called Ryan, at his parent's house. They lived in a pretty rough town just south of Glasgow, called Blantyre. Two weeks later, I moved in with a guy called Michael Kirkpatrick, at his flat, I was lucky enough to stay there for couple a months and after living with Mick I stayed at Paps and Fat T's houses for a couple of weeks at a time. Soon after that Chick (Mailey) and his family took me in and looked after me pretty well, they fed me, washed my clothes and I even had my own room. Being young and with nowhere else to go, I tried to stay there for as long as I could but after a month or so it was time to move on again and I found myself moving in with Graeme 'Gibb' Gibson and his older brother who had a spare room going, three weeks later, I was stinking the place out with my grubby clothes and dirty feet and off I was again. At this point, I had just turned sixteen and because of the position I was in, Chick said that I could stay at the skatepark if I wanted. Now I guess that to most people out there, living on your own in an old industrial estate warehouse that used to be a whiskey distillery in World War Two wouldn't be the most ideal of set ups, but for someone like me coming from a small dead end town with pretty much nothing to ride and moving into one of the best skateparks in the country was like a dream come true, so I jumped at the chance.
Living at Unit at the time definitely had its ups and downs, thankfully, a hell of a lot more ups than downs though. I had no one there to tell me what to do, I could stay up all night if I wanted, I could ride when I wanted, I could have friends staying over with me if I wanted and I could go to house parties and get wasted if I wanted. The downs or I guess the only down side of living there was that it was terrifying at night on your own. I wasn't officially supposed to be staying there so I would have to move all my possessions and blankets that I used every night into the back room so no one would know that I was living there, then when ten O'clock at night came around and the park was due to close for the day I would run into the back room, grab my things and then run back into the office as fast as I could, so I didn't have to do it once everybody had left the park, when I was finally in the office, I would lock the door behind me so I felt safer too.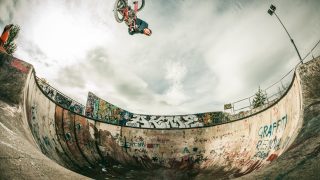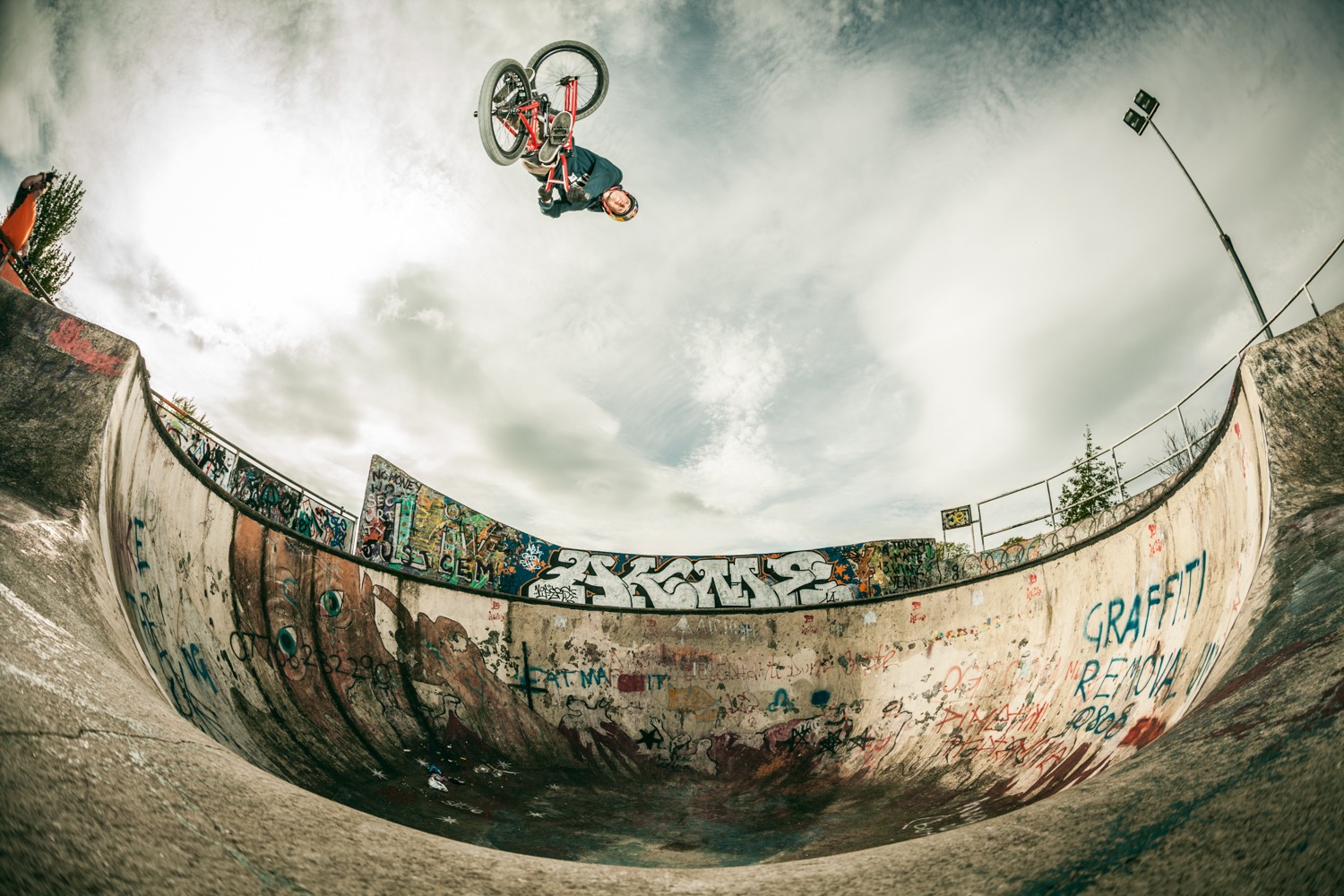 It's funny looking back at it like that, but it was a pretty terrifying place to live back then at such a young age. That soon got old though and it was now time to live the life that I always wanted to live, this happened with the help of Chick and everyone else. I stayed on the couch in the office of the park for a year, all the while supposed to be doing home work and studying for my GCSE's but instead I was just living my life like any other sixteen year old with a passion to ride would. My parents still thought I was living with Gibb and because I was too scared to tell them that I was staying at Unit, it wasn't until that Christmas when I had to go home that I confessed to them I had been living in a Skatepark for a year, they weren't too happy about it at all but knew there wasn't much they could do about it. After that they would come up every few weeks and do my washing for me and make sure I was okay, because I had no where to wash my clothes and didn't want to have to go to the laundrette to get them washed. Soon after all this, Chick gave me a job at the park cleaning up and working in the cafe, I then had some money to be able to look after myself properly instead of just living off of Pringles, microwavable food, Lucozade and wearing the same old stinking clothes. By the end of the first year of living at Unit a friend of mine called Quinny started to stay over more, often until we both started to sleep in a room with a bit more space called the steward room, it was an old part of the warehouse out of the way where we used to have parties every now and again as well as double as our bedroom, but in winter it just got too cold in there so we ended up staying in one of the old storage rooms that was tucked away out the back. Quinny soon became a permanent resident and we shared a bed in the storage room for another year, we even used to share clothes and the food that my parents used to bring me every now and again. Not too long after that, things got better money wise through riding and I didn't have to worry as much as I did before, I've got my own dialled room in the back there now along with a bunch of other good friends and have done for a while. If it wasn't for those people helping me out, especially Chick, I definitely wouldn't be in the position I am now, I owe so much to these people.
Sponsorship. Aside from Unit 23, Nike was my first sponsor. Back in 2006, at the age of fourteen, I qualified in a jam at Unit that then allowed me to ride the Backyard jam course down in Sheffield. Just to even ride that course was an unbelievable privilege, it was so good to be able to watch other riders that I looked up to like Chase Hawk and Mike Miller ride that place, it was unreal to me and a completely eye opening experience. Once I had done a few runs, a guy named Chris Morgan came up to me and just straight asked me, "hey we like your style and the way you ride, would you want to ride for Nike?" I was kind of preoccupied watching my run back that my brother had just filmed for me so when he asked I wasn't paying full attention, then when I stopped to think about what he had said, I couldn't believe it and of course I said yes! He spoke to my Mum and Dad about the whole deal whilst I was out riding the course and went through everything with them. Afterwards I went over and asked my parents what he was saying, they explained it all to me and I was in total disbelief, words can't describe how stoked I was back then about it and how stoked I still am to this day about riding for Nike. My second sponsor was BSD and it came about after riding a jam at the old Transgression Park in Edinburgh when I was sixteen. After the jam was over, Grant (Smith) gave me a lift home and as we were driving back he asked me if I wanted to ride for BSD, I couldn't believe it again! At the time, BSD only made bars, chainrings and T-shirts but it was a brand that all the Scottish riders looked up to more than any other company and now I was part of that brand, I was so stoked and still I am still stoked to be with BSD now, being able to watch it grow into what it is today has been amazing. My third sponsor came about when I was nineteen, I met Richard King, the Red Bull team manager right after the Nike Pool contest that happened down in Dagenham. We got on really well and had a good chat about BMX and what my plans were for the next year or so. After that, Rich would come up to Unit 23 every couple of months just to hang out, we ended up becoming good friends, and then one day he asked me if I would like to ride for Red Bull! I was gob smacked! And of course I said yes. It didn't sink in until the pen was on the paper and I signed the contract, I'm lucky enough to see Rich as more of a friend than just the Red Bull team manager. I cannot thank Red Bull and Rich enough for letting me be a part of the Red Bull family and even though I've been with Red Bull for quite a short amount of time it has been insane. The amount of opportunities that they have given me is incredible, pretty much just making my dreams come true, like getting my own riding shotgun episodes and getting to ride with Chase Hawk, Dennis Enarson and Drew Bezanson. I'm so thankful for Red Bull and all of my other sponsors for helping me out so much, it really is a dream come true.
Comp Scene. Despite all my sponsors coming off of the back of going to jams and comps, I've never really felt like a contest rider at heart, however, I'm always completely blown away when I get invited to the big comps like the X-games and Dew Tour. I'm going to a big Vans contest at Huntington Beach in California at the beginning of August with an insane list of other riders, it's a total honour to be invited to events like these and definitely not something to pass up when they come around if I can make them. Although I do enjoy the occasional comp, they're not my main focus at all in riding. I always feel like the pressure for me to perform in front of so many people at a high level is too high, I guess that's the main reason why I don't go to many, that and getting snaked all the time by riders that are over competitive. I'd rather just go out with my friends riding and maybe do a bit of filming rather than have to show off in front of a big crowd. Saying that though, if it's the right contest, that is more like a jam with a bunch of other like-minded riders, then they can be rad, but they're kind of few and far between. The comp scene just isn't BMX to me, its about having as much fun as I can on my bike without stress, filming with the right people, riding the right contest every now and again and travelling to different countries and experiencing new cultures, now that's BMX to me. I actually got invited to the Dew Tour last year, which was a real honour, but I didn't go because I had already planned to do the riding shotgun series with Red Bull, it was a shame that the two clashed but I'm not one to complain because the riding shotgun series was amazing to be a part of! Looking Up. There are so many people I used to look up to as a kid and probably even more so now. I remember years ago me and my brother went riding at Mount Hawk skatepark in Cornwall, John Taylor came and rode with us and we couldn't believe it, I remember us both saying "Oh my god it's John Taylor!" we had obviously seen him in a bunch of old video so were completely star struck, shortly after our ride he took us over to his van and gave us a set of gloves each, we were so stoked and I'll never forget it. So now, when kids come up to me and want to get a photo with me or want me to sign something, I always try to make them happy, because of the way I felt on that day. It's strange though, because I still feel like that fifteen year old kid just having a laugh with my friends, even though a lot of people expect it to be completely different and a big deal being a professional BMXer, but it really isn't, you're just the same person you've always been but are in a lucky position to live the BMX lifestyle.
Thanks I'd like to say a big thanks to Ryan from Blantyre, Mad Mick, all of the Unit boys, Chaz, Gibb, my good friend Quinny, my Mum and Dad, all the boys from Stranraer, my big brother Leigh for getting me into BMX in the first place, my girlfriend Kayleigh for being so supportive, but most importantly of all, Chick Mailey. He's the man and if it wasn't for him there's no way I would be in the position I'm in right now riding my bike for a living. Of course a massive thank you to all of my sponsors too, Red Bull, Nike, BSD, The Source, Unit 23, Bawbags and GoPro. Thanks for making everything possible!