FUSE have been around for a few years now, can you give us a brief history of the brand and what products you create?
FUSE was born out of the pads we used to make on our sister brand WeThePeople. From the very early days of WTP, our team riders started asking for more comfortable and better fitting pads than what was already available at the time. We worked with them to produce knee, elbow and shin pads, all constructed out of super tough and durable material that didn't feel too awkward to wear whilst riding. As we continued making these pads on WTP and improving them every year, we started to notice how many pro riders around the world would be wearing them. Because the pads were so well made and lasted so long we decided to put more time into designing a full range and then FUSE was born as a separate protection brand.
Now in our 7th year, FUSE is the only rider run and owned protection brand in BMX. We offer a full range of gloves, pads, helmets and apparel, all designed from the ground up with input from BMX riders to insure we have the best fitting and most durable gear currently out there.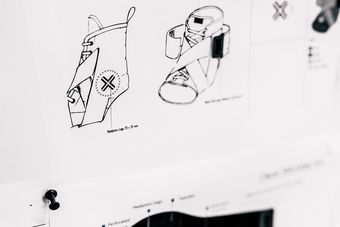 What goes into producing protection for BMXers and who designs this stuff?
All FUSE products are designed by our team of product designers in Cologne, Germany. An idea for new product often starts with a request from a team rider, or as a result of new technologies, and materials that come onto the market. The design team is composed of three riders who are actually testing the products they are designing, once they're happy with them, then they go to our pro and local riders to get any final input. Before we put anything into production we have to make sure it meets all the relevant testing standards, but also that it has rider approval, machines can't test for comfort, breathability etc. in the same way a human can.
I see you use something called DFS and SAS-TEC, what are these?
These are different protection systems we use inside the pads. We always look improve the protection our pads offer through new materials and technologies. The protection inside the pad is indicated by the range it falls into, Alpha, Delta or Echo.
The Alpha range is for your core riders and all the pads use breathable perforated and tougher Duratex neoprene with EVA foam under a nylon hard cap. So this is a solid, basic but highly functional way to absorb impacts.
The Delta range uses DFS which stands for Defence foam System. This was something we developed years ago where by there is a dense PU foam, similar to a memory foam underneath a nylon soft cap. This system makes for a flexible pad that moulds to the shape of your knees and elbows, and has a greater level of impact absorption.
The Echo pads offer the highest level of protection. They use a foam insert from a the protection company SAS-TEC. They have developed a PU based foam with viscoelastic properties which are excellent for absorbing impacts. The heat from your body makes them soft and malleable allowing them to form around your knee/elbow. During an impact they react more like a hard plastic so this means you don't need any external hard cap. So overall that system is very light weight and very comfortable, the Echo pads are some of the best feeling and most effective pads on the market. If you're looking for the best pads in BMX right now, the Echo pads are worth looking into.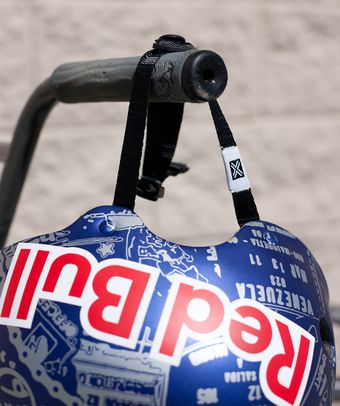 Kris's Kyle has recently been added to the team, why did you decide to get him invloved?
FUSE has always had a strong BMX team, but adding Kriss to the equation was a perfect match. Being one of the most progressive and exciting ramp riders in the world and living inside a Skatepark, Kriss puts himself and his body through a lot of risk and abuse every day, so who better to be repping our gear? On top of that Kriss is one of the nicest guys going, so having him a part of FUSE is a real honour. We already have some exciting projects in the works with Kriss, watch this space!
Kriss rides our new Alpha Helmet, which is now available worldwide. On top of that we are also working with Kriss on a signature glove which you can look forward to seeing later this year.
Who else is on the team?
The FUSE team is Kriss Kyle, Shane Weston, Kostya Andreev and Kevin Peraza. I guess we are also lucky enough to have the longest and most established list of PRO riders who choose to use our product. Chase Hawk, Mark Webb, Ben Lewis, Alex Kennedy, Alex Coleborn, Dillon Lloyd, Van Homan and many, many more all ride FUSE pads and products. If that isn't a seal of approval, I don't know what is!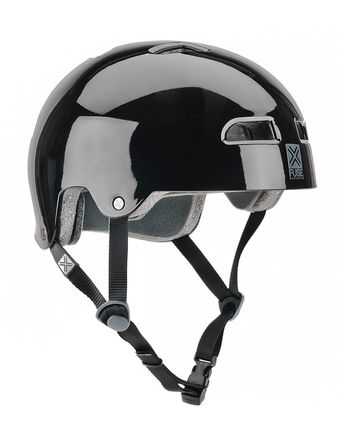 Helmets have become way more popular in BMX these days, Fuse has a range of helmets can you tell us about those?
It's great to see more riders choosing to wear helmets now, especially on street. For most riders getting a good fitting helmet is the most important thing, it needs to feel like the helmet wraps around your head, rather than sitting on top of it. If you don't feel your helmet fits that well, then you're only going to wear it when you really have to in a skatepark. Both our Alpha and Delta helmets were designed by our team in Cologne with a focus on getting the best fit possible. We decided to invest in our own toolings as there was nothing on the open market that had a cool shape and a good fit. This was a big commitment for us and I think we're probably the only rider owned protection brand who've done this.
The Alpha is also one of the lightest hard-shell helmets available, so you don't have to worry about having a dead weight on your head whilst you're out riding. This helmet is also fully tested and certified so is set to last you a long time. We offer our helmets in a wide range of sizes and all helmets come with multiple pad sets so you can customize the fit to your liking.
We also have a new super lightweight Delta in-mold helmet that uses a similar shape to the Alpha, but the hardshell is thinner and bonded directly to the EPS foam saving about 30% in weight. Expect to see these helmets available later this year.
How do riders in the UK get hold of Fuse pads?
Our 2015 range of pads and helmets is available now from bike shops worldwide! Please ask your local shop in the UK to contact CSG UK who are distributing all of your FUSE needs. For more information on our products, what the team is up to, or where to get FUSE in your country, please head to fuse-protection.de.
Follow us on Instagram – @fuseprotection