A look back at 3 classic 360's in 360 words.
Powered by Microsoft
3 Ride UK staff members explain in 360 words a 360 memorable to them. Seb describes the epic race track doubles jump by the legendary Paul Roberts. Cleggy gets on a classic Edwin style and Ryan talks us through a Hoder belter.

---
---
360 at Slough racetrack – 1998.
The humble 360 has many guises. From learning them on flat, taking them to fly-outs, progressing over a jump box, down some stairs on street or even over a set of dirt jumps. Their use and adaptation is only limited by the rider's ability or imagination to use them on the chosen environment. The 360 are for many; one of the first legitimate tricks learnt on their BMX. Over time, with progression in riding, it would now be classed as a very much standard everyday trick. But I can guarantee, that not one rider out there, wasn't stoked the first time they landed one. It's a memorable moment and a transition into a whole new riding realm.
Their use and adaptation is only limited by the rider's
ability or imagination to use them on the chosen environment.
Although the 360 is now classed as more of a 'standard' trick, there is no disputing the fact that taking off, rotating 360° in the air and then timing the landing to perfection, is an impressive feat of precision and skill. There are many riders out there that have mastered it and put their own twist on it to make it unique to them.  From Dan Lacey's huge drops down sets of stairs to Matt Priest dipping the nose in on a set of trails, these riders have taken the simple, turned it into something new and in doing so, inspired a generation of riders to emulate.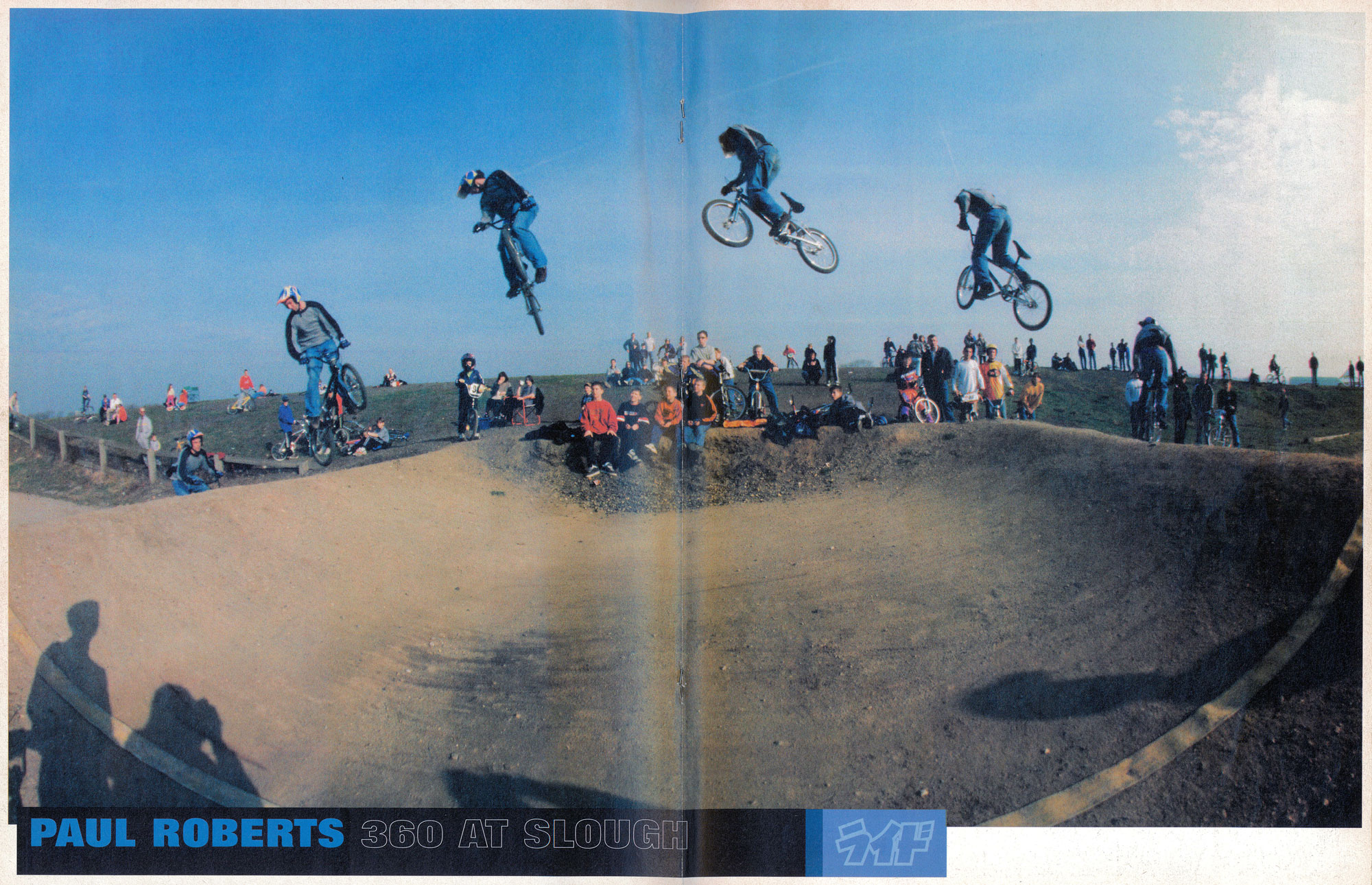 Turn back the clock to 1998, where 360's were slightly more primitive, I remember having one on my bedroom wall that was, and still is, nothing short of mind blowing, and pushes the boundary to what I comprehend as being possible on a bike. An already formidable figure in the industry, Mr Paul 'Grotbags' Roberts had the centre page pullout poster in Ride UK BMX Mag. Now, 17 years on, it still looks as impressive as it did back then. The height and distance covered is epic by any standards with the scale of the shot shown by the perspective of the jaw dropped faces of people in the background. It's a full throttle, timed to perfection action shot in BMX that I still wouldn't try, but I would certainly still have it on my wall.
---
Edwin Delarosa – Can I Eat – 360 line.
To many, this 360 isn't the most memorable in BMX, but for some reason, it is to me, it has stuck in my brain for years and I'm sure it will be in there forever. Whenever I think about a 360, I think of Edwin's from Animal's Can I Eat DVD. At about 1:52 into his section he does a180 bars down a small set then 3's a bigger set and it's just absolute gold. Bob Scerbo is in hot pursuit, the whole scene to me is pure class.
You can't teach this. I mean you can teach someone to 360 all day long
but you can't teach someone to make it look good.
If I'm thinking of doing a hop 3 on the floor I think of this. When I talk about 3's with my friends, this comes up and over time the conversation continues into how amazing Edwin is, all his sections and how he carries himself generally. But why this 3? The likes of Mike Hoder have done some seriously insane ones over the years and they're great. For some reason though, this is the one. Edwin is graced with so much style, the pop, the way he levels it out, the way it's been edited in the section, the double angle. Then almost taking out the skateboarder kid who then does a little weird shimmy in time to the beat. I don't know what it is? It's just style forever I guess and I love it.
It's perhaps the simple stuff done right, that's the key. Tricks that can be overlooked as they sit nestled in a pretty legendary section. It's like it galvanises the whole thing, adds that finishing touch to something that was hugely inspiring in that moment and continues to be today. Every single clip is like the Fonz walking into Arnolds Restaurant. You could probably say that for all of Edwins clips!
You can't teach this. I mean you can teach someone to 360 all day long but you can't teach someone to make it look good. Not really. There's loads of good 3's knocking about. Scerbo for one, Jim Newrick, Fathead, there's many. But Edwin's can't be touched. He's done better ones than this, bigger, quicker, higher. This one though is the daddy for me.
---
Mike Hoder – Lotek Façade section.
Bigger 360's have been done since Mike Hoder's big six-stair banger that graced the cover of Ride UK Issue 101 in March 2007, but back then, I certainly hadn't seen anything quite like it. It was a time when 360 hops were often reserved as a tech trick for smaller stair gaps and ledge drops, rather than sending them down huge drops that most mere mortals wouldn't dare hop off.
The clip was the first of two jaw dropping bangers that ended Hoder's Lotek Façade section. It came at a time when street sections were beginning to get more technical with every release. Other street riders were starting to slow down and focus on their flat rail game, whilst Hoder was busy filming a good old fashioned, full throttle street section.
I hadn't seen much of Hoder's riding before witnessing the three minutes, twenty seconds of pedal to the metal gaps and peg-less hand rails that make up his full speed section. One thing that's blatantly obvious; Hoder's a big guy, with a big personality and it translates through to his riding. Check out the clip 01:38 when he raps the lyrics 'Beachcroft Avenue' in time with the music, whilst casually taking his run up to a massive 360 rail hop.
As the section comes to an end, 'Ice Ice Baby' begins to fade out, it's obvious from everything already seen it's not going to be the kind of edit that just slowly fizzles out. But eight years ago, when I saw it for the first time, there was no way I could even imagine a 360 gap of that size even being possible. Part of me wonders if Hoder even knew for himself before he sent himself spinning down it. One thing is for sure; he stuck it clean and raised the bar in street riding at the same time.
Since then, riders such as Dan Lacey and Aitken have gone down in the history books for stepping up the 360 game to even more spectacular heights and lengths. But for me, this still sticks in my mind as one of the gnarliest 360s ever done on a BMX.
---